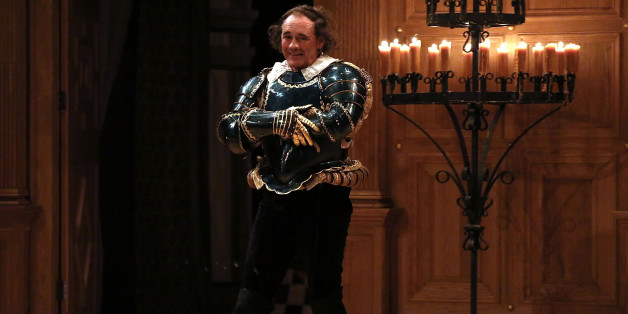 Who would have guessed that Shakespeare's The Tragedy of King Richard the Third could be so funny? Mark Rylance for one.
Playing in repertory with its magical and hilarious production of Twelfth Night, the Shakespeare's Globe staging of Richard III is an eye-opener to the possibility of a demented, power-hungry, serial killer being a stand-up comedian. Or such was the case at a recent performance in which Rylance's turn as the crookback usurper had the audience in stitches every time he plotted another murder.
Rylance has become one of Broadway's brightest lights over the past few seasons in farces like Boeing-Boeing and La Bete as well as the play Jerusalem, and he is nothing short of brilliant as Olivia in Twelfth Night. But all those roles have been showcases for his particular comic genius, and one wondered how he would approach the part of one of history's most reviled kings. In the end, he seems to have decided to stick with the shtick.
That is not to say it doesn't work, at least in the beginning. After all, Richard proclaims his villainy to the audience in his opening soliloquy, and Rylance's jocular delivery of that familiar speech, holding a white rose of York, is a valid if unorthodox choice to demonstrate the character's malevolent humor. By the time he woos Lady Anne, now holding a red rose of Lancaster, he has the audience laughing at almost every line.
The problem is that once people start laughing it's hard to get them to take anything that follows seriously. So when Richard's true evil nature comes out and he starts ordering murders like pots of tea ("so far in blood that sin will pluck on sin"), including the two young princes in the Tower, the audience is still chuckling.
Perhaps 21st-century audiences are so inured to violence that even the murder of one's brother and nephews is no longer shocking, or perhaps the performance I saw found the audience in an unusually light-hearted frame of mind. Rylance is a gifted actor who can pick up the mood of the house and play to it, and if the audience is in a humorous vein, he will mug, roll his eyes, stutter, even guffaw at his own lines, whatever it takes to keep them laughing.
The rest of the excellent cast plays it straight under Tim Carroll's smooth and fast-paced direction, and delivers a sober account of the rise and fall of the last Plantagenet king. As with the Twelfth Night, the production is as close to an Elizabethan staging as you will find, featuring an all-male cast that early arrivers can watch being costumed and made up onstage and a septet of musicians playing original instruments on a platform above the stage.
Angus Wright is superb as Buckingham, once Richard's cohort but whose head also ends up on the block. Samuel Barnett is moving as Queen Elizabeth, widow of Edward IV and sworn enemy of Richard, and Liam Brennan is touching as Clarence, the elder brother Richard orders killed, especially in recounting his dream of a watery death. Peter Hamilton Dyer is outstanding as Catesby, Richard's chief henchman, and Joseph Timms is demure as Lady Anne.
Richard III is a very early Shakespeare play, written in 1592 or 1593, when he was still learning his craft, and it underwent several revisions in various printings. It is a play with one star part, unlike more mature plays that pursue several plot lines and have a cast of fully developed characters. Richard Burbage created the role of Richard, whose death on Bosworth Field brought an end to the Wars of the Roses, and the play was very popular in Shakespeare's day. Somehow, however, one imagines the Elizabethans didn't find it quite as funny as did the audience at the Belasco.