The world of autism is vastly different from any world the non-autistic can ever know. For one thing, all the signposts are written in a different language. To Christopher Boone, for example, passing nine red cars in a row means that something is Super Super Good. The Curious Incident of the Dog in the Night-Time, which opened last night on Broadway, is nine red cars in a row.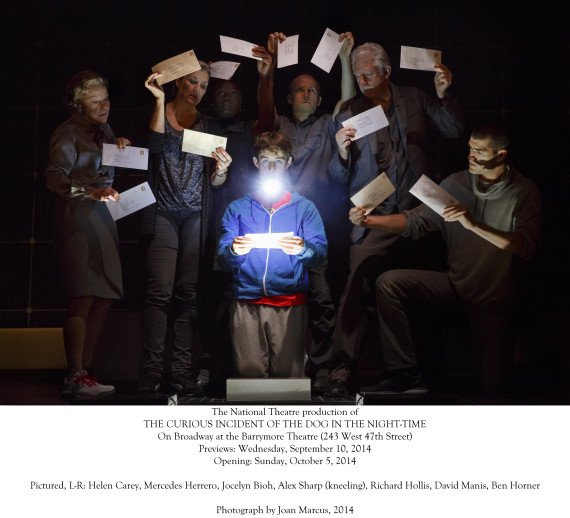 With a first-rate cast led by a superb performance by Alex Sharp as Christopher, a smart and faithful script by Simon Stephens, fast-paced and fluid direction from Marianne Elliott, and an astonishing tech team, Britain's National Theatre production of The Curious Incident is a magical stage reincarnation of Mark Haddon's brilliant and captivating 2003 novel.
The play and the book follow the story of 15-year-old Christopher, who awakes one midnight to find his neighbor's dog, Wellington, lying dead on her front lawn. His remarkable saga begins when he sets out to track down who killed Wellington, but expands to confront even more heart-rending discoveries that eventually entail a terrifying journey from his hometown of Swindon to London.
Christopher can name all the countries of the world and their capitals and knows every prime number up to 7,057. He understands time as well as Stephen Hawking, likes certain colors (red) and abhors others (yellow and brown), and when it rains it makes him think of how all the water in the world is connected. He may get lost in a subway system, but knows the Milky Way like the back of his hand.
Although he doesn't like most novels, he is a big fan of mysteries, especially the Sherlock Holmes stories of Sir Arthur Conan Doyle, hence the title of the book and play. He doesn't lie, but he does not always do what he is told.
Christopher also doesn't register emotion the same way most of us do, with tears and grieving or with laughter and hugs, and does not like to look people in the eye or to be touched. But he has an empathy with animals, especially dogs and rats (that's not a typo). If Christopher's world may seem lonely to some, it is full of wonders that the rest of us simply don't understand.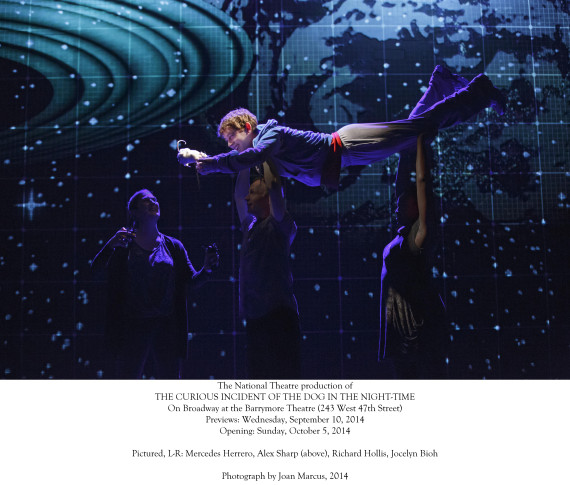 For those who know and admire Haddon's book, the stage adaptation begins a bit awkwardly. Siobhan, the special teacher who is also Christopher's best friend, reads from a book he is writing about Wellington's murder while the action is pantomimed. But the play quickly finds its stride and unfolds into a thrilling and dazzling evening of theater.
Using all the modern computer technology at the stage's command, the empty box of a set with graph-paper squares covering the back and sides transforms into a planetarium of cascading numbers, opens into a London Underground station, and serves as a blackboard for drawings. Balletic choreography conveys Christopher on his odyssey through Swindon and London to the accompaniment of exciting electronic music.
Sharp, making his Broadway debut only months after graduating from Juilliard, is a marvel as Christopher. In a performance that is understated in every small mannerism, Sharp is thoroughly convincing as he rattles off astrophysics and geometrical concepts or risks his life to save his white pet rat Toby. "I see everything," he explains at one point, and you believe him. (Taylor Trench will play Alex at some performances.)
Francesca Faridany is splendid as Siobhan, a model of kind and sympathetic yet practical understanding, the sort of teacher any parent would want for his or her child whether autistic or not. With Faridany's Siobhan looking out for him, one is confident Christopher will be OK.
Ian Barford delivers an excellent portrayal of Christopher's father, Ed, clearly full of love for his son but making a succession of bad choices. Enid Graham is no less admirable as Judy, a woman who has made her own mistakes but is determined to rectify them.
The rest of the cast move deftly in and out of multiple roles that range from police officers to neighbors to school officials to train and subway employees to people on the street. Mercedes Herrero is especially good as Mrs. Gascoyne, the school principal, and as Mrs. Shears, Wellington's owner, and Helen Carey adds a fine turn as Mrs. Alexander, a neighbor.
The entire tech crew should get a curtain call, especially Bunny Christie's designs and Finn Ross's videos as well as Adrian Sutton's music and Paule Constable's lighting.