Halloween can be a fright, but these elephants clearly weren't all that spooked by the jack-o'-lanterns decorating their digs at our Elephant Care and Conservation Center in Mathura, India. In fact, the plucky pachyderms turned them into tasty Halloween treats. The elephants, although formerly from very abusive situations from abusive situations, appeared to have a real bash celebrating Halloween. For proof, have a look at our video:
https://www.youtube.com/watch?v=ZBNJnKias30
The celebration allowed our staff to get into the holiday spirit too, but having the carved pumpkins also served a practical point, providing both a nourishing snack and a new experience for the elephants. Elephants are highly intelligent and curious animals, and finding pumpkins filled with treats seemed to stimulate them--in fact, several tried to eat more than one pumpkin at once. Our executive director Nikki Sharp said the celebration was especially touching given the elephants' backgrounds.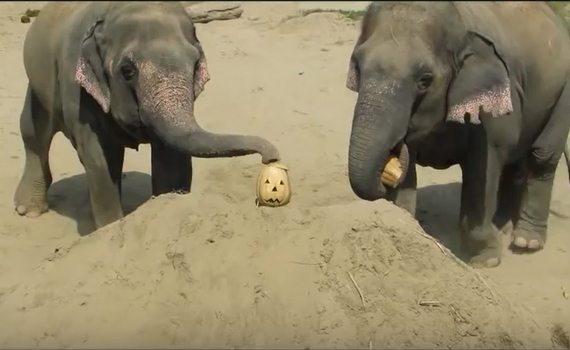 "All of them have been rescued from lives of cruelty and abuse," she said. "It was awesome to see them playing trick or treat in their own way! They really seemed to enjoy themselves." The Elephant Care and Conservation Center currently houses 20 elephants, but Wildlife SOS plans to expand the center in the coming months if funding allows.