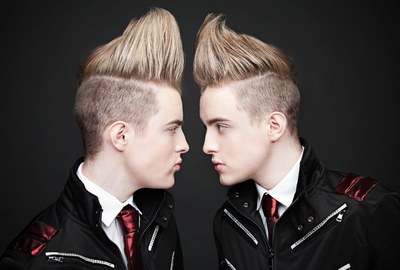 Photo courtesy of RTE Broadcasting
During auditions for the sixth season of Britain's X-Factor, Simon Cowell dismissed John and Edward Grimes as "two of the most irritating people we've had on here in a long, long time."
Since then the blond-quiffed twins have been rebranded as 'Jedward,' raked in millions of dollars and won the right to represent Ireland at Eurovision 2011 with their song "Lipstick." John and Edward spoke with me ahead of Eurovision about their hair, their aspirations and why they'll stand out in the competition.
What is your Eurovision entry "Lipstick" about?

John: It's about a girl putting her lipstick on and we're coming to get her. Da da dum. Got her lipstick on. Hit and run. She's got it on. I'm gonna to run and I'm gonna get her.
Edward: It's kind of like a song you hear in James Bond or something. Everyone is comparing it to Britney Spears' "Womanizer."
John: It's a real fast beat, up-tempo track, and the minute it starts it goes straight into it and it's really catchy, and by the end of it you know the chorus.
WATCH:
How are you guys different from the other contestants competing this year?
Edward: Me and John we have, like, a base, okay. So if we did well at Eurovision we'd already have loads to offer the fans who voted for us. It's not like we'd win and just fade away. We'd build on it.
John: And another point is our name is just 'Jedward.' It's not some hard difficult name to understand like, 'La lalalala.' Or like something really difficult, like some cuckoo name.
Right. So why did you guys want to compete at Eurovision?
John: The reason why we wanted to compete at Eurovision was it's one of the huge competitions in the world. I mean think about it. Every single European country is watching it. And it's a huge way for Jedward to go global.
Edward: Basically we're doing Eurovision because we don't like going on holidays where people don't recognize us. So now we wanna conquer the whole world so people can recognize us in every single country. But people do still recognize us, but we want it so we won't be able to go anywhere.
Isn't it like that in England and Ireland already?
Edward: It's already like that in other countries.
John: Everyone is on Twitter. We have like 45,000 followers in America on Twitter, and like 30,000 in Japan, and maybe like 2,000 here [in Britain]. They're like, "I'm from Japan, I'm from Singapore!" We get fan mail from all over the world. But this will be, like, a bigger thing, so everyone will see us, millions upon millions. It's a really big deal.

Strangely, you aren't the only set of identical twins competing at Eurovision this year. What do you think of Slovakia's girl group, TWiiNS?
Edward: Okay, we're guys. And we, like, love our fans. We always spend hours upon hours talking to them. We don't have a private life. Everything is about being famous. Meeting our fans, doing concerts. We don't say we need down times to relax. They're just like singing, okay, but me and John are really, really cool.
John: And the thing about it is we are guys and they are girls, and it's mainly girls who vote for guys, not girls who vote for girls.
Edward: They're just like singing, okay, but me and John are really, really cool.
John: The thing about it is everyone here [in Britain] has already seen our hair, but when people in other countries see our hair they are like, "WHOA!"
Edward: Some of them don't know we're famous, but they feel, like, "Oh my god they must be famous!" They don't know why they like us. They just like us because they think we're cool.

You are performing last in the second semifinal. What do you think about that?
John: I think it's such a big deal performing last. It means it's a big performance. It's like a really, really good performance to end the night. It's amazing. It's fate that we were picked last. It's really cool. We are really excited about doing it. And I think about it, like, we're performing and the minute after we're done performing the voting lines open and we want everyone to vote for us.
Edward: I think it'll keep all the viewers, like, wanting to watch until the end because usually when we're on programs our fans want to see us. They watch the whole thing to see Jedward. We're going to be making a huge impact on like everyone in different countries because we're really nice to them all because we're cool.
How long does it take you to do your hair?
Edward: The thing with me and John is when we go on stage it has to last for 2.5 hours. But right now it's not like rock solid.
John: There are so many ways of doing it. Now it's puffy because we did it really quick. But for a concert it's rock solid because it has to last for a two-hour show. Fans are always touching our hair and going crazy. To be successful you've got to have cool hair.

Ireland hasn't won Eurovision since 1996. Why the dry spell?
John: The reason Ireland hasn't won Eurovision recently is because...
Edward:... John and I were to young to enter.
You're already pop stars. Do you feel pressure to win?
Edward: I just want to represent. A lot of people go into it, like, "Oh my god, bloc voting!" We don't care about that. We don't mind. We're just going to do an amazing performance. People make excuses but we're just going to go there.
John: Like all you can do is go in there and do the biggest performance you can. Everyone in the competition is good after they're there so you just have to go out there and do something different.
Edward: The thing is, when me and John say it's different, it is. Everyone else is going to say, "Oh my god I gave a performance of a lifetime," but me and John actually are.