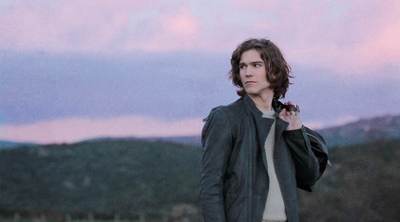 Photo courtesy of France 3 Television
From the moment French broadcaster France 3 announced that Amaury Vassili would represent France at Eurovision 2011, Eurovision fans and opera lovers have been shouting "Ooo la la!" Amaury, the world's youngest professional tenor at 21 years of age, has sat atop the bookies' tables from the very beginning, and his odds continue to narrow as the May 14 finale draws near. The French opera star recently spoke with HuffPo about his entry "Sognu" and what it'll be like to sing opera at a contest dominated by euro-pop.
WATCH:

Why have you chosen to sing in Corsican instead of French?
First of all, because of its similarities with Italian, which is, to me, the most appropriate language to sing in my musical genre. Second of all, because I wanted to show Europe the cultural richness of France through this regional language.

For those of us who don't speak Corsican, can you please explain the meaning of "Sognu"?
Well, as a romantic song, "Sognu" ["memories" in Corsican] tells the story of a man who thinks about the loss of his loved one. This feeling you experience when your mind can't focus on nothing else and when you seem to see your lost love on every corner. But it's not a sad song.
Eurovision is usually associated with pop music and dance music -- not opera. Is that intimidating for you?
Not at all. Nevertheless, I know that it's very hard to compare many artists who perform in a lot of different musical genres. On what grounds do you compare lyrical pop and dance music? But I'm not intimidated. I know my musical genre can be seen as rare or even risky for the Eurovision contest, but I definitely see it as an opportunity to show something different.
Eurovision acts often feature back-up dancers, cleavage and plenty of sequins. Can you give us a hint about your stage act in Germany?
I'm not 100% sure so far, but I should be alone on stage. In that way, I might be even more able to express my emotions during the performance.
In a 2010 interview you said that the concept of Eurovision was out of date. Have you had a change of heart?
Well, my thoughts had been miswritten. What I wanted to say is that at that time I was kind of tired of the "song contests" in general, the kind of TV-reality shows that promise you to become a star in six weeks. I always had great excitement in watching Eurovision so to be participating to the 2011 is simply a fabulous honor.

Why do you think the bookies have responded so well to your song and made you the favorite?
Maybe because they like me! [Laughs.] More seriously, I don't really pay attention to what bookmakers say. I prefer to focus on the artistic side of the preparation in order to be fully ready for my performance on May 14. At the end it's the public who decides, not the bookmakers.
An estimated 120 million people will be watching the Eurovision final. Is that the biggest audience you have ever performed for?
It's a once in a lifetime opportunity if I can say so. It will be the biggest audience I've ever performed in front of. But I already have some experience with big audiences as I performed in front of 80,000 people in the Stade de France two years ago during a rugby game, and with Katherine Jenkins at the 02 Stadium in London. What an experience to had the privilege to perform with Katherine who is such an outstanding, charismatic and talented artist.
Your debut album Vincero went double platinum after its worldwide release. Were you surprised by the positive international reaction?
Yes, I was surprised and flattered. It's always a satisfaction when you manage to touch people from abroad, especially for a French artist. I always wanted to make people from all around the world discover my music.

Have you listened to any of the other Eurovision 2011 contestants? Do you have any favorites?
I prefer to focus on my performance. I don't really want to know who my contestants are. I think it would only bring me some unnecessary pressure on my shoulders. But what I know is that the competition is tough this year!
Finally, is there anything you want Europe to know about you or your song that they may not know?
That "Sognu" is a song for all Europeans wherever they come from, whoever they are. It's a song that can touch the heart of everyone. And this is what is important to me.