In preparing for yesterday's Energy Canvass in honor of the MLK Day of Service, I restored in my mind Dr. King's vision of the attainable "Beloved Community," where the all-inclusive spirit of brotherhood and sisterhood nurtures an environment of conversation, reconciliation, and progress. Over 40 volunteers of all ages joined WeatherizeDC yesterday ready to serve and in pursuit of this Beloved Community, but in a bit of a new way: by talking about energy.
Nancy Sutley, Chair of the White House Council on Environmental Quality, where she serves as the principal environmental policy adviser to President Obama, chose to join WeatherizeDC for her day of service. She kicked off the Energy Canvass by recognizing the crucial role of volunteerism and service in building a clean energy economy that delivers new green jobs, to complement the role of government and its inherent limits. As Chair Sutley walked around the energized room to introduce herself and commend participation, I watched as new faces became canvass partners and fast friends as they surveyed their neighborhood map and plotted their walk route for the afternoon.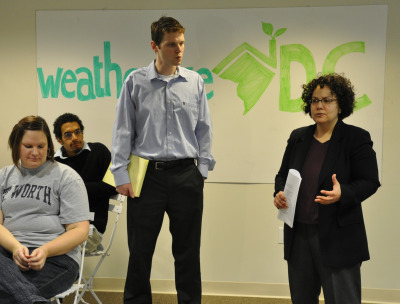 Chair Sutley addresses the crowd.
At WeatherizeDC canvasses, each volunteer is trained in the basics of weatherization and is guided by a script to begin a conversation with homeowners about their energy goals and the details of the next WeatherizeDC Community Energy Meeting. Energy Meetings serve as a place to build the conversation and to learn more specifically about the process and steps of home weatherization.
Whether it's your neighborhood, school, place of worship, sports team, work, or family, we are all part of a community. Our communities need us to introduce a conversation about energy use and a future that is healthier, safer and more sustainable for all. Yesterday's Day of Service helped us to remember and to feel the fulfillment of giving, but if we are to build a Beloved Community for our children and grandchildren then the service of walking next door to a neighbors' home to talk about energy needs to become the norm and not the exception.
We would love to start the conversation with you. Find your next Community Energy Meeting here.