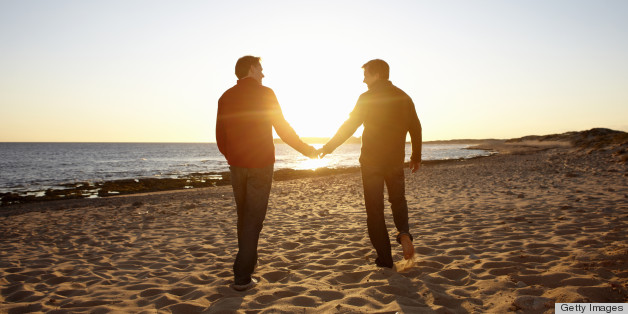 On a cool December day five years ago, my boyfriend (who would later become my husband) and I walked along misty Crane Beach in Ipswich, Mas., holding each other's hand. For most couples it would have been an insignificant gesture, but it was the first time I had ever engaged in a public display of affection with another man. It felt right. But as we turned a corner in the sandy path between the dunes, a policeman appeared. Reflexively, I pushed Paul's hand away and created a physical distance between us, submissively lowering my gaze. Paul stopped, grabbed my hand and said to me, "This is OK. He's not going to arrest us."
I was born to a Catholic family in Greensboro, N.C., in the pre-Stonewall era. Gay bashing was an everyday part of my life. Our priest, our politicians, the nuns, my family, my classmates and the police all participated in verbal if not physical abuse. The "F" word was used daily in jest and denigration. I did not think that what they said or did was wrong. I believed that there was something wrong with me.
I chose to hide who I was. I chose to survive.
It took me 43 years and a move to New England to finally come out of the closet and realize that the frequent arrests of men on Commerce Street in the 1960s and '70s were not because the men were doing anything illegal but because the police and the citizens believed that being gay was immoral.
But there is a big difference between living and surviving. The closet is suffocating, exhausting and potentially fatal. When I came out, I felt as if I were breathing for the first time. But the experience of being beaten back into the closet when I tried to come out initially at 18, and then enduring years of hiding, had left a permanent scar on me.
Because of this, when I am in public with my husband, I temper affection with an equal dose of caution. A hand on his shoulder, a kiss on the cheek or a term of endearment in the wrong environment could elicit a hurled epithet at the very least or, at the very worst, a bullet, as demonstrated by the killing of Mark Carson in New York this month in what was one of many anti-gay hate crimes that have occurred in alarming numbers this year.
I don't want to live in fear. I don't choose to live in fear. It is reflexive, and I hate that every time I want to hold my husband's hand, I ask myself, "Is this safe?" What good are marriage equality gains if the very thing they ensure, a public and legal display of love, becomes the target of hostility and violence?
Our march toward marriage equality must go hand-in-hand with the elimination of gay bashing by our politicians, religious leaders and anti-gay hate groups such as the National Organization for Marriage, the American Family Association and the Family Research Council, whose inflammatory rhetoric perpetuates physical violence against our LGBT brothers and sisters. Because of our recent equality gains, these anti-gay voices are becoming more frenzied and vicious. It is the dying gasp of evil.
I have forgiven my gay bashers, because hate is too heavy a burden to bear, but I will never forget. I choose to live and not just survive.
I will hold my husband's hand in public, because to silence me is what they want.
I will kiss him goodbye in the morning in the public square, because it is right.
I will continue to wrap my arm around his shoulder so that someday the LGBT generations that come after me won't have to worry and ask themselves, as I do, "Is this safe?"
William Dameron's personal blog is The Authentic Life.