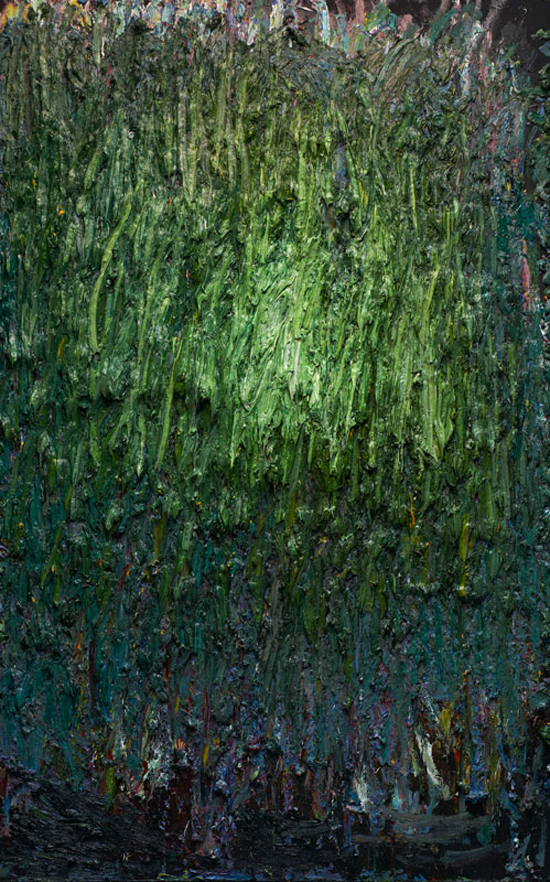 I was happy to catch a very wild exhibit of new paintings by Rodney Dickson at Gasser Grunert Gallery, up through July 13, before I head to Chicago for the summer.
All the paintings are either 8 x 5' or double paneled 8 x 10'. They are heavily worked, and I mean literally, heavy as in un-liftable, abstractions formed in usually vertical marks and paint piled sometimes inches thick. There's something obsessive in the repeated layerings and insistence of the rhythmic marks, piled one upon one another, and only occasionally countered by horizontal hash marks or diagonal streaks.
At times, Dickson utilizes the brush as a removal device, gouging into the paint surface and revealing surprises of contrasting color from within the painting's lower strata. The process of heaping so much paint on top of other paint leads to massive fields of grayed and brown color with moments of pure tube color glimmering from under the earth-like furrows.
In color, the paintings range from all out murk to glowing white-dominated pieces to the newer paintings, which have evolved into something using closer to nature based color ideas. An association with Monet's water lilies is inescapable, sharing with those works dense surface close modulations of color and shimmering light.
For me, however, Dickson's paintings are more like a performance of nature rather than a representation of nature; they are, after all, abstractions from the studio and works of the inner eye. A longer list of possible creative antecedents that I came up with includes Guston from the 50's, Joan Mitchell, Frank Auerbach, Leon Kossoff, Soutine and in a distant way Mondrian's landscapes and plus-minus pieces (though Dickson and I agreed that Mondrian signature block paintings are, how dare I say it, boring). While the artist list is relevant, the more lasting impression is of the tremendous amount of explosive physical energy in the service of making something lovingly nuanced and reflective.