The latest UN update on Yemen has a clear message for the warring forces: "stop causing suffering of civilians."
Over 1200 have been killed and 300,000 displaced by the war between the Houthi rebels and forces loyal to Yemen's ousted President Hadi.
Yemen's war has also given strength to a silent enemy within the country: hunger and malnutrition.
Even before the recent months of escalating violence, Yemen depended on the help of the UN World Food Programme (WFP), the largest hunger relief organization. WFP had a huge pre-conflict aid program in place to feed 6 million Yemenis.
Now WFP is being called upon to lead an emergency response as hunger is getting worse. Yemen's population is 25 million. WFP says that about 12 million now suffer from hunger, a 13 percent increase since last year.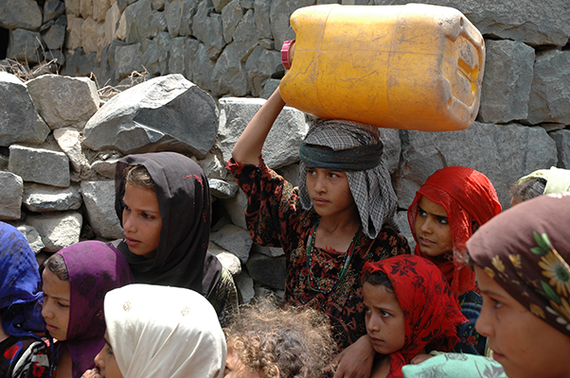 Children in Yemen struggle to get the basics of food, water and education. Yemen has some of the highest rates of hunger and malnutrition in the world. (OCHA/Abdulelah Taqi)
This is why peace is the only choice now. Or Yemen will starve to death.
The war is causing many basic services to break down in the already impoverished country. There are fuel shortages. That means WFP food aid can no longer reach those in need. WFP spokesperson Regina Bakhteeva explains the dire situation,
"On 28 April, we have run out of fuel in Hudaydah. And while we still have food in that governorate, we cannot transport it. Unless fuel stocks are urgently replenished, our food distributions will come to a halt across the country. "
Dr Rajia Sharhan of UNICEF, which treats malnourished and ill children, says that many health centers have closed due to the insecurity.
Yemen has a high rate of child malnutrition. UNICEF provides Plumpy'Nut, an enriched peanut paste, to Yemeni children to save them from the lasting physical and mental damage from malnutrition. WFP provides Plumpy'Sup to treat moderate malnutrition. The war will certainly increase the number of malnourished children in Yemen, and it could claim thousands of lives.

Every day of war further dooms a generation of Yemen's children. That will be the legacy of Yemen's civil war.
UN Secretary General Ban Ki-moon is urging immediate steps for peace. He states,
"That is why I am calling for an immediate ceasefire in Yemen by all the parties. It is time to support corridors for lifesaving aid - and a passage to real peace... I call on all Yemenis to participate in good faith. The United Nations-supported diplomatic process remains the best way out of a drawn-out war with terrifying implications for regional stability."
The combatants must allow fuel and other supplies to move again. WFP and other agencies need the fuel right away or starvation will set in.
While peace must be negotiated, the international community will have to increase funding for WFP and other humanitarian agencies. WFP, for example, relies entirely on voluntary donations. Saudi Arabia, the United States Food for Peace program, Germany and Japan all make contributions to help WFP feed the hungry. These donations will have to increase. Other capable nations will have also to step up.
Food will reinforce any peace process. Projects that improve agriculture, feed school children, infants and mothers are what will build the country. Instead there is war and hunger.
But Yemen's disaster is even worse when you see that Al Qaeda and ISIS are on the rampage too. These terrorist organizations pose a threat to everyone in the world. They can thrive in countries of war and chaos. They cannot thrive in countries built on peace and human rights.
The choice is clear. Yemen can fight, kill and starve their people. Or they can put down the guns and negotiate a settlement. That is the only way to save their country. If they don't the inevitable result is war and famine.