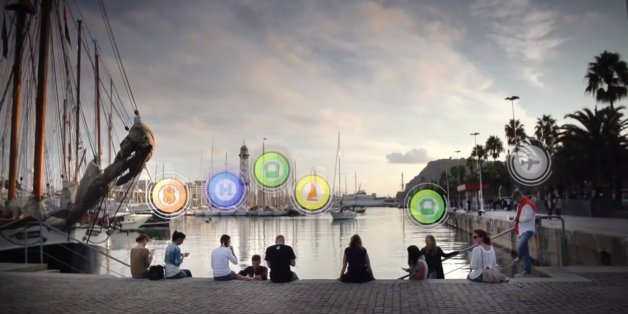 This year really heralds the fourth evolution of the Internet: the Internet of Everything (IoE). The Internet first gave us basic connectivity and then a networked economy and immersive experiences, but today, IoE promises to be more disruptive, pervasive and vital to our lives than the Internet itself.
And this isn't just because IoE extends the Internet to smart phones, factories or refrigerators; this is about creating a smarter, more enriching lifestyle in both urban and rural areas. At its core, IoE connects the unconnected to deepen relationships and enhance the overall quality of life in cities, education and health care.
For instance, what if a student wanted to learn a foreign language by touching the physical objects that are in her vocabulary list? Or what if textbooks included QR codes for additional resources, assignments and feedback? A decade ago, such capabilities would have seemed inconceivable -- like science fiction.
But today, this reality is becoming increasingly ubiquitous. The Global STEM Alliance has successfully launched programs by the New York Academy of Sciences throughout the world, seamlessly integrating technology and educational content. This partnership has enabled sharing of knowledge resources to every corner of the world; it humanizes science through the use of technology, connecting science-interested people of all ages across geographic boundaries.
In health care, IoE has allowed hospitals to provide personalized care by collecting real-time data and delivering services remotely. For instance, the rural and isolated community of Sichuan province in China was devastated by a massive earthquake in 2008. Without access to large medical centers, rural patients often had to travel for hours -- even days -- for consultations. And many could not afford to leave their jobs and families. With networked connections, however, local clinics were able to exchange data and collaborate with their colleagues in city hospitals miles away, sometimes using telepresence conferencing powered by the Internet.
Today, patients in the Sichuan province can receive remote consultations, diagnostics, prescriptions and treatment while saving money on travel expenses.
And these are just two of many rapidly growing examples of how IoE enriches our lives. Urban centers around the world have embraced the IoE-driven culture of being "smart." And you might wonder, "What exactly does 'smart' mean?"
Leaders in urban planning and technology are incorporating innovative designs to make cities more than just concrete jungles. By harnessing the power of information communication technology (ICT), street corners, public transportation hubs, and major entryways have become intersections of information exchange.
In Barcelona, Mayor Xavier Trias has developed a showcase "smart city" that anticipates realizing $3.6 billion in economic, social and environmental value over the next decade from IoE. Citizens in Barcelona can interact with government officials via kiosks or mobile devices, alert each other to accidents or potholes, find parking places or store discounts from their cell phones, or have their sensor-equipped garbage cans picked up dynamically when they're full -- not just on Tuesday mornings.
IoE is real -- not only in Barcelona, but also in other smart cities around the world such as Copenhagen, Amsterdam, Chicago, Dallas, Hamburg, Songdo, Abu Dhabi and Brisbane, to name just a few.
New York City has launched an interactive platform that integrates information from open government programs, local businesses, and citizens to provide useful knowledge in real time. Located at bus stops and train stations, these "smart screens" incorporate touch, voice, and audio technology to deliver a wide array of hyper-local information, including public safety alerts. Furthermore, the smart screens give local police and fire departments a citywide sensing, communications and response network that can direct personnel exactly where they are needed.
Smart cities are tackling today's major challenges, including sustainability, energy consumption, health care, education, public safety and climate change. Many of the IoE-led programs and initiatives have addressed these concerns in the form of improved building systems, outdoor lighting, efficient traffic flow, interactive resources in schools and cities, dynamic waste management, remote health-care monitoring and new tools for law enforcement.
At the New Cities Summit held in Dallas on June 17-19, leaders in technology and urban planning gathered to discuss such case studies, exchange best practices and spot new trends. This summit was organized by New Cities Foundation, a nonprofit organization dedicated to creating partnerships to make smart and connected communities. The topics covered at the summit included mobility and urban architecture, Internet connectivity in public transportation, urban entrepreneurship, and green technology. Speakers focused on technology as a source of efficient disruption in changing not just the processes, but also the perceptions held by urban denizens. The New Cities Summit in Dallas offered a glimpse of what we can do now to unlock the value of IoE in our future.
Public organizations and private-sector enterprises leveraging IoE have the potential to reap $19 trillion of economic value over the next decade, in terms of generating revenue, avoiding and reducing costs or improving processes and productivity. Sometimes lost in this staggering number are the more intangible human benefits, such as urban livability, health care and education.
Today, we are entering a new era that can redefine our lives and find solutions for daunting economic, social and environmental challenges, including skyrocketing education and health care costs, skills gaps everywhere as well intense pressure on our natural resources. With giant strides already made through IoE technology, it is gratifying to see that we can more collaboratively enrich the world around us.
Interested in learning more? For more from Wim Elfrink, click here to see the latest news and all his blogs. Additionally, you can click here to register and receive a complete #SmartConnectedCity thought leadership blog series along with additional resources from Cisco, or visit Cisco's Smart+Connected Communities page and Government page on Cisco.com Follow him on Twitter: @wimelfrink.