The Rev. H. Miller Hunter, Jr., of Christ Church in Raleigh, N.C., began his sermon on the fourth Sunday of Lent with a tandem ride with God.
I did not trust Him,

at first,

in control of my life.

I thought He'd wreck it;

but He knows bike secrets,

knows how to make it bend to take sharp corners,

knows how to jump to clear high rocks,

knows how to fly to shorten scary passages.

...

And when I'm sure I just can't do anymore,

He just smiles and says..."Pedal."
Two months from now, close to a hundred cyclists will ride to Good Samaritan Hospital in Los Angeles, Calif., for the 10h annual Blessing of the Bicycles, where, in years past, a Buddhist monk, Catholic priest, Episcopalian priest, imam, and rabbi have bestowed blessings of safety upon vélo enthusiasts as they ramp up their miles for the forthcoming pleasant weather. And on Friday evening, adherents to Judaism's Shabbat restrictions may question whether riding a bike to synagogue is permitted. (Rabbi Dovid Zaklikowski writes that technically, it's not.)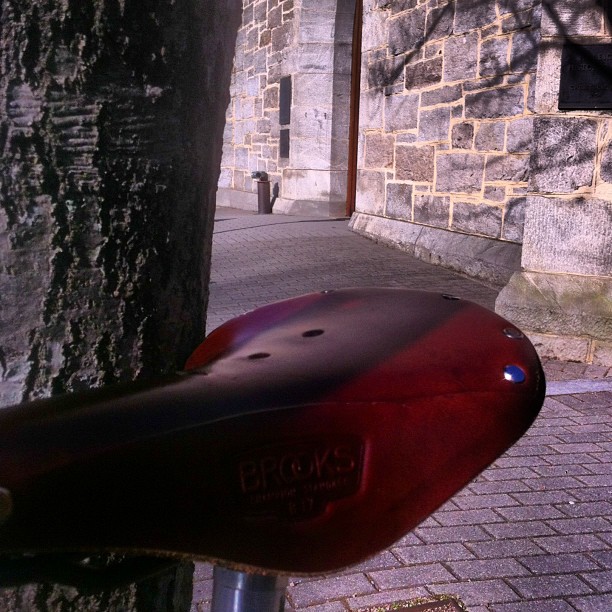 Regardless of creed, crank, and even creatine in some cases, it's not uncommon to find people mixing religion and riding and subsequently discovering a unique spiritual and physical reciprocity.
"There are a ton of recreational cycling enthusiasts that are Jewish," says Trish Cohen, a 33-year-old attorney in Tampa, Fla. "I think that on average, Jewish people are more health conscious and thus more likely to exercise. [A] general appreciation for the beauty of the outdoors makes us more likely to leave the confines of the gym and hike, run, walk, [and] bike." Cohen, who was raised in Reform Judaism and is a Category 1 cyclist and the 2010 Women State Road Race Champion in Florida, reiterates "that among cycling enthusiasts, I think there is a definite correlation."
When she isn't practicing law, riding four days a week, and focusing on giving birth next month, Cohen maintains OY VELO, a website "for Jewish Cyclists to get to know one another." After she discovered Segal Bikes, an Israeli bicycle designer and manufacturer, she founded the website and became Segal's distributor in the United States. "I figured other Jewish cyclists like me would be enthusiastic about a Jewish bike, Jewish jersey[s], and list of famous Jewish cyclists," she says.
And while Cohen doesn't believe her faith has a particularly strong effect on her cycling, or the other way around, she admits that due to the "stigma of Jewish people being lousy at sports,...I feel a certain pride when I do well or when another Jewish rider does well,...[and] I certainly feel closer to G-d when I'm out on a gorgeous day riding my bike."
Seth Ray, a 27-year-old corporate paralegal in Raleigh, N.C., feels his beliefs have a greater impact on his cycling pursuits. "I believe we humans were placed on this earth to enjoy creation in a responsible manner. Every time I throw a leg over my bike for a ride, I am doing just that," he says. "We all have talents,...but many of us keep them locked away for a variety of reasons. My faith compels me to share these things when I can, not in a prideful or forceful way, but as an extension of what I believe in and what I love."
Ray and his wife attend a non-denominational Christian church in Raleigh, and after "riding a single-speed bike in college, purely as a means of convenient transportation to and from school," he quickly advanced to becoming a Category 2 racer and to helping to "grow a cycling race and promotion team." Ray credits his faith and his sport to his fast prominence in both local communities. "Cycling, perhaps more than any of sport on the planet, has a deeply loyal community," he says. This community "resembles what a church community should look like in many ways, seeing beyond outer appearances and preconceived notions and choosing to see the value in an individual rather than not accepting them because they look or act the exact same as you."
And like Cohen, Ray believes the beauty of the relationship between spirituality and cycling is in its simplicity. "I believe no accident can explain the unfathomable natural beauty of the planet we live on.... [T]he simple act of riding a bicycle and the scenery I have observed while doing so provides countless intersections of my personal faith," he says.
Josh Horowitz found one such juncture between religion and cycling especially noteworthy. "The most significant intersection of cycling and Judaism came when I met my wife on a club ride. We shared the two most important aspects of our respective lives," he says. "For her it was her Jewish identity, and for me it was cycling."
The 37-year-old owner of Broken Bones Bicycle Company in Los Angeles and former professional rider "struggled to reconcile [his] drive and passion for sports with [his] Jewish identity" as a teenager. After a brief break from cycling to attend film school at New York University (NYU), Horowitz was surprised to find a large number of Jewish cyclists at the top level of the sport. "At one point I even had a teammate with the same last name as me," he says. Consequently, these discoveries helped Horowitz "get past [the] mindset that a Jewish athlete could not compete at the same level as athletes of other religions." He adds, "[A]lthough, I don't think it ever really went away."
But combining faith and bikes hasn't always been easy for Horowitz. He describes a setback in reconciling his Jewish beliefs with cycling that happened approximately five years ago. Horowitz traveled to Israel to compete in the Maccabiah Games and had "hoped...that the trip could help me return to my Jewish identity." The experience disappointed him, however, when the American delegation with which he traveled, Maccabi USA, "was not at all a serious sporting organization. They [were] more of a Zionist missionary group," he says.
It wasn't until Horowitz retired from professional cycling that he finally reclaimed a part of his faith. Today, he rides recreationally while running his bike shop. "[T]he focus of my life is raising my kids, [and] my wife and I have settled into a nice groove in terms of the Jewish element of raising our children," he says. "I'm glad...that my kids are growing up with an understanding of their heritage."
Whether faith impacts the cadence on the road as much as the cadence of life or whether time on the saddle conjures a stronger spiritual awareness at home, the church, the mosque, the synagogue, or the temple, the religion and cycling communities continue to move in tandem, ever since the Jewish Annie Londonderry became the first woman to cycle around the world, and Floyd Landis, once a devout Mennonite, "rode in sweat pants because he worried that God disliked shorts."
It doesn't take rad rides, the latest derailleurs, or grandiose feats, however, to experience the influences of belief on a bike. "[T]he human body is an amazing tool," says Ray, "and if I can keep using mine to make a bicycle go really fast and maybe get a few people to join me, I will consider myself a very blessed man."