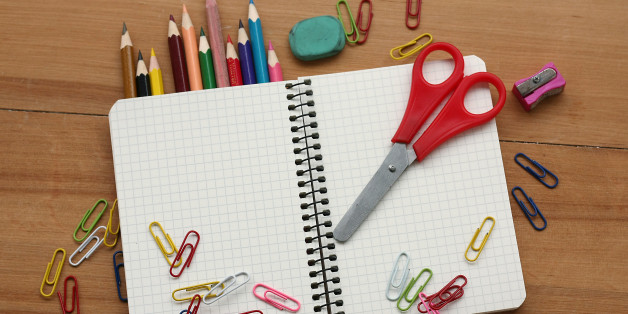 For Women & Co., by Erin Rooney Doland, Unclutterer.com
Getting ready for the school year now isn't as simple as it once was. My mom would let us pick out a new backpack, a lunchbox, one notebook, a pack of paper, a box of pencils, and a pair of shoes. When we got home, I'd write my name carefully inside my backpack, lunchbox, and notebook with a permanent marker, and I would wait to wear my new shoes until that first school morning.
These days, in addition to notebooks and pencils, your child's school might also require you to bring in paper towels, tissues, and/or dry erase markers. If your child is in private school, you may also be responsible for books, book covers, school uniforms, gym uniforms, and a school-specific lunchbox and backpack. Your child may need a physical exam and a signed form from her doctor, proof of immunizations, and a copy of her birth certificate. Preschools often require children to arrive with nap blankets, changes of clothes, and art supplies. And, if your child has to take medications during the school day, you'll need another letter from his doctor explaining dosage information, a copy of the prescription, and the medication to keep at school. According to a recent survey conducted by Women & Co. and Parenting.com, moms' frustrations with growing school supply lists are starting to add up: 26 percent of moms feel that their child's school supply list is too long, and another 22 percent think that it's too specific, making the right supplies hard to find. Gone are the days of simple back-to-school shopping trips!
What to Gather
Well before school starts, log on to your child's school's website to see if there is a list of necessary back-to-school supplies already posted on the site. If not, send an email to the school's main contact address or call the main office and request they send you a list. The earlier you get the list, the easier it is to find deals on all the things you'll need to buy. You'll also have more time to find used items in good condition or repurpose something you already have, if doing so is an option.
Once you have the list of all the things your child is required to bring on the first day of school, add to the list anything else you might want your child to have, like new shoes or a day planner.
Shopping
Divide the list into types of goods that can be acquired in similar locations. If you have a megastore in your area, you may be able to sort your list into just two or three stores. If you're not in an area with a megastore or if you prefer to shop at smaller specialty stores, your list might be divided into six or seven spots.
Jump online and see when these stores have sales between now and when your child's school year begins. Many stores have sales in August on traditional back-to-school supplies, but they might also have other sales and offers for goods you'll need to acquire. Many states have tax-free shopping days near the start of the school year, so find out which dates might be good for buying those more expensive items. Check weekend coupon inserts in your local paper for discounts on goods, as well. Also, check online to see if you can find deals on products through online retailers to save some extra money.
Once you've done your research on when is a good time to buy, you'll likely want to record that information on a calendar so you can be sure to take advantage of the deals. It's also a good idea to note if you need your child along for a specific trip, since it's difficult to buy your son shoes if he isn't there to try them on! I like to store all my coupons in an envelope in my car's glove box so I don't have to remember to bring them with me when I finally go out shopping.
Staying Organized
I recommend having a large bin for each child where you can store all of the supplies you've purchased and acquired for the first day of school. Storing the items in a single location will help you know where everything is so nothing gets lost, and there's the added bonus of preventing your kids from using up the things you've purchased before the school year begins.
I like to keep this bin accessible over the course of the school year and put art projects and other fun school work in it. Then, at the end of the semester, I sit down with my child and sort through the contents of the bin. We immediately throw some of the work into the trash or recycling, we photograph some of it and then get rid of it, and then we select the three favorite pieces and put those into a permanent storage box for school memories.
About Women & Co.:
Women & Co.®, a service of Citibank, is the go-to personal finance source for women. Women & Co. delivers financial content with sharp, insightful commentary and a female point of view. Sign up for free at womenandco.com.