A beautiful giant collage art piece. A sea of people of every ethnicity. Danny Glover. Tom Morello. Young Poets. Wait, what's going on? And wasn't that TV's Rhoda? And aren't we in a parking lot near a driving range on a college campus? This is One Nation in LA on Oct. 2.
For full disclosure, I operated as producer of this particular moment wearing my hat with SEIU ULTCW and One Nation California, with a talented group of folks -- so my lens is different than an attendee's, for sure. But man, what a day and more importantly, what a chance for it to be more than another momentary burst of energy for progressives.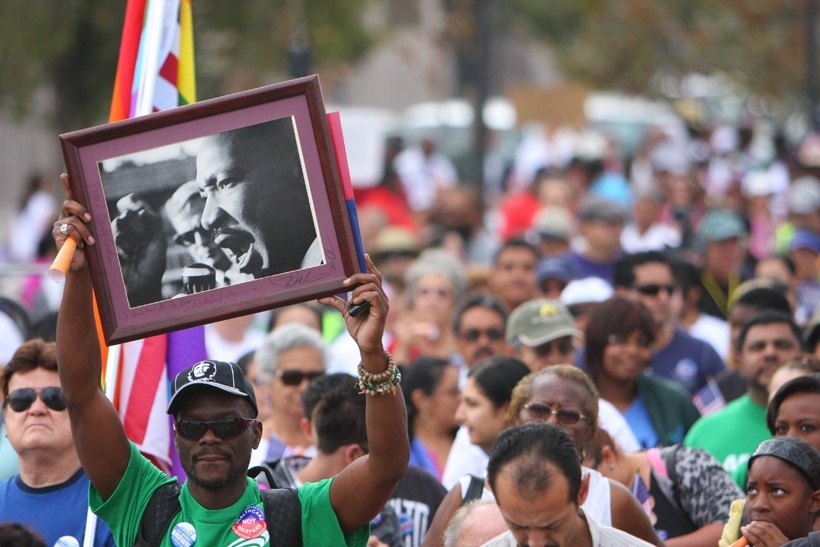 The press release says "thousands of Californians gathered in Los Angeles for a 'Day of Action' meant to re-energize and inspire 500,000 Californians to go the polls in November, and in 2012, to fight for the change most Americans voted for in 2008. As Californians gathered... people marched on Washington, D.C. at the Lincoln Memorial and more still at regional events around the country. The event in Los Angeles was the largest event held outside of Washington, D.C."
All of that is true. But what was missing were many of the smaller moments that really signal the possibility of something dynamic being able to unfold for the progressive community. Even from my pocket position backstage with dual headsets piercing my eardrums, I could see signs of... well... hope.
A union member with a marriage equality button. An anti-war activist plotting on the side with an immigrant rights leader. And there were some powerful stories ranging from Rick Reyes, an Afghanistan War vet, to Elva Polanco, a janitor fired in Century City for going on strike, or Stacey McClure who, after being on the brink of losing her house, filed paperwork to benefit from the Obama stimulus package and actually kept her house.
Glamorous aspects aside, there was something going on here. SEIU ULTCW President Laphonza Butler put it best though when taking in the diversity of people and issues said that it was important to "connect these dots." "Through this day of action, we are sending a clear message that we must unite our country and stop the polarizing tactics that use issues like immigration to divide us," said Angelica Salas, Executive Director of CHIRLA. That kind of sentiment was also documented by our One Nation California bloggers on their Blogmobile Trip Across America for 7 days on the march to DC.
And the celebs were there, but in this case, LA was the "small stage" in comparison to DC, which made it all the cooler that they were there on a beaming hot Saturday morning in a college driving range parking lot off Melrose Ave in the first place. Here's the official line written on that:
Speakers included local activists and One Nation partners, including leaders from the NAACP, the immigration rights movement, the LGBT community, labor and more. Actors Danny Glover, Anne-Marie Johnson, Mike Farrell, and Valerie Harper, and entertainers Jennifer Johns and Tom Morello, the Nightwatchman, also participated. Artist Derek Gores, whose work has been shown in various California galleries, also created a public interactive display that symbolized unity through its design as a collage of photos.

Bottom line: Jennifer Johns can sing. The Get Lit poets were tricky and booming. Danny Glover rocked it and told the truth. And then Morello took it to another level with a 3-song acoustic punk set ending with the classic "This Land is Your Land." In doing so, he implored everybody to come on stage, saying, "I know this is LA, land of passes and velvet ropes and award-winning this and that but we can't get to a better place without everybody."
Indeed, that's what One Nation is all about. Only question now is, will this spark rekindle the spirit of hope we felt in 2008 and set things on fire in November and beyond? We'll see. Right now, I'll put the headphones down. But I look forward to the sequels.
For more pictures from the Oct. 2 Los Angeles One Nation Working Together event just click here /a> and see some great shots (like the one above) by photographer Pablo Serrano.