"There's nothing funnier, and there's nothing more terrifying, than the truth," says actor/writer, David Dean Bottrell, whose brilliant one man show, David Dean Bottrell Makes Love returns to the L.A. stage as part of the Hollywood Fringe Festival and Outlaugh on Sunday, June 10 and Saturday, June 23.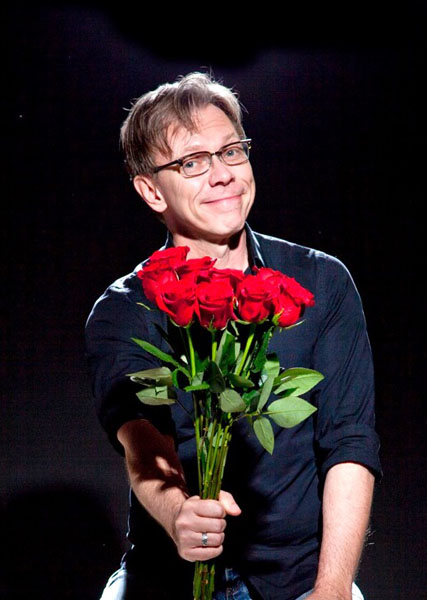 Many remember Bottrell as the creepy, and homicidal Lincoln Meyer, on Boston Legal. In addition, he has been seen on a wide variety of television including Harry's Law, Castle, Criminal Minds, Ugly Betty, and an upcoming role on True Blood, but fans are in for a treat when Bottrell candidly, and hilariously, recounts up close and very personal stories from the trenches of his love life.
About a year and half ago I was doing a spoken word show in town, and I told a story about my ex, and it went over with the audience in a way that made me feel like there was something more substantive there. Afterwards, people came up to me and shared stories from their lives, and the response from the audience went past storytelling and seemed more like theatre. I drove away thinking I might have something -- whatever that means. I began to wonder if it was possible to put together an entire evening of love stories, and all of a sudden the stories came to me. So I called the Comedy Central Stage, and pitched them the idea, and they said we have an opening in six weeks. So I sucked up my guts and said 'yes.' I wanted Jim Fall to direct, and he was available. I never wanted to do a one man show my whole life. I never did stand up. The thing that pushed me forward was that I really loved the stories and they were worth telling. The stories are the star of the show and I'm just up there to push them out.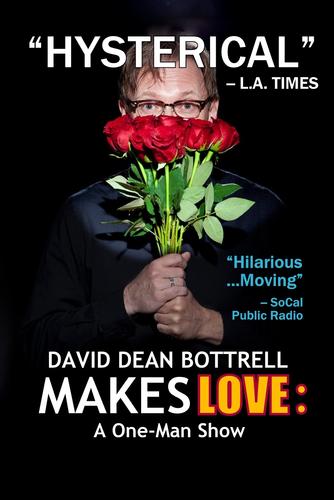 Kentucky-born Bottrell began his acting profession in New York, but an interest in writing plays beckoned, and soon, one of his original plays was being seen at The Long Wharf and the Second Stage. The critics took note. Then more writing work came, followed by film writing jobs in Los Angeles. Having left acting behind, Bottrell then worked for years as a screenwriter doing assignments for every studio in town when, out of the blue, a call came from a casting director who remembered him from a play he had done many years prior.
At first I turned the casting director down, but she talked me into doing the audition. I hadn't acted in a long time, and I wasn't sure if I wanted to act again. The part was for Boston Legal. I went in and read for them, and David Kelley thought I was funny, and all of a sudden this little role turned into a recurring role on Season Three, and I think that was a surprise for all parties involved. Suddenly I was kidnapping Candice Bergen on national TV. Boston Legal was an amazing experience that gave my acting career back to me on a silver platter.
Bottrell as Lincoln Meyer on Boston Legal
Bottrell says, "The secret to being good whether its writing or acting is to tell a little more truth than you intended to tell. Over time I wanted to nudge myself a little past where I am comfortable."
Watching David Dean Bottrell Makes Love my heart broke while my sides hurt from laughing as he dished about his disastrous blind date, a boyfriend with a substance abuse issue, and most touching, his complicated relationship with his Kentucky father.
Everybody has a love story. Everybody has either succeeded or failed or chased after the wrong person, or fell in love with somebody who didn't love them back, or stayed in a relationship too long, or avoided love altogether. Love shapes our lives no matter what we do. When I hear a big rolling laugh in the audience, I know I said something very true that just resonated with them.
David Dean Bottrell Makes Love this Sunday, June 10 at 7 p.m., and Saturday, June 23 at the Asylum Theatre on Santa Monica Boulevard in Hollywood. Festival parking lot is a block east. Tickets at www.outlaughfestival.com.