L.A. Theatre-goers are in for a treat because for four successive Wednesday evenings from February 20th to March 13th, acclaimed actor/writer David Dean Bottrell takes to the Acme Comedy Theatre stage in a tour de force show about his many varied careers in David Dean Bottrell Is Working: One Man's Search For Employment and The Meaning of Life.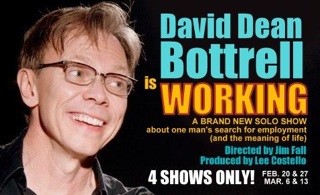 Photo: Richard Wright
In a kaleidoscopic story style similar to his long running hit, David Dean Bottrell Makes Love, this time Bottrell takes the audience on his bumpy and hilarious employment history, which spans a lifetime of odd jobs -- from running errands for senior citizens as a seven-year-old to working for a dope dealer in his teens to exploring the possibilities of becoming a minister to acting on prime time television (Justified, True Blood, Boston Legal).
This show isn't just for people in show business, it has something to say to everybody.
Bottrell comments -
I'm lucky because my career is hyphenated (actor-writer-teacher) and it allows me to create a vehicle for myself. For 13 years, I was just writing screenplays for studios, I was successful at it, but most of the films didn't see the light of day, and what I missed was an audience. I thought the big lesson from my last show was to keep going, and keep doing it. It (David Dean Bottrell Makes Love) remains the single most terrifying thing I have ever done. I never wanted to be a stand up. As an actor you get to hide behind someone or something, but with these shows you're going out there as yourself telling some kind of truth. And if you want it to be good, you have to tell a little more truth than you were planning on telling.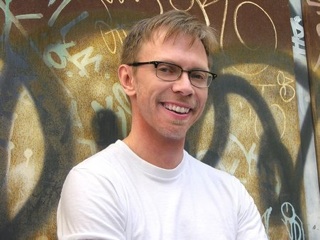 Photo: Darrin Noble
Bottrell is an expert storyteller -- and a popular regular at the recent hit Streep Tease (based on Meryl Streep monologues), and the monthly Sit & Spin storytelling at The Hudson Theatre, and Rant & Rave at the Rogue Machine. His stories elicit passionate reactions from very diverse audiences.
After each show, every type of person came up to me and shared with me stories from their life and that alone was a great honor.
In addition, to acting Bottrell is a successful acting teacher, working with all levels of actors.
For more information on his classes, check out his site: www.daviddeanbottrell.com
David Dean Bottrell Is Working is directed by Jim Fall. Enjoy dinner and drinks after the show at Acme Comedy Theatre's (135 North LaBrea) adjoining Amalfi Ristorante & Bar. Info and reservations for Bottrell's show at www.acmecomedy.com