It was always hard to define Miss Julie Brown, the hilarious red head who was really an underrated visionary, taking a pop culture generation by storm in the 1980s with a smiling, knowing wink. Brown's career blurred the lines between MTV music video artist and comedy/parody/satirist leaving a brilliant trail of novelty hits in her wake including 'Cause I'm A Blonde, Girl Fight Tonight, and the epic Homecoming Queen's Got A Gun, which has now been adapted into a full stage horror-absurdist-musical at (lucky us!) Silver Lake's Cavern Club.
Directed and cowritten by Kurt Koehler, you have one weekend left to catch this totally fun ride of lewd laughs, wild wigs, and 80s madcap melodrama as the show closes Sunday, April 13.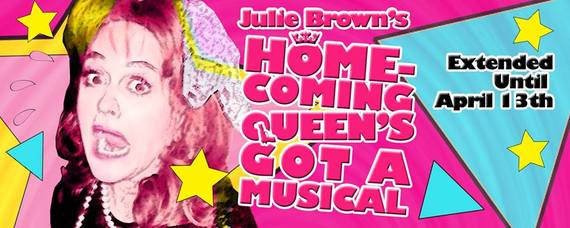 One man sitting near me drove all the way up from Costa Mesa with the Homecoming Queen LP and original fan reply letter MTV mailed to him when he was nine. He was overjoyed, and he was not alone. Brown delivers big time -- her voice, face, dancing, and energy as vibrant as ever. And she's joined by a winning ensemble of top tier talent including Beth Crosby, Marsian De Lellis, Jacquelyn Denning, Cole Gerdes, Natalie Lander, Sam Pancake, Chris Pudlo, Craig Taggart, and a crowning performance by Drew Droege as Debby, the titular, deliciously unhinged Homecoming Queen.
As Homecoming Queen Debby, Droege struts with all the bouncy 80s blondeness of a young Lisa Hartman -- but just under that surface lurks Blair Warner on her worst day, and just under that surface lurks Joan Crawford on her worst day, and just under that surface is Linda Blair in The Exorcist. It's a must see.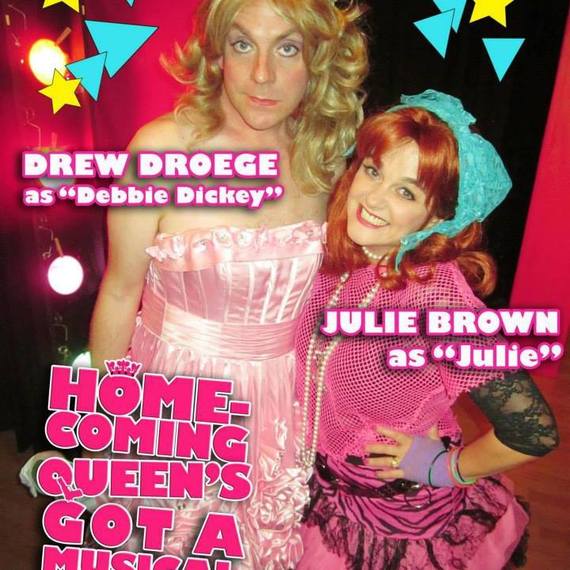 Drew Droege & Julie Brown, photo by Mike Pingel
After a recent performance (and a margarita or two later) I had the pleasure of chatting with Koehler and Brown about the show...
Xaque Gruber: How did your collaboration begin?
Kurt Koehler: I pitched a musical to her a long time ago -- I always wanted to do a stage show using her music.
Julie Brown: Initially it was to use all my music, and I was like hmmm -- I mean I liked Kurt, but I wanted to do Earth Girls Are Easy as its own musical. And then I saw The Legend of Billie Jean: The Musical, here at The Cavern Club, which Kurt directed, and thought it was brilliant. And the timing was right. My son went to college, and I felt like now I can do this. So I said to Kurt do you want to write Homecoming Queen The Musical? And he said --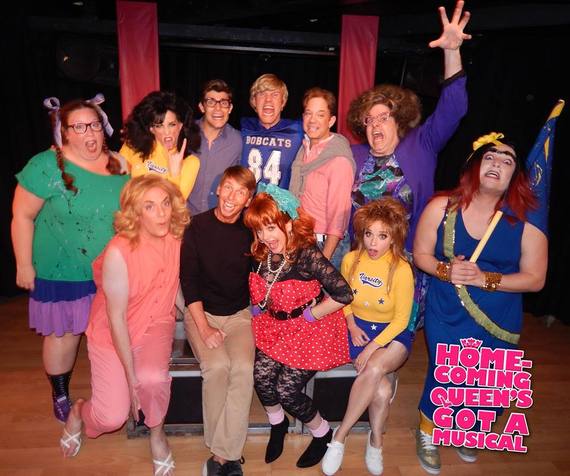 The whole cast with 30 Rock's Jack McBrayer (a fan), photo by Mike Pingel
KK: Yeah, let's do it!
JB: And it was a complete blast to write this together. We don't fight -- and we waste a lot of time talking and watching movies (laughs). Some of my other songs are going in the Earth Girls musical, which Kurt and I are working on next.
XG: Julie, the whole audience was whispering "she hasn't aged a day" through the show.
JB: Oh I love that. I work very hard.
XG: Someone asked me "how old is she?"
JB: I'm eighty (laughs)
KK: The secret's out.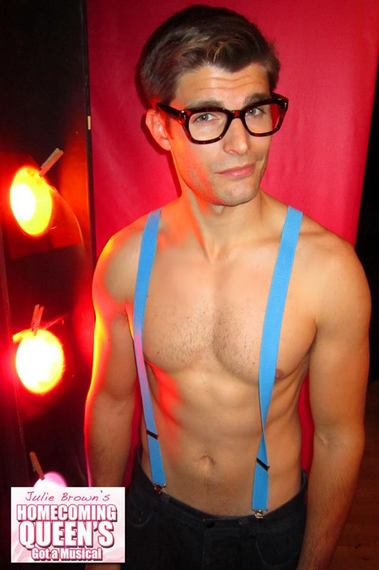 Cole Gerdes as Homecoming Queen's Johnny, photo by Mike Pingel
XG: Since Homecoming Queen's Got A Gun is about life in high school, I have to ask, what were you like in high school?
JB: I was like my character in the show -- silly, dramatic. I was a drama club kid and I was a homecoming princess in Van Nuys. Drama Club saved me -- I was friends with the cheerleaders but I thought they were kind of weird, but I was still friends with them.
XG: When you launched your career, you were known as Julie Brown, the singer.
JB: And that was so crazy to me. I never thought of myself as a singer. I thought of myself as a performer/comedian/actress and that's where the songs came from -- my comedy, but the songs were the first things people knew about me.
XG: And those songs had quite an audience.
JB: They really did.
XG: And they grew in popularity -- because they initially were released in 1984, and were cult favorites, but by 1990 everybody knew them.
JB: And people come up to me still and say their kids know the songs. One guy wrote me on Facebook and said "can I bring my nine year old girls?" And I said "no." (laughs) Right? I mean there are some really sexual things in this show and I didn't want him to be mad. It's a show for adults.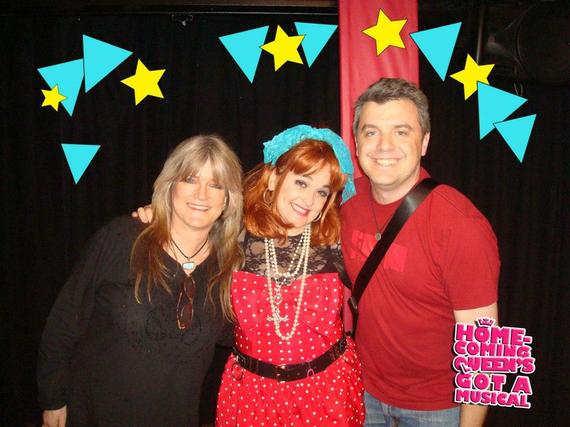 The Brady Bunch's Susan Olsen (a fan), Julie Brown, and Director/Co-writer Kurt Koehler, Photo by Mike Pingel
XG: Might this show travel?
JB: We would like to bring it to Sketch Fest in San Francisco. Right now I am just loving The Cavern Club so much - I mean it's ridiculous. Best vibe, very comfortable, audiences really want to laugh when they're here. Why is that?
XG: This is a unique space -- there's drinking, Mexican food upstairs, and when the audience comes down these stairs -- they sense the playful, super fun, low-budget-ness and it rubs off on them. They're not going to do The Diary of Anne Frank down here.
KK: Real drama doesn't work in this space.
JB: There isn't another theatre like this in all of L.A. I mean if there were, we would've worked there, right?
XG: What's something that this show has taught you?
JB: That I probably should have been doing this before -- like for a long time, but I've been a Mom -- and it's hard to go out every night when you have a kid, but it's so much fun, and more fun than I remembered.
KK: And I'm just excited to be working with Julie Brown. I mean I've known all this music since high school, but never dreamt of actually writing it with her. So it is a dream come true.
Homecoming Queen's Got A Musical at The Cavern Club (1920 Hyperion Avenue, Silver Lake 90027). For tickets, check out: http://www.tix.com/Schedule.asp?ActCode=97176