After adopting his first dog last year, a pit bull named Trooper, Emmy-nominated television producer, Michael Levitt, felt compelled to go further, and added animal rescue -- specifically pit bulls -- to his slate of productions. Now he's known in animal rescue circles as L.A. Mike Rescue. and has successfully rescued and saved at least 50 dogs this year.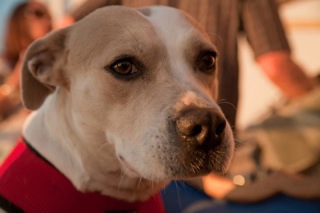 Trooper
Thanks to alerts on social media networks like Facebook, independent animal rescuers like Levitt save dogs sometimes mere hours before they're euthanized in kill shelters. Animal rescue is a nationwide movement on the rise, serving a vital role in giving homeless dogs a second chance on life, but greater Los Angeles' canine crisis is, as Levitt describes it, "an epidemic."
The epidemic's causes are numerous with backyard breeding being one major problem. Shelters in San Bernardino and Lancaster receive up to 90 animals a day. Many rescuers cite a disconnect among pet owners in poor white, Latin, and African American communities who fail to treat their animals like family members, raising dogs for the wrong reasons, avoiding spaying/neutering, or just letting them loose on the streets to fend for themselves.
Levitt says, "It boggles my mind that a pet owner would turn their dog into a shelter, especially a senior dog who they raised, knowing the animal's probably not going to be adopted and then, within days, euthanized. It makes me embarrassed for humanity."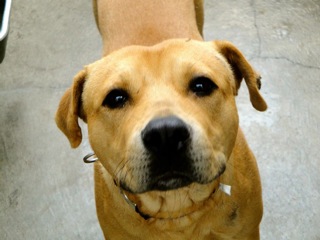 Toby available for adoption at East Valley Animal Care in Van Nuys
One unexpected ray of light in the dog adoption situation has been Canada where many homeless dogs have found 'forever homes.'
"Canada doesn't have the problem the United States has with a crowded pet population. They also have more strictly enforced spay and neuter laws, and have an appreciation for the breed," Levitt adds.
Take a walk through any shelter in Los Angeles, and you'll see more pit bulls than almost any other breed. Often misunderstood in today's world, bull terriers were originally bred as nanny dogs and companion dogs in the U.K. to look after and care for children.
An obstacle in placing pit bulls into homes is Breed Specific Legislation (BSL), which currently exists in Manitoba and Ontario, Canada as well as various counties here in 17 states. Earlier this year, Massachusetts passed a law that bans BSL, recognizing that breeds are not inherently bad, and pet owners cannot be discriminated against based on their dog.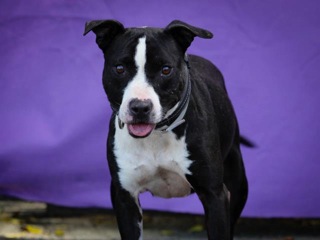 Babe, available for adoption at Carson Animal Care Center
Levitt notes, "Pit bulls have a bad rap, and consequently millions of them die each year because people are misinformed and afraid of them when they shouldn't be. They're actually among the most affectionate, and intelligent of dogs. I have never met one pit bull that has been 'human-aggressive,' in fact it's other breeds -- often small dogs -- that show more human aggression. In southern California it's hard to place a pit bull in a home because those who enjoy the breed already have a few of them, and others that are interested in adopting often can't due to landlords and insurance carriers that impose restrictions on having this breed. For those reasons, we have to look to other states and countries to find people that believe in these dogs. Adopting out pit bulls, requires great discretion including an extensive adoption application, home check, maybe even a follow up surprise visit to make sure the dogs haven't fallen into the wrong hands and being turned into a life of abuse including dog fighting."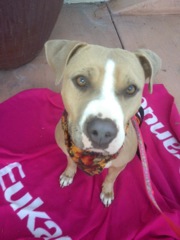 Tundra, available for adoption via L.A. Mike Rescue
"People are quick to vilify the shelters, but quite honestly there are a lot of caring people who work at shelters. The real problem are the irresponsible pet owners. The backyard breeders breed the mother dogs over and over, and then dump the mothers in the desert or the streets to just starve and fend for themselves. It's unspeakable," Levitt continues.
A crucial resource for rescuers are kennel businesses that are popping up all over the city. They provide many services until a dog is adopted with the rescuers covering the cost of food, shots, grooming, boarding, neuter/spaying, etc.
Londoloza Dog Den and Cattery in Culver City is one of the city's premiere kennels for rescued animals. Opened earlier this year by animal lover, Pat Werre and her husband, 'Londoloza' is the Zulu word meaning 'caregiver and protector of all living things.'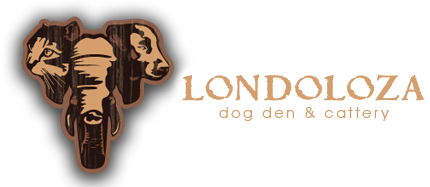 "Seventy percent of our animals in our kennel are rescues. We treat the animals the same whether it's a rescue or a privately owned one. The animals here are not second class citizens. We work on socializing all the rescues even if they have had troubled histories. And we do everything we can to try to get all our animals adopted," Werre says.
Werre is impressed with the rescue community in Los Angeles, and describes it as "wide and passionate," applauding those like L.A. Mike Rescue.
Levitt's advice to those that want to help.
"Spread the word and make sure everyone you know spay and neuter their dogs. Adopt your pet from a shelter, and don't buy from breeders. Rescue dogs are the most grateful, and will give you back that love tenfold. And if for any reason you cannot keep your pet, don't be lazy and turn them into a shelter to die. Instead, be resourceful, and go the extra mile to find them another home. After all, these beautiful creatures are counting on us!" said Levitt.
For more information on these dogs, L.A. Mike Rescue can be found on Facebook or reached at 323-315-5700.
For more information on Londoloza Dog Den and Cattery, check out: londolozadogden.com or: 310 - 237 - 5003.
Gia, adopted recently with her new family: