Last week, Oscar-nominated producer/director/actor/writer, Rob Reiner, shared funny and personal stories of his career at Syracuse University's annual Comedy Tonight event at Los Angeles' Writer's Guild Theatre. Moderator Jeff Garlin's relaxed, hilarious rapport with Reiner set a familial tone for the packed house of Syracuse students studying in L.A.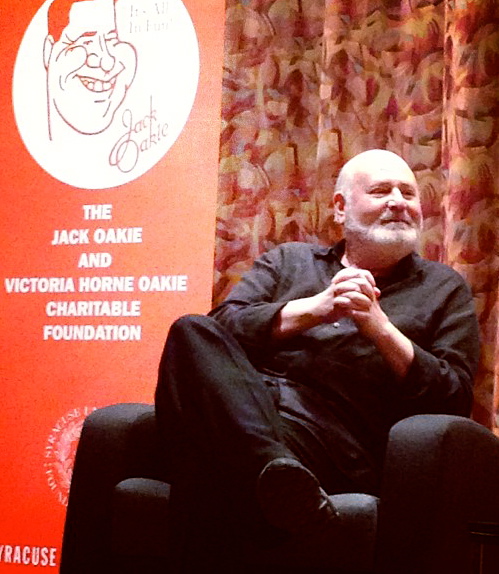 Long before landing the starmaking role of Michael 'Meathead' Stivic on All In The Family (for which he won two Emmy Awards), Reiner acted on a who's who of classic 60s television including 77 Sunset Strip, Batman, That Girl, The Andy Griffith Show, and The Beverly Hillbillies.
Reiner established himself as a director with 1984's revolutionary mockumentary, This Is Spinal Tap. His reputation as an A List Director was cemented with Stand By Me (1986), The Princess Bride (1987), When Harry Met Sally (1989), Misery (1990), A Few Good Men (1992), The American President (1995), and Ghosts of Mississippi (1996).
With continued recent success in film and television, Reiner shows no signs of slowing down. Here are highlights from his chat with Jeff Garlin:
COMEDY
Every movie I make - even Misery - has comedy in it. I did Stand By Me, which had melancholy and dark themes and a lot of humor - and I love that. There's nothing wrong with making people laugh even in a dramatic feature.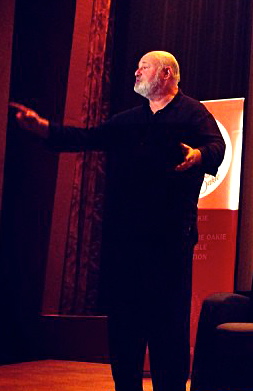 GETTING DISCOURAGED
Getting discouraged happens throughout my career. And happens throughout most careers. When I finish a film, I don't know if I'll ever work again - even when I have success. It never gets easier to make a movie, but you just forge ahead.
Garlin chimes in:
Adversity is great fodder for humor. Laugh at adversity and keep moving forward.
PEOPLE NEVER KNOW
Everyone begged me not to make When Harry Met Sally - they were all saying "What are you thinking!" Meg Ryan was not a famous star yet. Billy Crystal was not a movie star at the time. And it turned out to be a huge hit. The Bucket List (2007) was another one. Nobody wanted that movie. Two old guys dying of cancer - and it turned out to be another huge hit. With North (1994) we had an all star cast, some of the funniest jokes I've ever written, and what everyone thought was a promising, creative premise, and it bombed. So you never know.
When Harry Met Sally television commerical (1989)
MARY TYLER MOORE
When my father (Carl Reiner) was working on The Dick Van Dyke Show, I was a teenager, and I thought Mary Tyler Moore was so hot. Those Capri pants! So one day I grabbed her ass. I guess I couldn't resist. So I was called into my father's office who looked at me sternly, and said, "Did you grab Mary Tyler Moore by the ass?" I knew I was in big trouble and said, "Yes." He grinned and said, "Don't ever do that again." I think he wished he had done that (laughs).
ON DIRECTING ACTORS
Some actors like to be left alone on set. Kathy Bates is a trained stage actress, so on Misery, she liked a lot of rehearsal, and her co-star, Jimmy Caan, didn't, and it can be tricky, but you have to learn how to make it work. Tom Cruise would take a line reading all the time - others don't want one. You have to learn how your actors work, and treat each one differently.
ALL IN THE FAMILY
When we first aired, CBS had a disclaimer before the show that said something like "You don't have to watch this show." (laughs) We knew we were doing risky subject matter, and so much of it was improvised with the cast and writers all working together like theatre. I'd tell Carroll (O'Connor), you can have this line. He'd say the same. Norman Lear encouraged that, and some of our best scenes on All In The Family were done on the fly like when I put on my sock then a shoe then the second sock and then the second shoe.
All In The Family: A Sock And A Sock And A Shoe And A Shoe
ACTING INTO DIRECTING
When I was 19 years old I was at UCLA and directed theatre in Los Angeles. In my mind I always wanted to direct. Then the part on All In The Family came, and I thought this show won't last - nobody will ever watch it, but it became a huge hit and eight years later, when it ended, the network offered me a ton of money to do a spinoff with Sally Struthers, but I turned that down and started directing.
STRANGEST PITCH EVER
Sandy Gallin, a manager of stars like Michael Jackson, and Dolly Parton, called to pitch me an actress to play The Princess Bride. Now this character is written to be "the most beautiful woman in the world," and has to be young enough to play opposite Cary Elwes, this dashing young blonde actor, who was about 23, and win his heart. We were looking all over for the right one for the role. Sandy says, "I have the perfect actress - Whoopi Goldberg! Have you seen how good she plays that twelve year old character in her comedy show? She's brilliant!" I told him she wasn't age appropriate for this part. He said, "Is it because she's black?" I told him, "No! One person we're actually thinking about is Whitney Houston because she's so stunning and looks age appropriate." Sandy wouldn't stop pitching Whoopi to play The Princess Bride. (laughs)
The Princess Bride original trailer (1987)
ANDRE THE GIANT
One day on The Princess Bride set, Andre The Giant came in a little tipsy. I said, "How much did you drink last night?" He said in his thick accent, "three bottles of cognac and four bottles of wine, but I don't get drunk, just a little tipsy." One day, we had to devise this pulley system on a horse to lower 500 pound Andre onto the stage. By 8pm that day, he had consumed - I'm not exaggerating - twenty bottles of Beaujolais. And I walk into the studio and here is this drunken giant strapped on a horse slurring his lines while being lowered by pulleys from the rafters, and I'm thinking, "oh my God, this is what I am doing for a living." (laughs)
AARON SORKIN
Aaron Sorkin to me is brilliant, and the best writer in Hollywood - bar none. I loved working with him on A Few Good Men so I asked him to work with me again on The American President.
DO IT YOURSELF
Searching For Sugarman was in part shot on a cell phone. You can make your own movie cheaply - put it on the internet, and people will see it. People have gotten jobs that way. Go out and do it!
Syracuse University's Comedy Tonight discussions are made possible by the Jack Oakie & Victoria Horne Oakie Charitable Foundation.