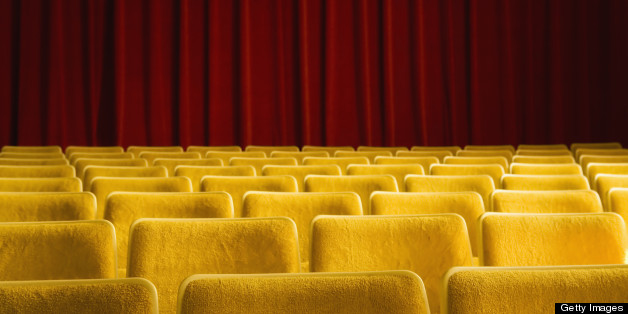 Much more intense and jolting than the famous film adaptation starring Ewan MacGregor, L.A. based director Roger Mathey's latest revival of Irvine Welsh's cult novel about a circle of heroin addict friends in Edinburgh, Scotland, Trainspotting, is one of the most visceral, blood and guts stage dramas I've seen in recent memory -- or maybe ever.
The Elephant Theatre's production of Trainspotting is packed with everything that fans of the film or the book would hope for -- and then some -- including a brave, strong ensemble highlighted by a pair of brilliant, aching lead performances by Justin Zachary and David Agranov.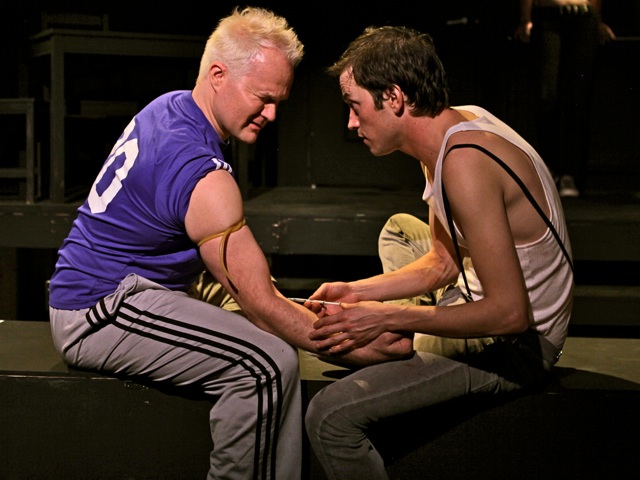 David Agranov and Justin Zachary, Photo by Tyson Wade Johnston
Director Roger Mathey won numerous honors including the Los Angeles Drama Critic's Circle Award for Best Director for his 2002 production of Trainspotting. Eleven years later, his directing is better then ever. Mathey comments:
I love working at the Elephant Theatre -- I like the intimacy of the small space because it's all right there in your face. The drug injections, the nudity, the bodily fluids, the sex scenes, the profanity, you're close enough to smell the actor's sweat.
Close enough indeed. This is not theatre for the faint of heart. Every scene walks a tightrope that is at once edgy, raw, and shocking, while also achieving great tenderness, sadness, and a stinging wit. It's a dark, depraved, Shakespearean rollercoaster ride through emotional terrain as rough and uncomfortable as the Scottish highlands themselves.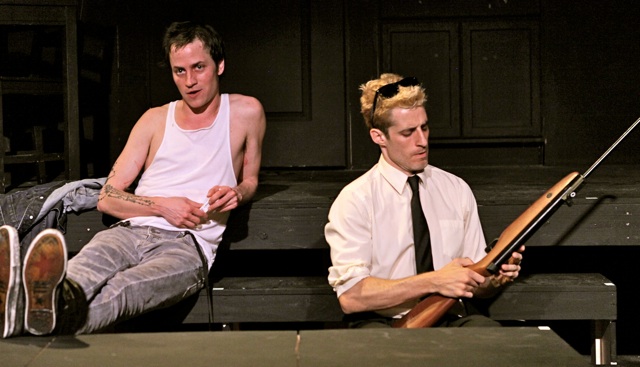 Justin Zachary and Jonathan Roumie, Photo by Tyson Wade Johnston
American Justin Zachary (the play's heroin addicted protagonist, Mark Renton) delivers Trainspotting's rapid fire dialogue in a thick Scottish brogue that has to be seen and heard to be believed. He is reprising his role for the third time, and it's no wonder why. It is a role he was born to play.
It's a dream role -- I love the grittiness, the honesty of the character. This is the third time doing it, and I'd love to play Mark Renton for the rest of my life. I did it when I was 19, and then again when I was 24, and now I'm 35 doing this role again. It's a growing experience too -- when I was 19, I had a lot more of a vulnerability and naivete, but now I've had friends pass away from drugs -- and I've reread the novel so that has definitely colored the performance.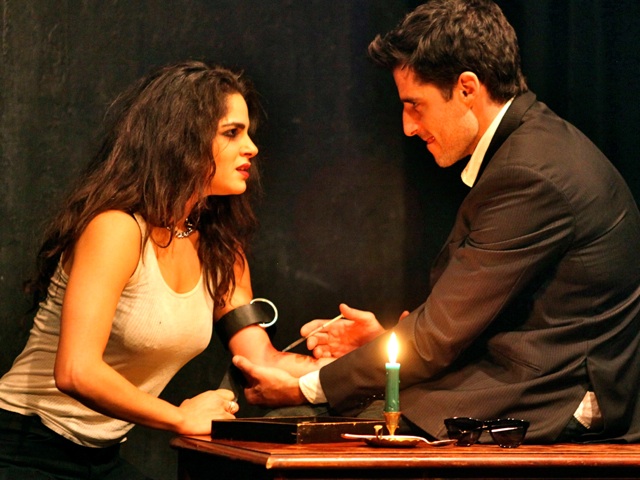 Alison Walter and Jonathan Roumie, Photo by Tyson Wade Johnston
When David Agranov who plays Mark Renton's reckless best friend, Tommy, tells me that the cast is having just as much fun backstage as they are having onstage, I believe it, and for a second, it makes me secretly wish I were part of this cast. It's an ensemble and a show I won't soon forget. For those of you unfamiliar with the film, rent it later, for now head to the Elephant.
Trainspotting runs through Saturday, June 1, 2013 at the Elephant Theatre (6322 Santa Monica Blvd -- just west of VIne in Hollywood). Friday and Saturday at 8 p.m., Sunday at 7 p.m. For reservations and information, call 323-960-7785 or www.plays411.com/trainspotting.