Westchester mother of two and working artist Kathleen Marinaccio saw a need in her community for a place where adults, children, and families can explore their creative side in a user friendly workshop environment -- so with the help of business partner, Tina Cho, developed the concept of REAL (Reimagine, Enjoy, Aspire, Learn). REAL is a unique west L.A. arts center (complete with coffeehouse and bookstore) to open in February 2014, and will offer classes in everything from fine art and graphic design to writing, acting, foreign language, photography, sewing and health/wellness.
A graduate of New York's Pratt Institute, and a lifelong advocate of the arts, Marinaccio's plans for REAL include enhancing arts education locally by giving back a portion to schools whose arts programs have been cut. REAL is in the process of crowd funding through Moola Hoop.
https://www.moola-hoop.com/project/creative-workshops-office-rental-company-help-rejuvenate-arts-in-education
Marinaccio helps art students in a REAL workshop (Photo by Stephanie Davis)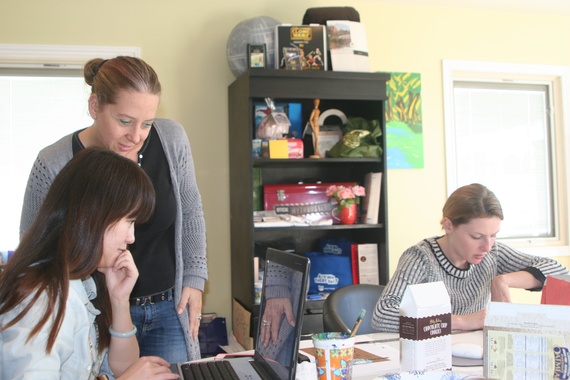 As an artist and art educator myself, I had heard about REAL through the Los Angeles grapevine, and sat down with Marinaccio and Cho to find out more about this unique center.
Xaque Gruber: Have you heard of other moms or artists doing what you are attempting to do?
Kathleen Marinaccio: Other creative co-working spaces, art studios and kid's creative workshops exist individually around Los Angeles, however the unique factor of REAL is that all those aspects exist together in a single space, which is unique and ideal to cater to all the freelancers of Los Angeles. For example a freelance designer can sign their child up for a workshop and, at the same time, rent an office space so they can work in quiet. It's a win-win. The freelancer gets time to focus, while their child is gaining an enriching creative experience.
REAL arts workshop (Photo by Dana Moreshead)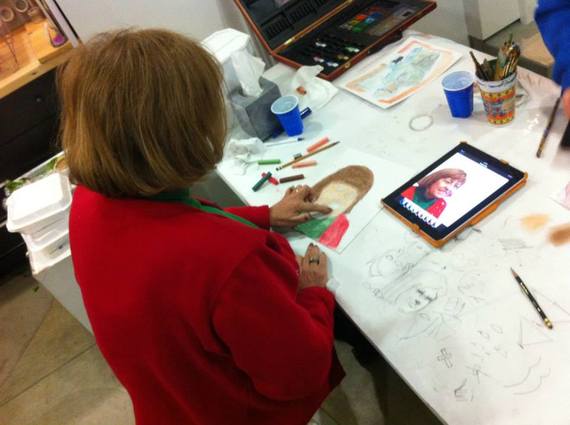 XG: What lessons are you learning as you take this plunge of opening your own arts center?
Tina Cho: You know that saying, nothing worthwhile is easy. Well I think Kathleen would agree with me on that one. She and I always knew that we work well together, and we trust the other to take care of a different aspect of the business. The division of responsibilities came very organically.
KM: The cost of renting commercial space in Los Angeles is akin to the cost of your first-born child. It. Is. Very. Expensive. In addition, the space that we would require is more than just a large room so that's been another layer to our search. There is a seemingly never-ending checklist of things to get accomplished when you are building a business, and once you check something off another item is added! My family and our friends have been a huge help. My Dad is even pitching in to help with construction once we secure our space. REAL is very much a family affair.
REAL arts workshop (Photo by Dana Moreshead)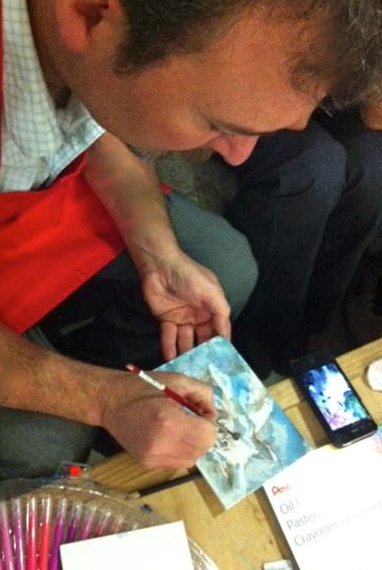 XG: How many classes will you be offering when it launches? And how would you like to see it expand class wise, and in other ways?

KM: We are hoping to offer between four and six different workshops in the beginning with one "No School Friday Event" per month. Our Friday night event profits will be earmarked to donate back to one school per month. Our mission is to donate money to rejuvenate the arts in education in as many schools as we can. From elementary school to colleges we want to give as much as we can in hopes of educating as many people as we can about art.
As REAL scouts West L.A. for an appropriate, permanent space, the business and art workshops are already in full swing. More information is available at:
http://www.real-losangeles.com/
Marinaccio concludes with this thought:
Whether you are artistic already or can't draw a straight line, we offer something for everyone. REAL will provide a forum for local artists to teach, share, and display their work. We already have a vibrant creative community in the area, and we want REAL to also be a platform for those established artists to grow and thrive