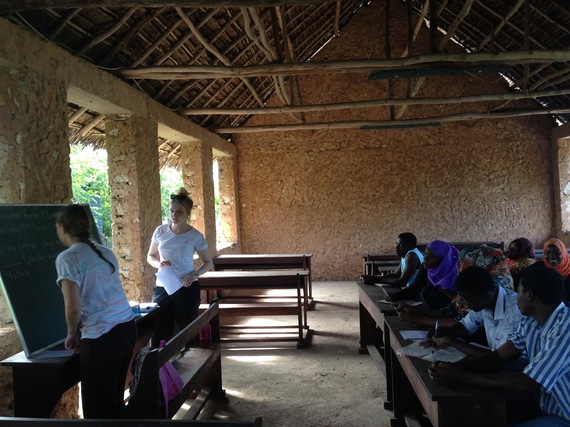 Having spent three months in Tanzania, volunteering and traveling, I confirm there is a pattern. Most sites and projects attract a much higher number of female volunteers. Without spending time on researching stats, it's easy to spot that 80-90 percent of people getting on the plane to come all the way to Africa to donate their time, energy and passion are women!
Why is it that so few men get excited about coming to help local communities in Africa? What are the true motivations for most volunteers? Do women have very different reasons for volunteering abroad from men?
The major reasons for dedicating time to volunteer steer clear of gender stereotypes. Many people who decide to sign up for a project are in transition. Transition is a state of mind that can hit you at any age. In the last decade volunteering has emerged as a great alternative to starting a university program, going for graduate studies, staying in a stressful job, having a mid-life crisis or jumping into a full-time retirement. Instead of taking a year off to think things through, we now choose an active timeout. Volunteering gives us purpose as well as a reward.
Why do we choose to volunteer? Help local communities and the environment are the pillar answers. What does it actually mean? Breaking down the motivations behind these big "issues," we find that volunteers choose to do what they do for the following reasons:
• To learn about local culture and people
• To contribute to someone's development (help one person at a time)
• To travel and see the world in a different way
• To feel good
• To NOT be a tourist
• To see if the skills from home translate well abroad
• To support a particular cause that we are passionate about
• To be busy and not get bored
• To pay it forward
• To experience an adventure
• To do academic or business research
• To learn and add specific skills and experience to the resume
• To test if non-profit work is a good career choice
• To have a holiday (voluntourism)
Are there actually any gender specific motivations? Here are a couple of reasons that jump out for women:
• Get away from a bad relationship (yes, this is a form of transition, too!)
• Travel safely and see a country where you may not feel comfortable with being a single female tourist otherwise
Men tend to be more direct and upfront about career needs/skills development as a motivator for participating in community development programs abroad. They also often see a new adventure as a challenge or competition. It's still an adventure but they compete to show themselves or their friends what they can do and how far out of their comfort zones they are willing to go.
It has been the most amazing opportunity to meet so many talented women at different crossroads of their lives and careers! The Millennials are very impressive. They are serious about changing the world and their motivation is what brings them here for terms longer than other generations are willing to take on. I hope that over time more men will choose to spend some of their vacation in the field over focus on getting on non-profit boards of directors or providing consulting advice.
Volunteering abroad is a life-changing experience. We teach and learn every day. We make friends for a lifetime with both people from local communities and fellow volunteers. We begin seeing new possibilities in our own lives and careers. We learn how to be happy with a lot less than what we have at home. We learn to slow down, pause and think. We complete the transition.