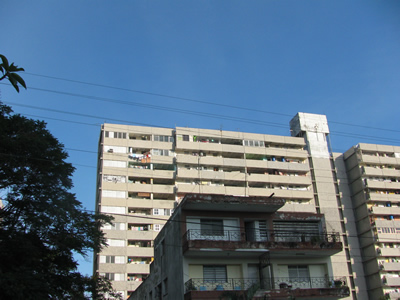 The building where I live just turned 25, having been built by the hands of the people who lived here, back then. With its huge concrete frame and Yugoslavian architecture, this fourteen-story block was the last one completed under the supervision of Soviet technicians. A new concept called "microbrigades" -- during the seventies and eighties -- allowed people in need of a house to build it for themselves. Those were the days of illusions and many came to believe that these buildings of twelve, eighteen and twenty stories would solve the country's housing problem.
There were so many needs, however, and construction progressed so slowly, that the new Eastern European style neighborhoods could not solve the housing crisis. When the first tenants moved in here -- after seven years of laying bricks and pouring cement -- we became the last beneficiaries of an urban project that came to an end with the dismemberment of the socialist camp. There would be no return to the raising of tall buildings, and even the Ministry of Construction became an archive of plans postponed and architectural dreams aborted. Those still stretched for space had to be satisfied with dividing rooms or building makeshift apartments on the roofs.
Among the 144 families who live together in this building, the children grew up, along came the grandchildren, and where there was once room for a couple and their offspring, now sons, daughters and mothers-in-law squeeze in together. Unfortunately, the rigid structure of the building doesn't allow for extending the balconies, nor for making the horizontal divisions we call "barbecues," but creativity has managed to make two rooms where once there was one. These "skyscrapers" have finally become a symbol of a bygone era, and the children who run along their hallways barely know that they were intended to be the bright and colorful homes where the "New Man" -- a creature they never managed to create -- would live.