There are lots of ideas about spiritual life that we choose to believe and make our own. One such idea, for me, is the idea that I chose my specific parents because they would provide the ideal circumstance for me to achieve what I long for most in this life. For me, that longing is to know how to love -- under all circumstances -- both myself and others.
This belief about my parents has empowered me to find meaning in my own suffering, as well as the suffering I see all around me.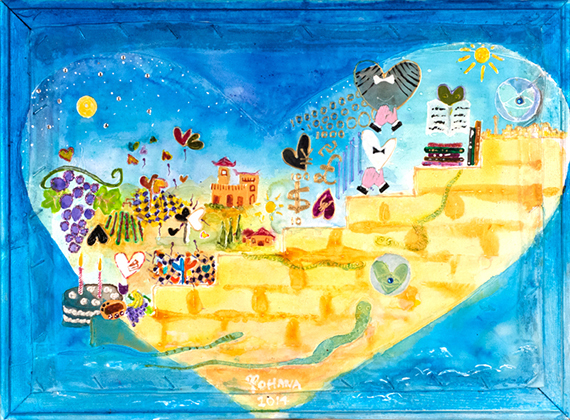 By *YoHana, It's all in the Heart 2014, Mixed media on canvas, 16 x 11.5 inches
One of my big realizations on this journey was this: For me to be able to love, I would first need to access my heart. Sounds simple, I know, but this is actually quite demanding and profound. For I came to see that a lifetime of emotional and cultural programming had disconnected me -- quite literally -- from my own authentic experience of life.
One big result of this disconnect was my mind's faulty interpretation of reality. I believed whatever my mind told me, and more often than not what it wished to express was faultfinding and judgment, resentment and anger -- even at my own children! My mind also blamed my parents, teachers, leaders -- and even God -- for everything that went wrong in my life. I was not myself spared from this terrible assault; I was also filled with self-hate and self-deprecation. My emotional connection with other people, obviously, was as poor as my emotional connection with myself. And my lack of trust in myself and in life caused me more than once to take care of my own needs, heedless of the price that others paid for this.
Every day, then, my mind produced an avalanche of negative thoughts, and I believed them, unaware of the mountain of pain, despair and anguish that were buried underneath.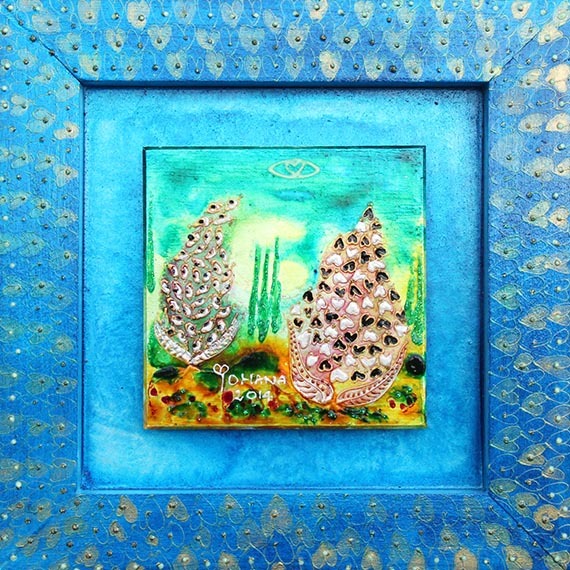 By *YoHana, Love story, 2014, Acrylic, glow on canvas., 12 x 12 inches.
It took years of soul searching and spiritual practice for me to see how my perception of the world and the people around me is a mirror of my inner attitudes, core beliefs and old emotional wounds. Like so many, I considered my mind to be superior to my heart, and felt that being emotional and vulnerable was a weakness. It followed, then, that having more knowledge, money, or fame were the measures of success - and even of a greater ability to enjoy life! By these yardsticks, though, I always ended up a total failure, always trying to be like those imagined superior people, but never arriving, never belonging.
To be sure, a tiny flame burned inside of me that did not need that kind of oxygen. But with no external validation of my feelings, and little inner power to champion this small bud of feeling, I could only conclude that something was really wrong with me. I therefore made choices that drove me even further from my dreams. I became what I imagined that other people liked in order to please them -- to make them love me. This is truly 'hell on earth' -- being a prisoner to inner demands that are outwardly oriented, and not inwardly, to oneself.
Fortunately, the pain that this entailed was unbearable.
My unremitting pain and anxiety became the fuel for my search to find another way to live. I didn't know exactly what I was looking for, since I had no memory of inner experience of real love or freedom. Gradually, though, with the help of wonderful teachers and mentors, I learned to identify what was really going on inside me and to connect with myself. I learned that there was a huge difference between knowing something in my mind, and living it in my body. I became a practitioner, which meant the rigorous practice of closing the gap between where I was, and where I wanted to be.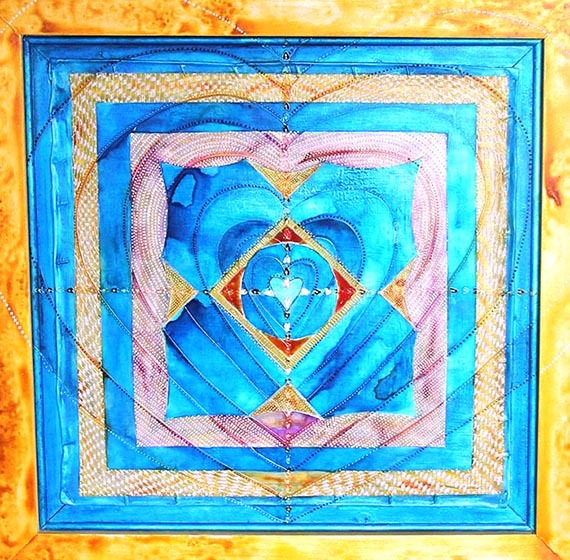 *By *YoHana, Heart Mandala, 2014, Acrylic, glow on canvas., 21 x 21 inches.

After 58 years on this journey, I truly trust now that inner transformation is possible. Step by step I have explored the content of my heart, and step by step I have opened it wide. The intense labor of melting down my fears and negative thoughts and feelings have revealed a warm cozy inner reality that actually gives me enough space to include "you" inside of "me."
As a Heartist I've learned to systematically turn everything upside down from my head to my Heart. The Heart is wise and it knows. The head always tries to understand, but cannot. If I simply ask my heart, it always gives me answers. I've learned to trust these answers, even if they don't always make sense.
That's the way I see the world now.
There are no other people; there are only hearts and we all live together in one big Heart.
By *YoHana, Life is a dance, 2014, Acrylic on canvas, 12 x 12 inches
If anyone reading my story is experiencing turmoil, please know this: there is a lesson hidden within your turmoil that can bring you a better life. Look at the contents of that turmoil, and trust that the hard lessons of today can lead you to something completely different from what you now experience. We each have the ability to stand free from our habitual self.
When we do that, we surpass our limitations and make wonderful, enduring connections. Me to myself, you to yourself. And the result of this is that we make a better world for ourselves that is actually lived... today.
And that's the sweet, sweet fruit of my life lessons: to be able to love you as I love mySelf.
*I use different names in signing my paintings: Anicca [pronounced Anitcha], Leela, Ania, YoHana and Yanna.