I have many costumes in my wardrobe. One of the oldest is my soldier's uniform. I wore it over 40 years ago, as a lieutenant in the Israeli army.
Like the many other "uniforms" I have worn, I was totally identified with what it represented, and naively thought that it was me.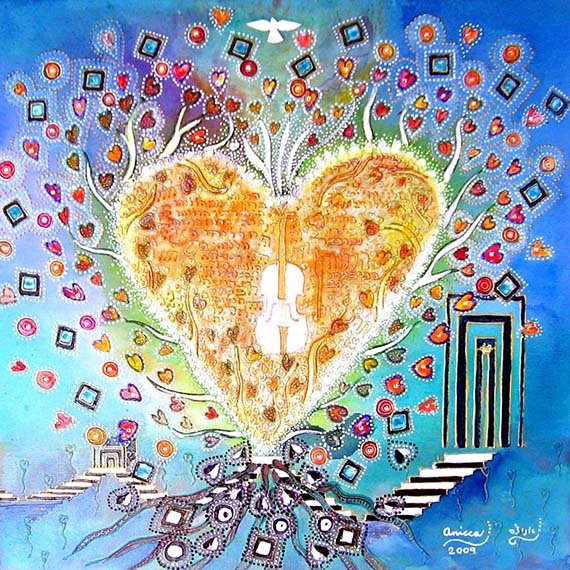 By *Anicca, Heart of the Matter, 2009, Mixed media on canvas, 24 x 24 inches.
When I was a soldier I acted strictly from my gut and my head. Each decision I made was the product of endless assumptions, unconscious fears, judgments, and assessments, which took its final form as highly intelligent thoughts. My heart was wounded and in pain, but I masked this behind an ever-ready sharp tongue.
I was not a soldier just militarily, but in every way possible. For besides the orders of my commanders, I obeyed the demands of my parents, of many who I imagined were my friends, and the expectations of my cultural heritage. I had been born, it would seem, to be an obedient slave filled with fear.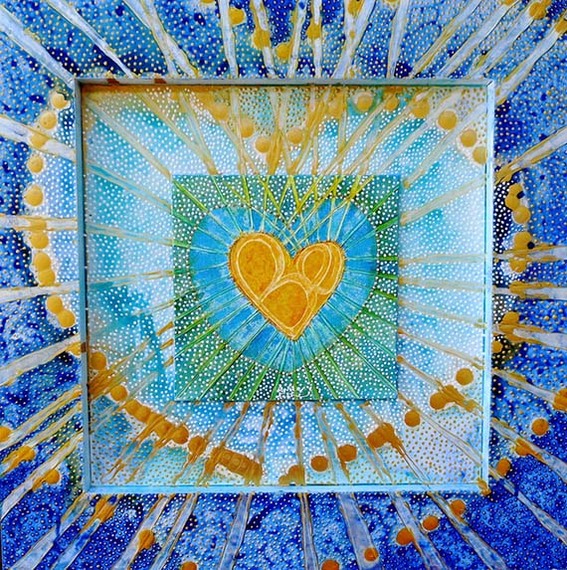 By *Anicca, Double Heart, 2011, Mixed media on canvas, 24 x 24 inches.
As time passed, and I deepened into a spiritual journey, I began to wake up to my heart. Huge waves of frustration, rebellion, and aggression began to flood my inner reality. I lived in a perpetual civil war of inner conflict and turmoil. Not surprisingly, I attracted a steady stream of external conflicts as well, which I sought to relieve with drugs, sex, and aggressive speech that was all bluster. The unbearable gap between what I longed for -- peace, harmony, connection -- and how I acted, created a black hole in my being.
In that way, I was quite like Israel is, today, as I perceive it. Let me tell you what I mean by that.

I was raised with a complex emotional inheritance. As the daughter of a holocaust survivor, I unconsciously absorbed the emotional baggage of my dear mother, who did her best to create a new life after such a devastating experience. As a result, my life was continually percolating with "little holocausts." From a tender age I had become so disconnected from my heart and inner being that I didn't know how to claim it.
The external world -- so full of "you shoulds," "you musts," "you need to" -- became the silent director of the unbearable survival mode in which I lived. I was smart, aggressive, full of outward blame, and lonely. Very very lonely.
Again: I'm reminded of Israel, thinking it must be the same for her...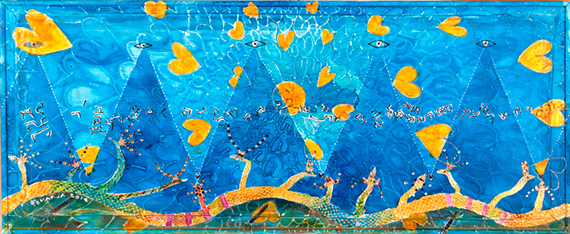 By *YoHana, Breaths, 2014, Mixed media on canvas, 15 x 32 inches.
After serving out my role as a soldier, I was married, brought three wonderful sons into the world, was divorced, and then -- I can only say by grace -- found myself elevated, step-by-step, to a perspective I had never before imagined. The perspective of the heart.
I expanded my wardrobe, donning the colorful dresses of a musician, a kite master, an aerial designer, a sculptor, a painter... And yet -- the more expansive I became, the deeper the hatred and resentment I unearthed inside of me. The roots of my holocaust upbringing were deeper than I thought, and truly loving others seemed far, far away... indeed, impossible. The only love I had, it seemed, was for people who agreed with me. Worst of all, I had myself become a person who I hated!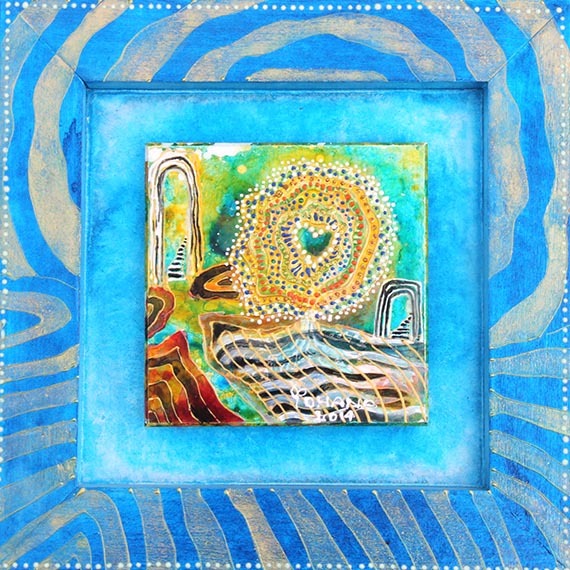 By *YoHana, Choose, 2014, Mixed media on canvas, 12 x 12 inches.
And yet... crusty, rusted layers of ancient suppressed emotions were slowly melting in the face of my intense longing to escape this internal jail I was in. As a result, after 40 years of wandering in my internal desert, I was able to transform my fearful obedience into love and acceptance of the truth of my heart. I reclaimed my choice.
Conflict, confusion, aggression, violence, tension and rage increasingly gave way to beauty, curiosity, awareness, the joy of music, and art of the Heart. Buds of conscious love opened their fragrant petals in the soul of a love seeker. New horizons opened up for the person I now consider myself to be: a Heartist.
In this, I'm engaged in a process of becoming what I hope Israel is one day destined to become, and what Palestine, I hope, will become. Indeed, what the world will become -- a place where "Love your neighbor as yourself" is a living truth.
I choose to look at war and pain and conflict as my teachers, inviting me again and again to connect with my heart deeply and with what matters to me most -- connection with myself and with others.
We are told that we need to "Love our neighbor as we love our Self," but how do we do that?
My mission as a Heartist is to share with people how to consciously love and consciously create a world of beauty, creativity and unity that can be enjoyed individually, and shared with all people.
*Anicca [pronounced Anitcha] and YoHana are some of my names. Yanna.