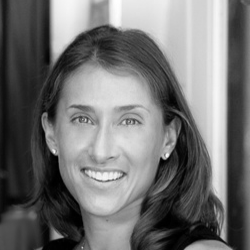 Author Brooke Bergman is the Co-Founder and Vice President of Allied Business Network Inc., a free-to-join business network that offers entrepreneurs and small- to medium-sized businesses extensive discounts on the products and services that they use every day. Members save on products and services from top companies such as Office Depot, Hertz, UPS, Wyndham Hotels and more.
I'm a serial business traveler. I'm on the road the majority of the year, checking in and out of hotels, getting in work wherever I can, as quickly as I can. So when I found these hotel trends during my travels and experienced just how easy they are to find and use, I knew that hotels were finally recognizing travelers like me and our sometimes unique and usually challenging needs. Because while most travelers like to stay connected while on the road, this is an absolute necessity for business travelers. And while packing is always important, it can be especially important during a long business trip.
So the next time you hit the road, don't get overwhelmed or off focus -- these growing hotel trends are here to save the day (or more likely your entire trip!).
Workspaces on demand. Marriott's new program is great for a few reasons, mainly because it offers exactly what it promises: workspaces on demand. You can reserve a table, desk or boardroom in just a few clicks on the WorkspaceonDemand.Marriott.com website. Public spaces are typically free to rent for the hour or full day, and boardrooms will typically cost you a rental fee. Wi-Fi is always free to use and some of the rental spaces are pretty interesting, like the Beach Chickee Hut or poolside cabanas available at the Marco Island Marriott Beach Resort, Golf Club & Spa. Who said your road office had to be indoors?
Free Wi-Fi. As a business traveler, if you don't offer free Wi-Fi, I'm not staying at your hotel. While a lot of hotels are just now getting on board with this concept, Shangri-La Hotels have been doing it for years. According to the brand, they were the first international luxury brand to offer this amenity, demonstrating that they are truly dedicated to providing the services their guests, especially business travelers, really look for.
USB plugs. Properties of Le Méridien and Hampton Inn are part of the pack of hotels leading this concept with their abundance of regular and USB plugs to meet the overwhelming charging demands of guests these days. With laptops, smartphones, tablets and more, the need for several bedside plugs has become greater than ever. These days, there is no such thing as too many electrical plugs.
Running shoes and workout clothing rentals. Westin has partnered with New Balance to offer guests running shoes and workout clothes for rent for only $5 for the length of their stay. That's right, only $5, no matter if you're staying for only one day or ten. This is great not only because it's a huge space saver when packing, but a workout is a great way to recharge your mind and body to keep you on your A-game while on the road.
Healthy vending machines and packed lunch options. Marriott asked its guests what they wanted most, and then delivered just that. One traveler inspired Marriott to start testing out healthy vending machines in certain locations and it has sparked a trend. The vending machines offer prepackaged salads and sides -- perfect for busy business travelers on a budget and on the go.
From my experience, these trends are all fairly easy to use and are great for saving time and reducing stress - two important elements for any successful business trip.
Disclosure: The author has worked with Marriott and Le Méridien.