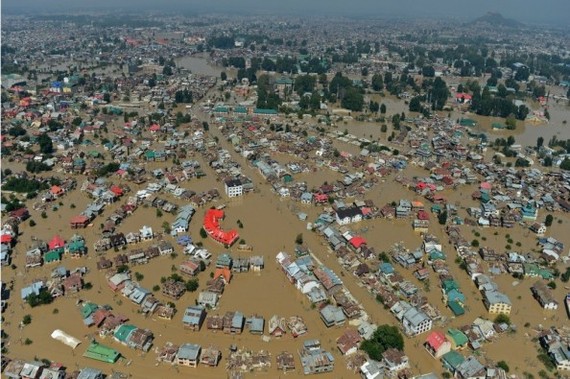 Last week, monsoon rains provoking landslides and severe flooding killed at least 450 people in India- administered Kashmir, the Himalayan state long at the heart of a mutual hostility between India and Pakistan. More than one million people lack basic services, electricity, food, water, and shelter. Approximately 600,000 are stranded, thousands more are displaced, and as this crisis extends, those on dry land have begun to fear diseases and hunger. Not a single Kashmiri family has been untouched by the floods.
The irony of the current situation is that the Indian army did not have to be called in to engage in rescue operations; they were already there. There is approximately 1 Indian security force member for every 8 Kashmiri civilians, and that's in times of relative peace and calm.
While NDTV and Hindustan Times reported heroic rescue after heroic rescue by the Indian Army and the National Disaster Response Force (which sent 300 rescuers to the flood-affected areas), the reports from people on the ground are of frustration at slow and meager rescue efforts. In many ways these floods are a great equalizer, people were not protected by their wealth, but rather everyone living in the effected areas have suffered. Thousands have and continue to wait for rescue with nothing to drink nor eat for days, as they slowly and literally watch their lives being washed away. The Indian government was quick to come to the aid of Indian tourists trapped in Kashmir, but the response for locals has been perceived as far slower-paced.
Some residents complain that once the news camera lights are off, the police and army are also off, but it is hard to discern fact from fiction in these cases. Journalist Arif Ayaz Parrey praised "the heroic rescue work being done in Kashmir by local men and women" and accused the Indian administration of "utter failure."
"Utter failure" is perhaps the most polite way to frame the Indian central government's response to the floods. There was no effective evacuation effort. There was no infrastructure to prevent flood damage despite a prescient 2010 Flood Control Department Report warning of exactly this scenario taking place by 2015, with recommendations to mitigate the future flooding. The immediate response of state officials was lackluster. The already unpopular Chief Minister Omar Abdullah tweeted that people should remain calm. It's a wonder who in the valley was able to read such a tweet since most communication--telephone lines, internet, and cell phones-- were down and one week later continue to be down in much of the valley.
The search giant Google has provided one of the greatest assets to people inside and outside of Kashmir, helping people search for their missing relatives in real time. The Google Person Finder and Google Crisis Map have been critical in letting people know their relatives are alive and in locating those in need of rescue. This is all the more impressive when one considers that Kashmir is one of the few places on earth where there is no Google street view. The simple words "Someone has received information that this person is alive" next to a relative's name are often all people have to rely on in trying to find information about their relatives given the near total collapse of communications systems.
Instead of looking to the Indian government for help, Kashmiris are looking to each other, to Kashmiris living in other parts of India, and to the international diaspora community of Kashmiris from the US to the UK to the UAE. In Srinagar some residents have rigged makeshift catamarans out of foam and wood to carry their families and neighbors to safety. Farmers high in the mountains in Yusmarg are trying to get food to people in the valley. The famous small shikara boats, normally a touristy and romantic way to take in the green Himalayan mountain views from Dal Lake, are now a vital part of rescue efforts. The slim boats used in Srinagar's traditional floating flower and vegetable markets have also become part of local rescue efforts.
19 year old Tanvir Ahmed Sheikh and a small fleet of shikara drivers have been using their boats to rescue people stranded along Dal Lake. In Rajbagh, a well- to- do neighborhood completely eviscerated by the floods, an old shikara driver does rounds on his own, he paddles through neighborhoods calling out names and finding out who still needs to be rescued, who is alive, who needs clean water and medicine. He isn't part of an international aid organization, he isn't part of the police force or military; he is just an old gray-haired man on a small boat, his feet tucked beneath him as he paddles through lanes once filled with cars, and now filled with fetid brown water and the occasional floating corpse.
India's Katrina?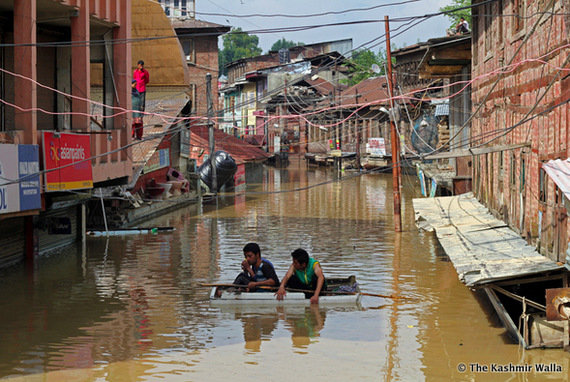 One wonders if the Kashmir Floods are the Modi government's Hurricane Katrina moment. New Orleans, a city of about half a million, was hit by the devastating hurricane in 2005. Floods and damages could have been mitigated but for faulty levees built by the United States Army Corp of Engineers. Federal, state and local government authorities, particularly FEMA (Federal Emergency Management Agency), were slow and bumbling in response to the hurricane and its aftermath. The Bush government was criticized for not evacuating people in time, and then for its poor and slow rebuilding. Many in the US saw this as racially motivated because those most negatively affected were disproportionately African American.
At its height, the flooding caused by Hurricane Katrina was 4.5 meters (13 feet) deep. Similarly in Kashmir, floodwaters reaching 4 meters (12 feet) have submerged homes, schools, cars, houseboats, and shops. Touring Jammu & Kashmir by helicopter, Indian Prime Minister Narendra Modi declared the floods a "national level disaster" and promised almost $164 million USD in aid and compensation. Disaster relief still feels far away, with only 20 helicopters actively performing search and rescue operations. Hundreds of thousands remain stranded and food scarcity has become a huge problem. The Indian government refused aid from the UN and other international organizations, frowning at the idea of receiving outside help. This does not instill confidence in local Kashmiris, who see the rejection of aid as a rejection of their very ability to survive, let alone rebuild and recover.
Locals have been buoyed by the generosity of Indian corporations. Jet Airways, SpiceJet and Air India, have taken relief supplies and cargo to Kashmir free of charge. Generously, Anand Mahindra, vice-chairman of the Mahindra Group, pledged approximately $500,000 USD for flood relief efforts in Kashmir.
The government's response to these floods may provide a pivotal moment in Kashmir's relationship to India writ-large. Modi's failure to respond to these floods effectively may be just the fodder separatists need to point to an Indian central government that does not care about the people of Kashmir or Indian Muslims in general. Can the Modi government successfully contain and manage the immediate crisis and help rebuild this fragile state? In doing so, Modi has the opportunity to overcome the haunting legacy of the 2002 Gujrat riots, where many believed he turned a blind eye to the massacre of Muslims and stirred communal tensions instead of relieving them. The world is watching to see if Modi can rise to the occasion and show that he is capable of rising above the sectarianism that plagues Indian politics to lead Kashmir into the bosom of a potentially kinder mother India.