Originally published on Youthradio.org, the premier source for youth generated news throughout the globe.
By: Jelani Gibson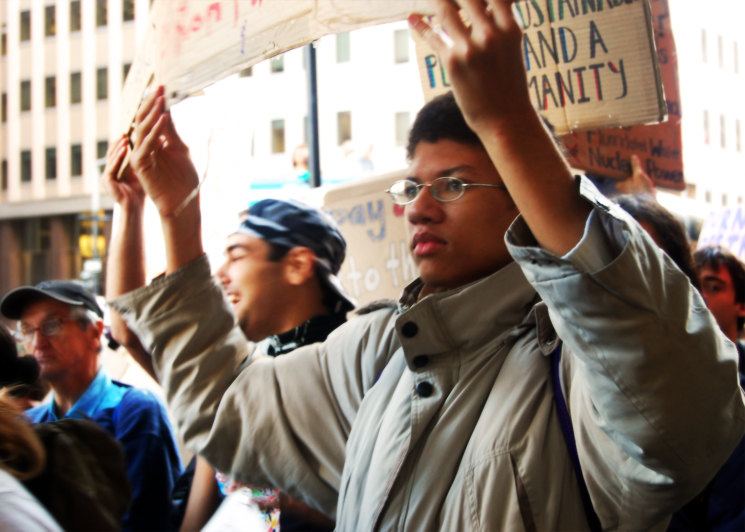 Photo Credit: JOY HOLDER/Youth Radio

Jelani Gibson at Occupy Wall Street.
Editor's note: Out-of-towners from across the country have been among the thousands of protesters to amass in Lower Manhattan in the past month. One of them was 16-year-old Jelani Gibson who traveled by bus from Pontiac, Michigan with his grandmother. From Zuccotti Park, the continuously occupied headquarters of the demonstration where he spent a week in early October, Gibson has this Youth Radio postcard.
My grandma has taken me on many trips -- to Senegal, the Gambia, parts of Central America, Portugal, Paris. But this is our first camping trip. In fact, I've never slept outside before. So when I wake up before dawn on the first morning, I right away think, "Where am I?"
I poke my head up from beneath the tarp. Through the tree branches above me, there are still a few stars in the sky. I put on my glasses and see that I'm not alone. Dozens of sleeping people lie next to me, wrapped in blankets and blue tarp. Policemen stand a few yards away forming a perimeter around us. And surrounding all of us are skyscrapers, where people in suits are already heading in to work. After all, this is New York.
My grandma is angry about the trillions of dollars our government has loaned banks, interest free. And about seeing people kicked out of their homes, including in neighborhoods like ours near Detroit. When I heard she was going to Occupy Wall Street, I told my mom I had to go, too.
Before Mom could launch her own protest about missing school, I reminded her I had just gotten a 105% on my geometry test.
"Fine," she said. "Do you have everything you need?"
I packed light -- an emergency blanket, a raincoat, a toothbrush. And two notebooks to record the coming week.
My first entry reads: Midnight on the Megabus. Gameboy is plugged in and I'm ready to go.
Fourteen hours later, we arrive at Zuccotti Park. I'm disappointed to see only a few hundred protesters - not the thousands I had seen on TV. We later learn 700 protesters had been arrested a day earlier on the Brooklyn Bridge.
But more people arrive throughout the week. And I'm always writing, keeping track of what's happening around me so I remember it.
An entry from my first morning in New York: Right now I'm in Burger King. Just ate pancakes and bacon. Brushed my teeth in the bathroom.
We subsist on mostly fast food during the week. My favorite is the lamb gyro.
But we also eat from the Occupy Wall Street "comfort centers," where volunteers cook big pots of oatmeal and serve salads and other donated food throughout the day.
For entertainment, there's always the constant music and drumming.
What I enjoy most, though, is watching people, and listening to them.
On my second morning in the park, I wake up next to a college student named Amanda. She's really against hydro-fracking, something I didn't know much about until she explained it to my grandma and me.
It's true that everyone seems to have their own reasons why they're here. But when it's time to march, we are all in sync.
The reason I'm here is to make sure my generation's voice is heard, too. I am tired of hearing about big corporations getting away with so much to ruin the resources we'll need for the future. I want them to leave us something to work with.
Of the two notebooks I brought with me, one is for nonfiction, to record what really happens. The other is for fiction, where I plot out what could happen from here. In one imagined scenario, people in power really do listen to my generation. And a lot changes.
Editing was contributed by Charlie Foster.
Youth Radio/Youth Media International (YMI) is youth-driven converged media production company that delivers the best youth news, culture and undiscovered talent to a cross section of audiences. To read more youth news from around the globe and explore high quality audio and video features, visit Youthradio.org