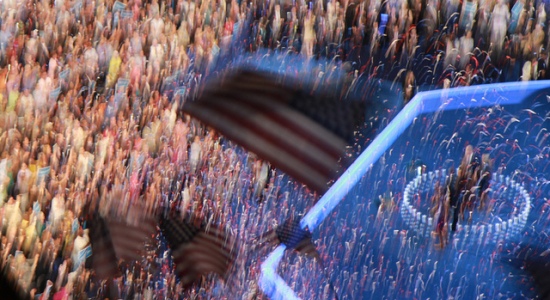 Photo Credit: MALACHI SEGERS/Youth Radio

Confetti and cheers as the first family took the stage at the close of the DNC Thursday.
By: Malachi Segers
At the Time Warner Arena Thursday evening there was plenty of energy flowing in the crowd. At every opportunity, they were constantly cheering and chanting "Fired up, ready to go!" and "Four more years!" I noticed lots of people checking Twitter on their phones at first, but by the time headliners like Joe Biden and Barack Obama took the stage, nearly everyone around me put their smart phones away. Check out the slideshow:
Originally published on Youthradio.org, the premier source for youth generated news throughout the globe.
Youth Radio/Youth Media International (YMI) is youth-driven converged media production company that delivers the best youth news, culture and undiscovered talent to a cross section of audiences. To read more youth news from around the globe and explore high quality audio and video features, visit Youthradio.org