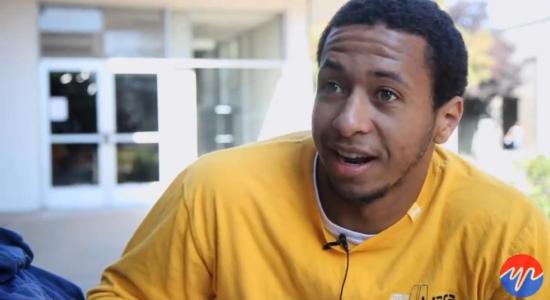 Photo Credit: CHAZ HUBBARD/Youth Radio

Nick Johnson, 21, student at Diablo Valley College.
By Luis Flores and Chaz Hubbard
Between 22 and 23 million young people cast ballots in the November 6th election, according to CIRCLE. Throughout the campaign season, polls and pundits pointed to the so-called "enthusiasm gap," speculating that turnout among 18-29 year-olds would be much lower this year than in 2008. Yet the youth voting numbers ended up pretty close to the same, with President Obama capturing 60 percent of the youth vote. So does that mean young voters are still hopeful? Youth Radio surveyed young adults at Diablo Valley Community college in Pleasant Hill, California to find out.
Originally published on Youthradio.org, the premier source for youth generated news throughout the globe.
Youth Radio/Youth Media International (YMI) is youth-driven converged media production company that delivers the best youth news, culture and undiscovered talent to a cross section of audiences. To read more youth news from around the globe and explore high quality audio and video features, visit Youthradio.org