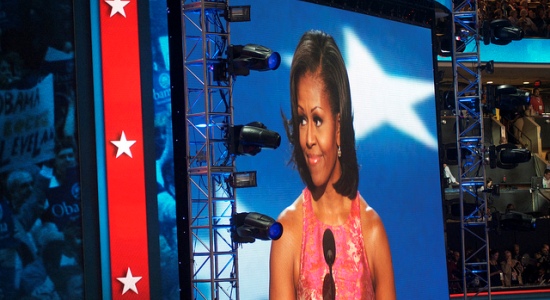 Photo Credit: BRETT MYERS/Youth Radio

The First Lady smiles during an extended applause break
By: Youth Radio
Tuesday marked the opening night of the DNC in Charlotte, North Carolina, with conventioneers taking to the Time Warner Arena for the first time. Speeches traced two common themes -- so-called women's issues like abortion, pay inequality, healthcare, and motherhood, as well as economic justice & the growing class divide.
Check out photos from the night below:
Originally published on Youthradio.org, the premier source for youth generated news throughout the globe.
Youth Radio/Youth Media International (YMI) is youth-driven converged media production company that delivers the best youth news, culture and undiscovered talent to a cross section of audiences. To read more youth news from around the globe and explore high quality audio and video features, visit Youthradio.org