Originally published on Youthradio.org, the premier source for youth generated news throughout the globe.
By: Ali Zafar
Rippling-golden sand dunes and rocky fields surround the sleepy city of Al Kharj, located in the Riyadh province of Saudi Arabia.
Everything shuts down here five times a day when the call to prayer blares from the city's many minarets as worshipers flock to mosques.
These days, those flocks have grown larger with the Islamic holy month of Ramadan in full gear.
Among those Muslims is 26-year-old Ryed Sunaid, a resident of Al Kharj who is using this month to pray for not only a place in heaven, but also for prosperity here on earth. Sunaid was born in Dilliam, a Bedouin village located just outside of Al Kharj.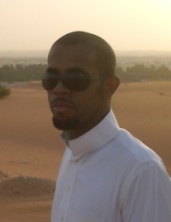 Sunaid comes from a large family with 10 siblings--five of them sisters who are all married now. His father is an elementary school teacher and his mother a homemaker. Paying the bills is a difficult task.
Living in an economy dented by the global recession, Sunaid juggles college and a part-time job greasing agricultural irrigation machines, which he will go back to once the Ramadan vacation ends this Sunday.
"Can you imagine greasing those machines under 120 degree weather? Wow. It's like hell," Sunaid says. He's been working this job for the past three years, earning $720 a month--most of which goes to his parents.
Since such positions typically are held by South Asian or Filipino contract workers, Sunaid is an anomaly in the Saudi workforce, according to writer Saeed Al-Yami. In a recent op-ed in The Arab News, Saudi Arabia's most widely circulated English-language newspaper, Al-Yami discusses why young Saudi men continue to remain unemployed.
"We have unemployed Saudis searching for the right job when the right job they are searching for does not fit them. Sadly this is a reality...Our fathers and grandfathers worked in cleaning, construction, farming and many other jobs that young Saudis these days deem unfit for them."
According to a report compiled by the General Department of Statistics and the Saudi Ministry of Economy and Planning, 9.8 per cent of young Saudis remain unemployed, while unofficial estimates stand at 20 percent.
"Saudi youth can't work as cleaners or drivers, the community won't accept them. I think it's a shame the way our society thinks because even the Prophet [Muhammad] said you have to work to live and not depend on other people, like how most Saudis depend on their parents even when they're old," Sunaid says.
At the Al-Kharj Technical College--where Sunaid is studying accounting--student adviser Salah Alanzi says even though post-secondary education is free in the Kingdom, many students from poor households drop out simply because they can't afford to take a taxi to college everyday.
This is besides the fact most students get a monthly allowance of $260 a month from the college, money that is instead used for paying the bills at home, Alanzi says, noting that for most students, school isn't seen as a way of getting a job.
According to Alanzi, other more well-off students drop out because they don't want to wait three to five years for a diploma or a degree, choosing instead to remain unemployed and live off of their parents.
"I can't do that. I want to have a good future, I want to study as much as I can--keep studying until I get my doctoral degree," Sunaid says, who has a GPA of 4.45 out of 5. He has a year and a half left until he completes his diploma.
After that, he says he wants to study abroad to complete his degree in accounting.
"When I want to do something, I do it no matter what it takes," he says, adding that this month of Ramadan is definitely giving him a boost in achieving his goals.
"Without my faith, I would be hopeless to be honest. It feels good to pray, it keeps me optimistic."
Youth Radio/Youth Media International (YMI) is youth-driven converged media production company that delivers the best youth news, culture and undiscovered talent to a cross section of audiences. To read more youth news from around the globe and explore high quality audio and video features, visit Youthradio.org