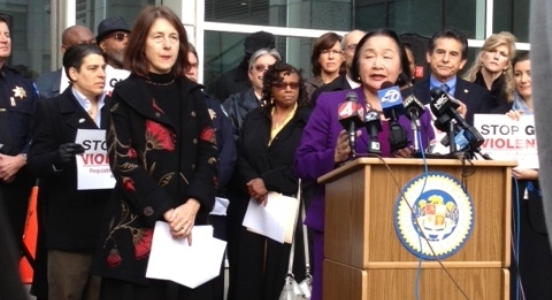 Photo Credit: Youth Radio

Assemblymember Nancy Skinner (D-Berkeley) and Oakland Mayor Jean Quan at a press conference introducing AB 48, which would regulate ammunition sales in California.
By: Robyn Gee
As politicians address gun violence in the wake of the December 14 shooting at Sandy Hook Elementary School, California Assemblymembers Nancy Skinner and Rob Bonta introduced legislation today that would regulate ammunition sales, and keep track of people who purchase large numbers of bullets.
"Our intent is not only to make our schools safer, but our communities safer by putting controls on bullet sales similar to the ones we have on gun sales," Skinner told Youth Radio. "It is easier today in California to buy bullets than it is to buy cold medicine like Sudafed, or alcohol or cigarettes...I don't see how guns make schools safer, I think we need to limit access to guns and limit access to bullets," she said.
Oakland Mayor Jean Quan also spoke at the press conference supporting Assembly Bill 48. While the City of Oakland already regulates the sale of ammunition, Quan said that most of the guns and bullets in Oakland come from Nevada, so she ultimately wants to see this effort turn into a national campaign.
Quan has been in communication with Vice President Joe Biden about what urban communities like Oakland really need. "Out of my experience with [the shooting at Oikos University], I really wanted to make sure we have mental health counselors available, especially in immigrant communities," said Quan. "It's clear that the shooters tend to be young, angry men. We may not be able to afford mental health for everyone, but we can do intervention in some communities... I'd like to see some very targeted initiatives for young men who are loners," she said.
In addition, she would like to see money from ammunition sales help sponsor "bullet buybacks" where residents are compensated for turning in ammunition to the city. "[Gun buybacks] have been pretty effective when we limit it to local residents and particularly when we target young people. Many people turned in guns that their friends, or their children, or their brothers and sisters had... We were pretty astounded by the turnout. If we could have a little more funding, we could do this on a regular basis," said Quan.
AB 48 would establish restrictions on ammunition sales similar to those currently regulating gun sales. It would require that all ammunition sales be reported to the Department of Justice. The DOJ would be required to report a buyer to local law enforcement if the buyer purchases more than a certain amount of rounds within five days. The bill would also ban kits that convert guns into illegal assault weapons.
"High capacity magazines are currently illegal in California," said Assemblymember Bonta. "But a loophole around the ban are the conversion kits which turn a legal magazine, which has ten rounds or less, into an illegal magazine -- up to 30, 40 or 50 rounds. Banning those kits will close that loophole and help prevent the use of those high capacity magazines whose only intent is to kill," he said.
Originally published on Youthradio.org, the premier source for youth generated news throughout the globe.
Youth Radio/Youth Media International (YMI) is youth-driven converged media production company that delivers the best youth news, culture and undiscovered talent to a cross section of audiences. To read more youth news from around the globe and explore high quality audio and video features, visit Youthradio.org