By Olga M. Merchán, Director of Workforce Strategy, YouthBuild USA
When I was a ten-year-old girl growing up in Colombia, I wanted to become a zoologist and research great apes like Dian Fossey after watching a TV show featuring her work in the mountains of Rwanda. Throughout middle and high school I was certain I was on that career path, but when the time came to make a decision about college, I panicked. Unable to find anybody who could help me with my next career steps, I ended up going to a college in my hometown of Cali, Columbia, to pursue a degree popular with those of us who didn't know what to study: business administration. After graduation, I went to the United States to study English and eventually go to graduate school.
Even though I did not pursue the career of my childhood dreams, I have led a fulfilling professional life. In 2000, I started working in workforce development after many years of doing community development work. I had become increasingly convinced that community efforts at improving the social conditions of its residents were futile unless residents were economically stable. In 2010, I joined YouthBuild USA as Director of Workforce Strategy, working with a network of 274 local YouthBuild programs across the country to prepare young people ages 16 to 24 to pursue post-secondary education and develop their own career pathways.
As many as 6.7 million young people in the United States are neither working nor in school. That astounding fact makes me wonder whether part of this complex problem is that these young people don't have enough information to have a clear vision of their career options. Would they stay in school if they knew that they had the opportunity to develop their own career pathways? Would they be interested in acquiring skills that are sought and valued by employers? How can we help them understand the need for post-secondary education or training so they don't find themselves trapped in minimum-wage jobs?
We have all heard how the economic recession has hit young Americans hard over the past five years-- the skills gap, obsolete training curricula and models, and the recently eliminated 2.7 million low-skills jobs once normally available to 16- to 24-year-olds. We are also aware that traditional approaches to higher education do not adequately serve low-income youth. Too often, these young people are grappling with significant challenges and cannot afford, access, or complete post-secondary and training opportunities that could lead to industry certification, licensure, or a post-secondary certificate or degree. Consequently, the college attainment gap continues to widen and income disparities only broaden.
Despite this disheartening reality, we have seen glimmers of hope as we seek solutions to our country's ongoing jobs crisis. For the past three years, YouthBuild USA has made a concerted effort to help young people realize their career aspirations. We have created robust pathways for YouthBuild graduates in high-demand, middle-skills occupations--those jobs requiring a credential, licensure, or an associate degree. By focusing on middle-skills occupations, we are addressing the exorbitant costs of higher education as well as helping young people acquire the skills that local employers seek.

Unfortunately, merely getting the right training and education does not guarantee career success. Even graduates with the brightest potentials and the best of intentions cannot get and retain good jobs when structural barriers continually thwart their efforts. Often, those of us who have found good employment lose sight of the fact that we are able to pursue careers in part because we don't have to worry about--or at least are able to manage--everyday needs such as housing, transportation, food, child care, or medical bills. These social realities often go unmentioned when we talk about "putting America back to work." We must ensure that these issues continue to be an essential part of the conversation.
Here is where we can all play a role. Each of us can be the guide, the role model, the industry expert that I did not have when I was approaching high school graduation. We can all make a difference in the lives of those 6.7 million out-of-school and unemployed young people by helping them research career options, make career decisions, select career pathways, and find personal direction. We can assist them in identifying what they are good at, helping them understand how their skills, talents, and interests translate into work, and directing them towards the education and training they need to break into the current job market.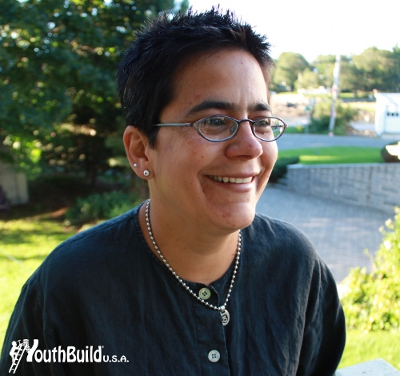 All of us can work together to raise awareness, inspire others, and play a critical role in forging solutions. Let's all contribute to what President Obama in his latest inaugural address called "collective action" by providing the time, information, and guidance needed to give our young people the opportunities they deserve to reach their full potentials.
While gathering facts and ideas to write this piece, I came across a poem written by a former YouthBuild student. We all have the power to help every Silviana reach their "impossible dreams" by providing the resources that we can to help her best utilize their "powerful minds."
HOPE
By Silviana Cordova
We can lose friends,
Pets and loved ones,
But not our hope,
Not even when our luck
Begins to slope.
We hold on to an impossible dream,
But who's to say it's impossible
If in our Hearts it always gleams.
Life is hard and sometimes cruel,
But we have decided to bend the Rules.
We're looking forward to our goals, careers, and lives,
And so much more.
They say that we are young and weak.
But they don't know that we're unique.
They worry if we carry guns and knives,
But they should worry about our powerful minds.
Join me in working to transform the lives of young people by visiting the YouthBuild JobRaising CrowdRise page today.