Spoiler alert: Do not read on if you have not yet seen Season 4, Episode 1 of PBS' "Downton Abbey."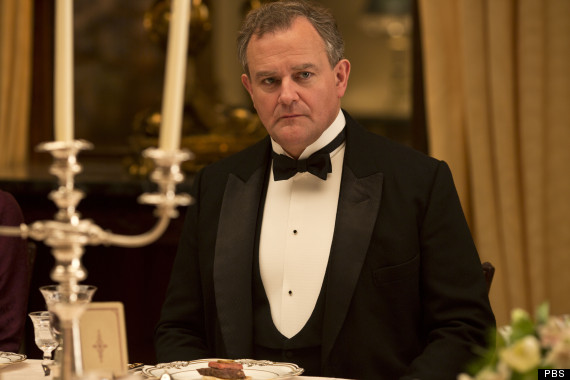 Sadness looms over Downton Abbey, the titular estate of the maddeningly addictive British period soap that premiered its fourth season Sunday night in the U.S with a gorgeous two-hour spectacle. Six months have passed since Matthew Crawley's sudden death and baby -- 'scuse me -- Master George's birth, and the house is still in black mourning, as evidenced by that long, beginning tracking shot of the estate's dark corridors and piercing cries of not one, but two babies. O'Brien has run off from the estate, rebellious teen Rose has stayed at the house, an electric mixer has shocked the downstairs kitchen staff and Lady Mary continues to grieve, stubbornly so, as she floats through the house like a ghost and snaps acid remarks like "Of course. It's Valentine's Day" at poor Edith, who goes running up the stairs. In other words, life's a party at Downton.
The Crawley family has witnessed war, financial disaster and broken marriage proposals over the past three seasons, but only in the past year has the family been dealt particularly harsh blows with the deaths of Matthew and beloved sister Sybil. Their absences have sent the remaining sisters, Mary and Edith, spiraling off into different directions, with one sister seeking a sophisticated city life in London with a potentially philandering newspaper editor and an eye to move to a pre-WWII Germany (prediction: that will be a bad move) and the other, a shell-shocked widow who still desires to be a housewife.
Part of what makes "Downton Abbey" so great is that the series reflects the changing social norms of early 20th century England with fantastic dialogue. Someone like Lord Grantham, with his puffy airs and general hostility towards anyone who challenges him, is quickly becoming a dinosaur in his own household, not only inherently misogynist but tone-deaf. He plods around the house with superiority and purpose but frankly ends up being a Debbie Downer to everyone around him. "And the price of great love is great misery when one of you dies," the Lord declares to son-in-law Tom about Matthew's death, forgetting for a moment that the former chauffeur was married to his recently-deceased daughter [womp womp womp]. "Mary shouldn't be concerned about anything right now," he admonishes Tom when Mary asks about his repair shop, cutting off their pleasant conversation immediately and sending Mary away to be alone [womp womp womp]. Even his mother, the Dowager Countess of Grantham, calls Lord Grantham a giant pill by pulling out the best line from the show: "When you talk like that, I'm tempted to call nanny, and have you put to bed with no supper." Eventually the Dowager thwarts Lord Grantham's attempt to establish full ownership of Downton by teaming Mary and Tom together to run the 50 percent of the estate Mary now owns, thanks to a newly discovered will Matthew left behind before his death.
Mary has decided to snap out of living in the land of the dead and step into the role of an estate owner, much to the discomfort of her father. Instead, she finds comfort in both her grandmother (Maggie Smith at her caustic best) and Mr. Carson, who has always been a surrogate father of sorts and who holds Mary close to his chest as she sobs openly for the first time on the show. Oh Carson -- could we like you more? The gentle giant is served his own dose of emotional healing as we learn about a personal heartbreak from his past, when he was known as "Charlie Carson" and doing theater gigs on the road (flashback episode, please).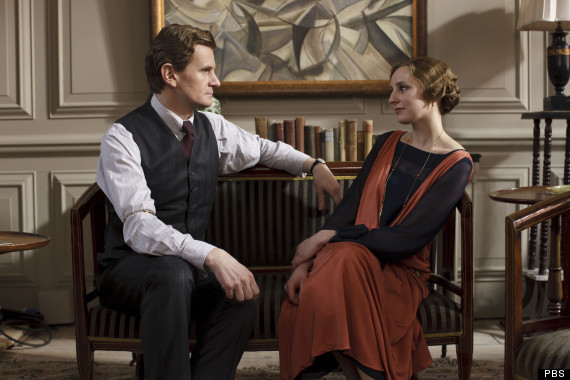 Meanwhile, Edith continues her flirtation with her new love interest, the dashing magazine editor Michael Gregson, which has advanced to bold kisses over dinners out in posh London restaurants and talk of getting married. But there's something suspiciously smooth about Gregson, with his bachelor pad apartment and plan to change citizenship to Germany, that makes me wonder if Edith isn't being played by the older man with all the right words but a murky romantic past. His hesitation to come to Downton and meet her family all but confirms that Gregson is afraid of being fact-checked and found out.
Let's talk about that nanny for a second, huh? By sheer luck, Thomas proves to be actually helpful in his scheme rid the estate of Nanny West, all because he didn't like the way the older woman was talking to him. It turns out that Nanny West is some crazy classist monster who treats Master George like a king and baby Sybil with rage for being a "cross-breed," all the while putting forth an impressively accurate Kathy Bates in "Misery" impersonation. (I personally think a whole hour with scary Nanny West and her evil child-rearing ways could make for some entertaining television, but that would be a whole different series indeed.) Emboldened, Thomas uses this small win over Nanny West to his advantage and frames Anna with Cora in order to continue his private war with Mr. Bates, who eyes Thomas warily whenever he passes him in the house. Now that O'Brien has abruptly darted off to India or wherever it is that she went, Thomas has free reign to wreak havoc on whomever he wants to in the house. Downton is his playground.
Thank God that Mr. Bates and Anna storyline appears to be over, by the way. (At least for now, judging from very spoiler alert-y post about an upcoming episode this season.) Mr. Bates is a fine man, but his imprisonment and anguished separation from Anna last season became terrifically boring after a few too many house visits with disgruntled ex-wives and evil prison mates. Now, the downstairs help is shaken by the return of Edna Braithwaite (how good of a last name is "Braithwaite"?), the strappy housemaid who kissed Tom in a previous season. Her new appointment as Cora's lady's maid horrifies Mrs. Hughes and Carson, who know that Edna is the 20th century version of a home-wrecker if there ever was one.
What did you think of Season 4's premiere episode of "Downton Abbey"? What does Edna's dreaded return mean for Downton, and what exactly is Gregson hiding from Edith? Will Mary continue to defy and stupefy her father's expectations, and prove to be an astute business woman? And who else wishes that evil Nanny West could have stayed an episode or two longer? Sound off in the comments below.
"Downton Abbey" airs Sundays on PBS at 9 P.M. ET.
Follow Youyoung Lee on Twitter: @youyoung_lee.
PHOTO GALLERY
"Downton Abbey"