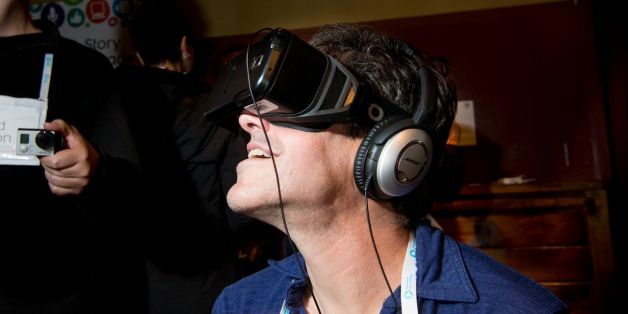 Staten Island's status as New York's Forgotten Borough was thwarted Wednesday as hundreds of tech geeks and creatives arrived at Snug Harbor for the third annual Future of Storytelling Summit. The two-day event -- a kind of Ted Talks meets gaming convention meets Burning Man, because, obviously -- included Jonah Peretti and the brains behind Google Creative Labs and Product Innovation at Netflix hosting intimate roundtable discussions and workshops for the five-hundred invite-only attendees, a story arcade with the requisite Oculus Rift demos, and live performances. It also showcased some seriously mind-bending technology -- stuff designed to make you sit back and go, "huh," then wonder how no one had thought of this before.
We rounded up our favorites from what we saw on grounds on Day 1. Ahead, the most promising examples of innovation in storytelling we can expect in 2014 and beyond:
Yoni Bloch
Who He Is: An Israeli rock musician turned high tech entrepreneur, the 33-year-old Bloch received $20 million in funding for his startup, Interlude Media.
What He's Doing: Creating cool videos that allow the viewers to choose their own adventures, and opening up the platform for third parties to easily create their own interactive experiences, too. The propriety technology is through Bloch's seamless integration of programming with multiple choice options, without ever buffering. Inspiration kicked in after Bloch was left heartbroken after a breakup, compelling him to make a music video in which he sings through X-number of possible outcomes as he wades through a party.
See It In Action: Interlude's 2013 music video for Bob Dylan's "Like A Rolling Stone" received more than 80 million views and witnessed an increased engagement of an average of 18 minutes spent on the video (itself less than six minutes long). The original interactive video -- meant to emulate the experience of flipping through cable channels -- can be found here, but here it is in action:

The oPhone
What It Is: A hand-held accessory for mobile devices, the oPhone is capable of emitting up to several thousand different possible combinations of scents produced by replaceable cartridges, from "Paris in 1738" to baby powder.
Why It's Cool: Created by a team of Harvard students, art and design center Le Laboratoire and perfume behemoth Givaudan, the Paris-based company envisions a world where e-cookbooks will be accompanied by immediate olfactory examples of what the food pictured will smell like. (No word on when live taste tests might be available, though).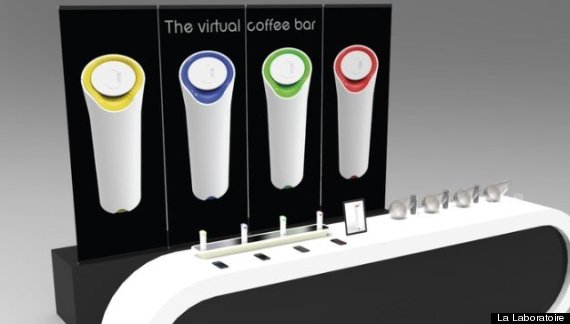 Boom Boom Box
What It Is: A 20-sided speaker roughly the size of a softball that promises to be a game changer when it comes to how we interact with sound.
Why It's Cool: Created by France-based company Binauric with designer Mathieu Lehanneur, the slick speakers actually serve a dual purpose: it plays music when connected to a bluetooth device and captures three-dimensional sound like a giant microphone. An upcoming app in November from the company encourages users to snap a photo and record the ambient noise around it, like an Instagram for sound.
Hear It In Action: Listen to a demo, below (headphones required).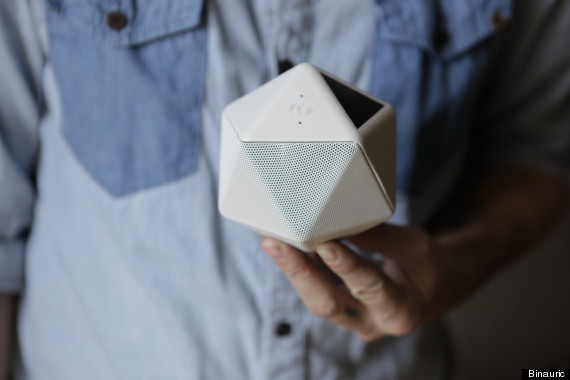 Project Syria
What It Is: An immersive journalism experience that transports users into war-torn Syria via headset and virtual-reality gaming.
Why It's Cool: Spearheaded by Nonny de la Peña, a Harvard graduate and documentary filmmaker, Syria Project uses innovative gaming techniques to marry together actual audio, video and photography captured on scene. The resulting impact is powerful and emotional for viewers, who can traverse through the 3D environment at will to witnesses the devastation first-hand.
See It In Action: