The September issues are out. Fall, undoubtedly most fashion girls' favorite season of the year, is here again. It's time to buy boots, light jackets, dark and bold hues, and this autumn's "it" jeans. It's also time to reach into your purses, pull out those wallets, and spend some hard-earned cash. (Ugh.) I don't know about you, but as much as I love fall and all the fabulous style that it brings, I can't bring myself to spend, spend, spend like there's no tomorrow. Let's face it, come December, you're going to buy a whole new slew of stuff again if only to look fabulous.
Luckily, there's no need to sacrifice on style. Thanks to Kohl's and Target -- single-handedly my two favorite stores to buy clothes (yes, clothes) -- my fall fashion needs are met.
So here's what I opted for...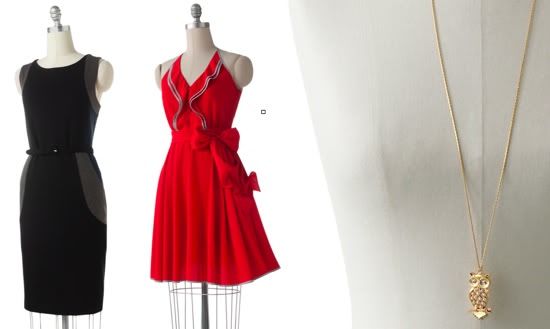 Color blocking: That's right, the slimming trend is back for another round. I'm going to pair this Dana Buchman Colorblock Dress from Kohl's, on sale for $56, with a gold belt I scored at a flea market (not pictured) to give it a touch of the unexpected. I'm going to recycle the skinny black belt it came with and pair it with high-waisted trousers.
Stretchy jeans: No, not jeggings. Those are out. I'm talking about these forgiving Mossimo Skinny Jeans and Mossimo Bootcut Jeans I scored at Target for only $22.99 each. Don't be alarmed that you're two sizes higher than your usual. These are made for juniors. I promise the fit and feel will make up for the size sticker.
Last season's style: One of my favorite things to do season after season is pairing old with new. Transition ensembles are so fun to experiment with! For instance, you can wear this LC Lauren Conrad Ruffle Racerback Dress from Kohl's -- clearly made for summer -- with a pair of brown boots and a cropped jacket or sweater. The best part is, old stuff is usually on sale, or better, on the clearance rack!
Fashion jewelry: Now that you have your fall staples -- a colorblock dress, the best-fitting denim, the tried-and-true -- don't forget to add to your accessory repertoire. Fashion jewelry can make or break your outfit. Just don't overdo it! Try the LC Lauren Conrad Gold Tone Simulated Pearl Owl Pendant, which is on sale for $14 at Kohl's.
So what are you buying for the upcoming fall fashion season?