On May 18, Will Breazeale and Randy Crow, the losing candidates in the Republican primary for the Congressional seat in the 7th House District of North Carolina, publicly called on Ilario Pantano, the winner of the primary, to quit the race. Breazeale's stated reason for this call is that Pantano can't defeat McIntyre in November, the incumbent Blue Dog Democrat who has been in the House since 1997. In fact, McIntyre's re-election has so far been so certain term after term that the Republicans didn't even put up a candidate in 1998.
However, 2010 is shaping up to be unpredictable. Republicans are counting on the anti-incumbent sentiment during this election season and sense a possible upset. Seen from this perspective, the choice of Pantano, a political newcomer and a former Marine, makes complete sense. Both Breazeale and Crow have run for offices before. Crow is a perpetual candidate who has run for local and national offices over the years. Breazeale ran against McIntyre in 2008, but lost by a wide margin.
However, another statement made by Breazeale that "I put this country before this party," so "It hurts me to do this [to call on Pantano to quit]" raises a serious question, one that goes beyond the mere newcomer status of Pantano. The implication made in the statement is clear. If Pantano were to be elected, he would be unfit to serve, and even worse, Breazeale would fear for the country. What would be so pressing and dangerous about Pantano that candidates of his own party have come out against him many days after the vote and implied such a thing?
Neither Breazeale nor Crow shied away from casting doubt on Pantano's integrity during the primary. In fact, Breazeale publicly stated that he doesn't trust Pantano. Both pointed out during the campaign that Pantano failed to release to the public his financial, military, educational, and employment records during the primary. Pantano finally released a copy of his honorable discharge document on May 18. He has yet to release his financial records. Pantano also claims to have worked as an energy trader for Goldman Sachs, but never held a license. When asked, he refers to the New York magazine article that quotes people who say worked with him. He claims to have worked as a deputy sheriff for the county and carried a badge when in fact he was only an inactive deputy ineligible to carry a badge. When this was revealed, the badge was returned to the Sheriff's department. He and his mother, Merry Pantano, run a charity website called DefendTheDefenders.org through which they raise money to help soldiers accused of wrongdoing, but refuse to release financial records. No new cases were taken by the organization since 2007 according to the website.
Then there is his well publicized Article 32 hearing (military equivalent of grand jury session) for pre-mediated murder. Pre-meditated murder? Who is this Ilario Pantano, the darling of the Tea Party-leaning conservatives in the region, a former Marine, who was almost tried for capital murder?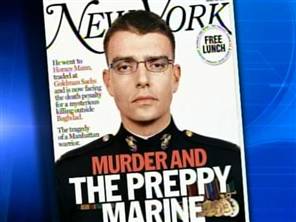 Named the "preppy Marine," he hails from New York where he attended Horace Mann, a member of the Ivy Preparatory School League in New York, on half scholarship. After graduation he enlisted, to the surprise of many, in the Marines and served during the Gulf War. After he left the Marines, according to Pantano, he attended NYU and landed a job with Goldman Sachs. When 9/11 happened, however, Pantano was back in the Marines believing that "our duty as Marines is, quite frankly, to export violence to the four corners of the globe, to make sure that this doesn't happen again." By all accounts, Pantano was fascinated with the military early on, always wanting to be a rescue hero, a knight.
No one is absolutely certain of all the events of April 15, 2004. We are only certain of one fact: two unarmed Iraqis are dead and Pantano had shot two M-16 magazines into their bodies. In fact, he kept shooting long after the men were dead until both magazines were completely empty. But what led up to the shooting?
Pantano was responding to a call to search a house near Mahmudiya for weapons. From his platoon of 40, two Marines, Daniel Coburn, his radio operator sergeant, and George (Doc) Gobles, a medic, were with him when a white sedan was spotted driving away from the scene. When the car finally stopped, two men, one older and one about 18, raised their hands. They were unarmed. Pantano's platoon found weapons inside the house and the two men were taken into custody and handcuffed on the suspicion of aiding insurgents, or "Ali Baba" as the Marines called them. The car was searched, not once but twice by fellow Marines including Gobles. The seats were ripped out in the process. Then Pantano ordered Gobles to release the two Iraqis from their handcuffs, which was unusual, but not unheard of, and ordered them to search the car again allegedly for anything hidden inside the seats.
He then gave orders to Coburn and Gobles to post security outside the vehicle, with Coburn in the back and Gobles in the front of the car, thus effectively ordering them to turn away from him and the Iraqis. Gobles saw one of the Iraqi men's head turn out of the corner of his eye. Then the shots began. Pantano emptied one magazine, then reloaded and emptied another. When the platoon finally left the scene, Pantano left a sign on the car that said, "No better friend, no worse enemy," the title of his book and Marine General Mattis's motto.
Doc Gobles, when interviewed by the investigators prior to the hearing, stated this about the shooting: "I know for a fact that if I were in Lieutenant Pantano's shoes under the same circumstances, I would not have fired at the Iraqis. I believe this was an unjustified shooting." For Gobles, the turning of the head that he saw right before the shooting began was the Iraqi men's attempt at fleeing. Pantano described it as a threatening lunge. Add to that Daniel Coburn's observation that Pantano had been bent on sending the Iraqis a message all along and that the killing of these two unarmed Iraqis was his way of sending that message.
Another Marine, "Corporal O," whose identity was not revealed during the hearing due to his training as a counter-intelligence agent, also recalled the killings. He described interviewing the two captives. He also described seeing the vehicle being searched by other Marines, including the removal of its seats. Then he remembers Pantano releasing the Iraqi men from their handcuffs and ordering them to search the car again. And then he saw the bodies following the seemingly endless round of gunshots. He saw the bodies face down, with the heads and torsos in the vehicle and their knees resting on the ground, as if Pantano shot the captives in the back while they were kneeling, facing the vehicle. Corporal O remembers the sight as "weird."
The whole situation was so perplexing to Coburn that he filed a complaint about the incident seven weeks afterward. Coburn's complaint started the chain of events that led to Pantano's Article 32 hearing for pre-mediated murder. His murder hearing was well publicized throughout the conservative world, including World Net Daily and Washington Times. He was portrayed as a wrongly accused soldier, a patriot who was merely doing his duty, a Marine who killed the enemy before they killed us. His story was also featured in great detail in the New York magazine in 2005. His autobiography, Warlord: No Better Friend, No Worse Enemy, co-written with Malcolm McConnell (2006) and his self-promotion in the media, including an appearance on The Daily Show in 2006, made his name widely reconigzable.
As for the shooting, Pantano says this on his own behalf: "I [] changed magazines and continued to fire until the second magazine was empty... I had made a decision that when I was firing I was going to send a message to these Iraqis and others that when we say, 'No better friend, No worse enemy,' we mean it. I had fired both magazines into the men, hitting them with about 80 percent of my rounds."

In the end, the bodies of the two Iraqi men, Hamaady Kareem and Tahah Ahmead Hanjil, could not be exhumed for forensics because they were buried in a cemetary near Latifiyah, a territory deemed too dangerous. The hearing hinged entirely upon the testimony of eyewitnesses, including Daniel Coburn and Doc Gobles. In the end, Coburn was found to be not credible, repeating "I don't recall" and "I don't remember" more than fifty times on the witness stand. The charges against Pantano were eventually dropped and the hearing came to an end without a trial. Daniel Coburn is still serving in the Marines. Pantano received an honorable discharge from the Marines and lives with his family in Wilmington, NC, an hour south of Jacksonville, home to Camp Lejeune. Wilmington is the biggest city on the coast of North Carolina and is the biggest city in North Carolina House District 7 where Pantano is running for the Congressional seat as a conservative Republican.
Ilario Pantano is a complicated figure for sure. There is no doubt about that. For some, he is a war hero. A soldier wrongly accused and vindicated. A patriot whose actions were second-guessed by those who were not there putting their lives on the line for the country. A born-again Christian with strong conservative values, with the right ideas for the country.
For others, he got away with murder. He is an opportunist. A poseur. Lacks the integrity to serve as a public servant.
Only time will tell. The November election for the House seat for District 7 in North Carolina is shaping up to be exciting. The voters will decide in November whether to go with a conservative Democrat or a conservative Republican. So far, McIntyre seems safe when matched against Pantano. Or is he?
There may be a surprise yet. Kay Zwan, who emerged as the most vocal proponent of health care reform during the health care debate, is running as an independent. She has been relentless, indefatigable in her effort to push for health care, organizing rallies, attending meetings, sending copious amounts of e-mail to whoever would be willing to listen to her from the very beginning of the debate in the summer of 2009. Could she spoil the victory for either McIntyre or Pantano? If she receives enough votes from Democrats disenchanted with McIntyre, she may just spoil it for McIntyre and give the seat to Pantano. How will the Democrats decide? Vote for McIntyre and gripe about his conservative bent? Vote for Zwan for her activism? Alas, not vote at all?
This election season is indeed shaping up to be very, very unpredictable.