North Carolina Republicans are making news again.
Thom Goolsby, a Republican Senator from New Hanover County, made news a few weeks ago for calling the "Moral Monday" protesters "morons" and "clowns" and the whole event "Moron Monday."
Now, his financial management firm, Empowered Investor, is being sued for financial fraud.
The lawsuit was filed by Baker & Slaughter law firm in Wilmington, N.C., and names Thom Goolsby, its president, and James Upham, its vice-president, as defendants. According to Baker & Slaughter's law firm, a financial fraud may have occurred when an adviser invests money from conservative accounts in high-risk funds because such a move may not be suitable for the investors: "Any recommended investment must be suitable. ... For example, high-risk, speculative investments such as call or put options would be unsuitable for a client who is retired and concerned mostly with preserving wealth." The plaintiffs allege that Goolsby's firm moved assets from conservative retirement accounts to volatile, high-risk investments, causing the loss of tens of thousands of dollars for his clients. In some cases, the loss exceeds 80 percent. The investors also paid a fee of 2 percent of their assets to Empowered Investor.
In the mean time, Goolsby has written a post on his blog on July 10, renaming "Moron Monday" "Money Monday." He now claims that "moron" was a misnomer because, according to a report by The Civitas Institute, the protests are about making money. In the blog, he says that he erred in calling the Rev. William Barber, the president of the NC NAACP and the chief organizer of the protests, a "moron." Rather, he says, the Reverend is "clever as a fox" because he is so clever as to profiteer from the protests through a group called HKonJ.
The Civitas report, however, is highly deceptive as is Goolsby's blog. Funded by Art Pope, the conservative billionaire who is also the budget director for Gov. McCrory, also dubbed the Koch brothers' third brother by The Washington Post's Katrina vanden Heuvel, Civitas is hardly a reliable, neutral source. According to the report, a total of $100 million were funneled to HKonJ (Historic Thousands on Jones Street) and its "partners," making it sound as if HKonJ were the disbursing entity of the money. On the contrary, HKonJ is a wing of the NC NAACP, that seeks social justice in the Republican supermajority state. Its activities include, but are not limited to, public awareness raising, such as "Moral Monday" protests. Moreover, HKonJ is also only one many social organizations that receive money from the state. Among the organizations that receive state money are well- and nationally known and non-partisan organizations such as YWCA, AARP, and Self-Help.
At the end, the Civitas' report isn't about HKonJ at all; it is about condemning all these worthy and respectable social organizations as public enemies feeding off of the "public trough":
Who knew social work could be so lucrative?

When you follow the money, you see that this isn't about morality at all. It isn't about the high-minded virtues of justice, or equality. It's about politics: liberal organizers have depended for years on the largess of an insolvent and bloated state bureaucracy. And as state legislators move to address rampant waste and debt in state government - something the people of North Carolina elected them to do - liberal groups fear that they are about to lose their spot at the public trough.
Thom Goolsby's use of such a skewed report in defense of his views is purposefully deceitful to say the least. What's even more nefarious, however, is the use his personal blog to air his divisive political views that are filled with derision and contempt for his opponents, many of whom are also his constituents. It makes him unworthy of and unfit for the public office he occupies.
This brings us to the absent governor, Pat McCrory. He has so far refused to talk to the protesters, calling them "outsiders," and refused contact with children, women, and men who were delivering petitions. Some were even threatened with arrest as they tried to speak with the governor.
So imagine everyone's surprise when, according to The Wilson Times, McCrory is supposed to have mingled with Moral Monday protesters "all the time."
"I go out in the crowd all of the time," McCrory said. "Frankly, yesterday I went out and talked to several of them and they were not very respectful. They did not represent the majority of those who call themselves moral by cussing me out. But that's the way things go some times.
If his statement were true, shouldn't there be, just maybe, at least a piece of something that documents the governor's presence? In the age of Facebook, Twitter, Instagram, Tumblr, YouTube, and whatever else people use for social media for instant streaming, isn't it interesting that no photos or videos whatsoever of the governor among the protesters has surfaced so far? Considering that even Art Pope, who is not often seen in public, has not been able to escape the protesters' eye. (See the video here), this is highly unusual. The organizers and others have scanned the photographs and videos, but found no sign of the governor.
If indeed, this is true, Rob Schofield, of N.C. Watch Policy, said McCrory must have been coming to Moral Mondays in disguise and has avoided all media attention. If he was so good that he was not seen, how then would he have been cussed out, which he found disrespectful?
Even the chief of the General Assembly police department, which is tasked with providing security for the weekly protests, has said that he had not sen the governor at the demonstrations nor had any of his officers reported seeing him.
The comment does not make any sense. It makes sense if it were a lie.
So not only are the 11th hour amendments being sneaked into bills in North Carolina. a state senator is being sued for financial fraud, the very same senator who made mockery out of people's peaceful protests, who has cried the loudest, the most derisive opposition to "Moral Monday" protests and now, drum roll please, the governor is making stuff up.
Remember this sign seen at a Moral Monday protest.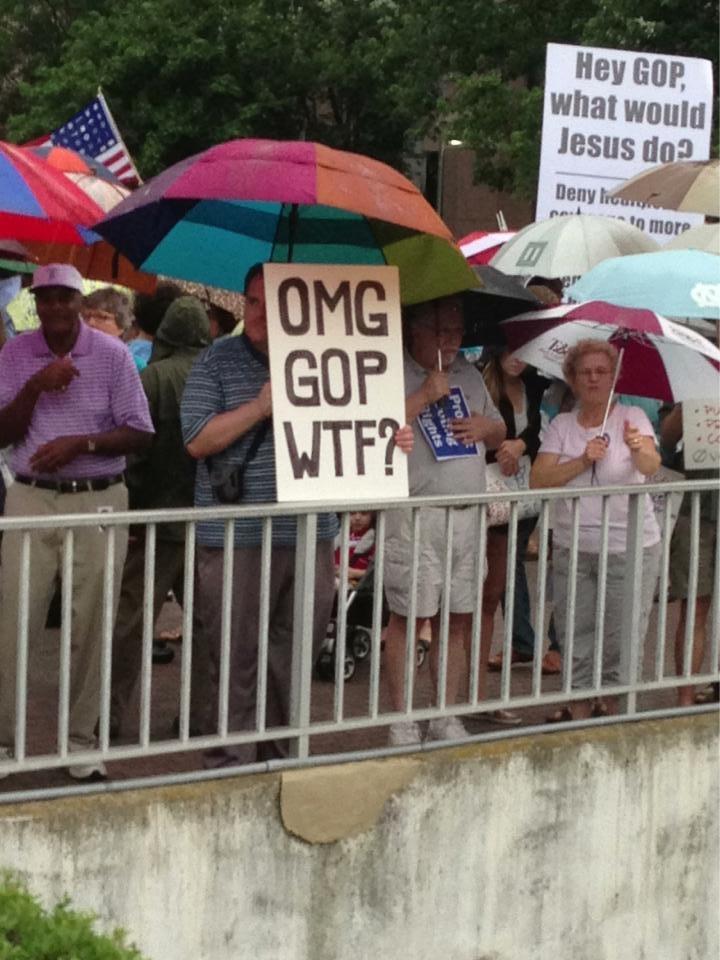 You haven' heard the last from North Carolina yet. I guarantee it.