It's Valentine's Day. The thermostat is barely over 20 degrees. I get out of bed to get ready for the 9th annual HKonJ's Moral March in Raleigh sponsored by North Carolina NAACP. HKonJ is one of the groups covered on mappingtheleft.com, a website run by Art Pope's Civitas Institute, a conservative think tank in Raleigh.
But that is beside the point.
After two hours of driving on I-40, I finally arrive in Raleigh. I already spy people holding signs walking toward South Street, the starting point of the march. I park my car in a nearby parking garage and venture out to find the people from my hometown of Wilmington, NC. The New Hanover County NAACP has leased two buses to bring the marchers to Raleigh. I find them immediately wearing yellow "LOVE" t-shirts worn over their thick jackets. Many are wearing pink beanies from Planned Parenthood. I am struck by how many people are already there. I can't see the end of the crowd. My friend Raine tells me that there are thousands gathered already. She sends me pictures via email that she took from a perch. I believe her.
I spot an interesting, homemade sign that reads, "NCGA cut funding for them (shows kids) to cut taxes for him! (shows the guy from Monopoly)".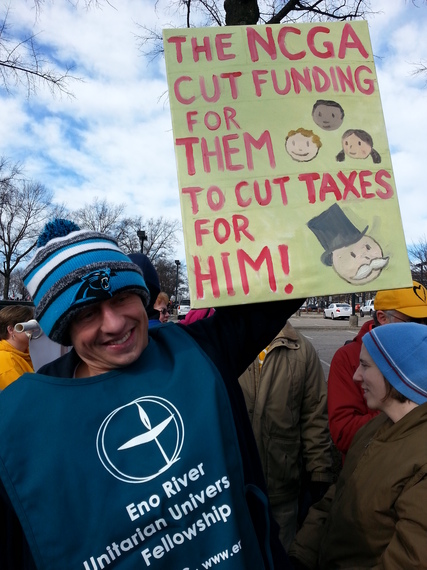 I ask the sign holder about it. His name is Douglas Anderson. He taught in Thailand for years, then came back to his native North Carolina to be a middle school teacher. He came back inspired.
The march begins a little after 10:45. Once it begins, I begin to see the ginormous banners people are holding. I especially like the flags that say VeteransForPeace.org.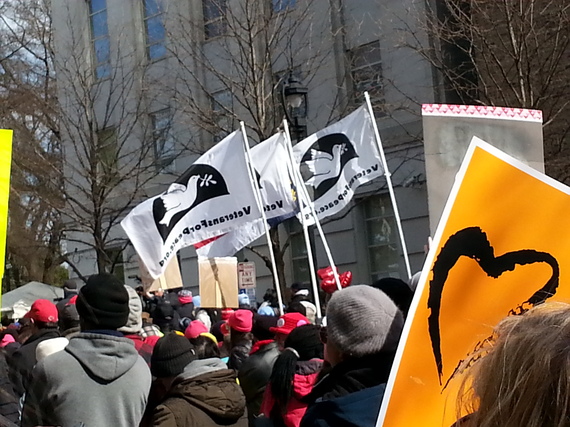 Immediately behind me is a group of young people with the banner that says "Radical Asians for Racial Solidarity".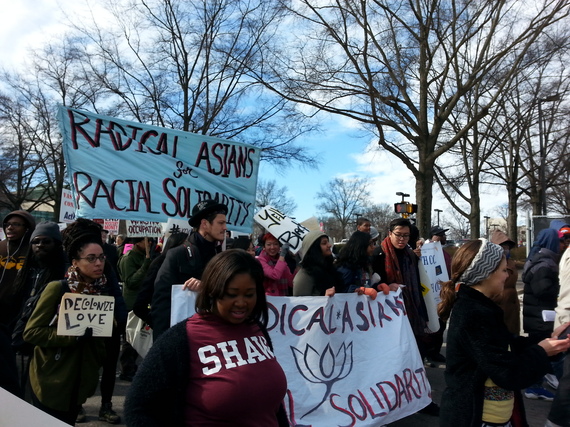 I ask them who they are and they say they are students at nearby UNC Chapel Hill.
Besides these young students there is a group of teenage boys of maybe 13-16 years old. They seem out of place. Aren't teenagers supposed to be apathy incarnated? I ask them who they are and they tell me they are students at the local Friends school. They are marching today for equality.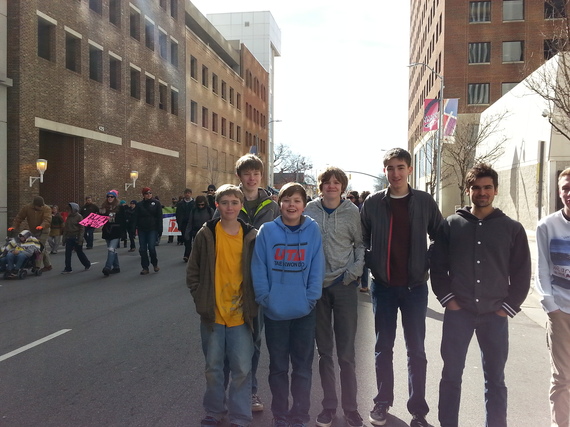 The marchers go up Wilmington Street, swing a left onto Davie, then right onto Fayetteville Street leading up to the State Capitol. As I march, I am getting better view of the signs. There are people calling for the expansion of Medicaid, LGBT rights, environmental causes, teacher pay increase, increasing the minimum wage, peace and love, the end of gerrymandering. The list goes on. There is no shortage of grief in the state. That is for sure.
As we march up to the Capitol, there are huge TV screens at the beginning of every block. We are greeted by images of people, young and old, pledging to seek justice for North Carolina. The mood is very upbeat. People are elated and happy to be there, holding whatever mass-produced, homemade signs. I am feeling the gush of cold wind in my face in this wind tunnel, but the heat rising from people marching closely together is breaking the wind.
When we gather in front of the stage at the end of the street, I can see that the two full blocks down to Davie Street is filled with people. I can't tell how many there are, but I estimate thousands. I can't get a good picture of it, but I did find this picture later. It is a picture taken by the Cape Fear Equality contingent from the parking deck on Fayetteville Street.

There are people looking from the parking deck. There are people on the very top. I spy cameras, but I also wonder if there are snipers there, too. It is after all, only 50 years after Selma. Only 50 years after the Civil Rights Movement.
The speakers on the stage touch on everything from immigration, minimum wage, Medicaid expansion, women's rights and education. There is a lot to talk about the state of the State of North Carolina these days. A lot of people are angry, but all are hopeful that this people's march will resonate with the rest of the state. A beautiful young woman starts to sing "A Change Is Gonna Come." Everyone is moved.
The Reverend William Barber II finally takes the stage. He is likening the state of affairs these days to a disease of the "heart." He asks people to believe that at the "core" of humanity is our heart. It is the heart that will lend us "courage". That is the message of the Bible, he says, and that is the message today. We have to find our way back to the "heart." It is a fitting message for this Valentine's Day. The woman holding the heart sign begins to swing it sideways and up and down.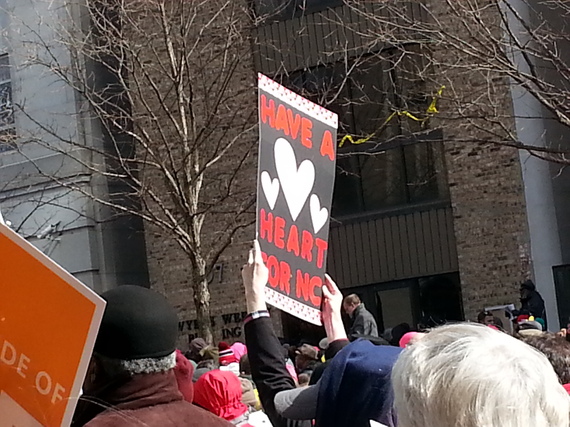 The Reverend leads the chant: "We have a heart problem!" over and over. He is jumping up and down.
I watched Selma about two weeks ago. I know that there have been many praises and criticisms of the movie. I came away from the movie with a sense of longing. The movie was called Selma, but it was more than the march that took place. It was about the man who moved people to great heights and inspired people to give selflessly. Is the Revered Barber the "King" of today? Can he be the leader that the movie maker was so longingly calling for?
There is no way to know. What is certain is that this movement is still strong. Even on this blistery, cold, wintry day. I can't feel my feet. But my heart is warm.