Wedding season has arrived and brides across the country are dreaming of the perfect wedding "do." With the help of the bridal blogosphere and sites like Pinterest, it is easier than ever before to explore a veritable smorgasbord of styles and choices. It is also easier to become completely overwhelmed and confused by all the options. To help brides navigate the sea of possibilities, our up-do experts Dyana and Julie suggest eliminating extraneous options by asking three questions.
"Do I want my hair to be extravagant or understated?"
If you want to step out of your everyday style and transform into your most glamorous self on your wedding day, focus on styles with exaggerated elements: volume, texture or length. Indulge in clip-in extensions (or splurge on the real ones!), teasing and bling!
If you fall into the category of brides who want to be, simply, the best version of their natural selves on the big day, focus on finding styles that will allow you to make the most of the hair you have. Look for styles with clean and simple shapes that are achievable with your current length.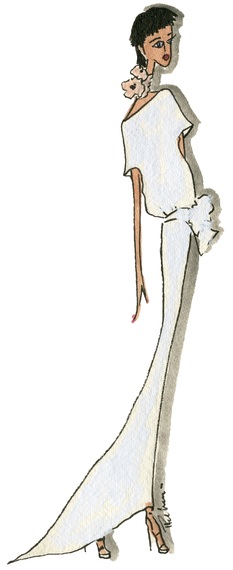 "Will I be happier with my hair up or down?"
While it may seem like your wedding day is the perfect opportunity to try an up-do, if you always wear your hair down or the other way around remember that the entire day will be immortalized in photographs. Any discomfort will be apparent for years to come. So if you throw your hair into a bun after 10 minutes of wearing it down on a normal day, you likely won't be happy fighting the length on the big day. But if you are dead set on a style outside the daily norm, how about something in between? Half up is always chic and a brilliant compromise.
"Do I prefer carefree and loose or crisp and contained?"
For a few years now, bridal trends have leaned toward undone up-dos and lots of beachy texture. These styles can be effortlessly romantic, and can look even better after the last dance than at the beginning of the ceremony. But if deconstructed braids and unravelling curls sound too casual or messy, focus on classic styles, like French twists, chignons or well-set waves.
Answering these questions will not only help you narrow your search for inspiration photos, it will help you to feel completely prepared when you sit in your stylist's chair for your bridal trial. However, if you still find your nerves need calming when the appointment day arrives, a nice glass of champagne should do the trick!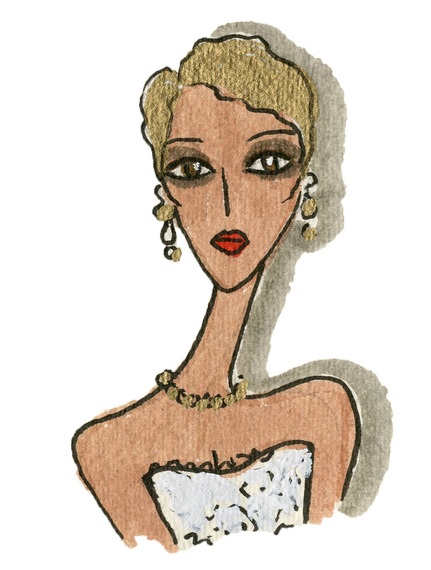 Thank you to Rebecca Moses for the fabulous illustrations!