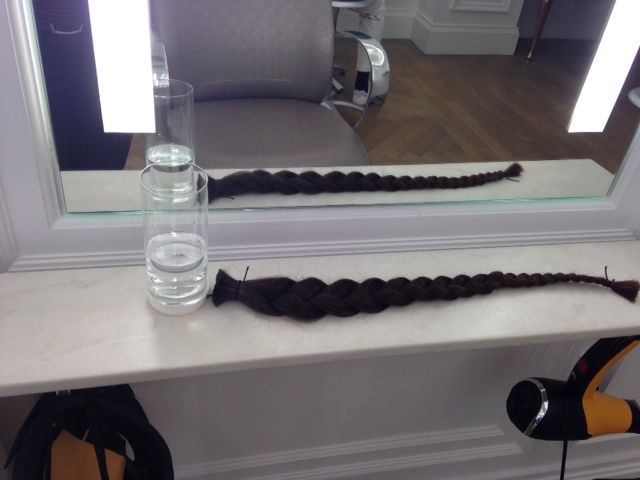 Bienvenue, dear readers!
Cascading lengths have been en vogue for many seasons now, but for some of the trend's patrons, it is time to put the look to rest. For some -- buns and braids just aren't enough to beat the summer heat. For others -- the trend's popularity has them feeling uninspired and ready for a change that will reinvigorate their style and spirit. But there is a third category of women who are ready to part with their waist-grazing lengths -- those who know the power of beauty and who want to give the gift of looking good and feeling good to those in need. Recently, we have had two clients undergo incredible changes -- not only for themselves, but for a worthy cause as well. Donating approximately three feet of healthy hair between the two of them, these generous ladies have reinvented themselves and given a tremendous gift to deserving cancer patients.
If you fall into this category, too, you have spent countless hours researching charitable organizations to be absolutely sure your hair will go to the right cause. You have been measuring your braid like clockwork for many months because you know exactly how many inches to cut. You also know whether your charity of choice accepts color treated or layered locks. You are a giver and you have one person's interests in mind -- the done. You are so on top of this endeavor, you might be holding a pair of scissors in your hands right now -- contemplating an at-home chop!
It is my job, however, to remind you to think of yourself, as well, and to urge you to put down the scissors! The kind of change you undergo when you donate your hair -- to which you are so literally attached -- should be liberating, revitalizing and beautifying! (When was the last time you felt liberated or revitalized by an at-home bang trim?) You should feel as good about your new style as you do about the wonderful deed you're doing for a fellow human being. So here are a few pointers to keep in mind:
1. Choose a reputable salon and pay no attention to the price tag. You have been growing your hair for a very long time. Perhaps you have gotten regular trims, but perhaps this will be the "Seven Year Haircut," like my client, Tila, seen below. You are investing in yourself and you must be sure you are choosing a salon that really understands the change you'll go through as you remove 10 or more inches of your identity.
2. I've said it before and I'll say it again! Consultation is key! This important haircut cannot be rushed. Your daily styling routine will change completely and your stylist needs to know what that routine is today before he or she can predict what you'll be up for tomorrow.
3. When your stylist puts blade to braid, breathe and smile! And know that someone else will soon be smiling, too, thanks to you! (Lola's client was in on this secret, as you can see.)