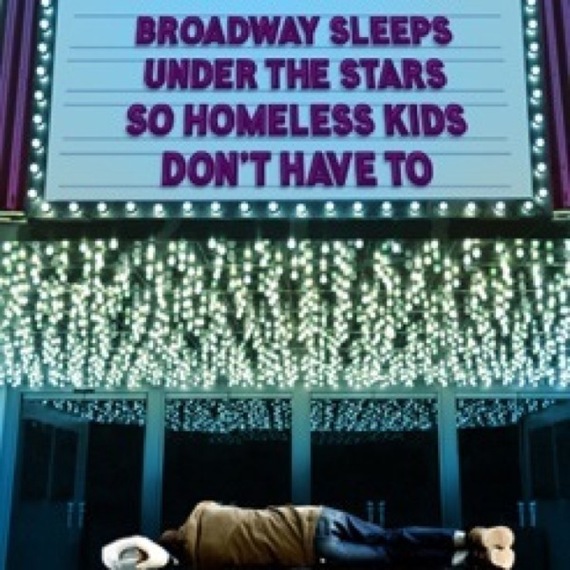 Sunday night, August 17th the talented Broadway community slumbered on the Hell's Kitchen street in solidarity with Covenant House. Six time Tony Award winner Audra McDonald joined David Hare, Chuck Cooper, Sebastian Arcelus, David Henry Hwang, Capathia Jenkins, Stephanie J. Block, Jeff Calhoun, directors, composers, performers, stagehands and Covenant House New York Crisis shelter residents in Coleman donated sleeping bags for a night on the street.
The 4th Annual Sleep Out Broadway Edition is about bringing awareness and support to New York's largest NGO dedicated to providing shelter, food and crisis care for homeless, runaway and at risk youth.

"These are star performers, composers, and directors who have selflessly decided they want to walk in our kids' shoes, and experience if only for one night, some of what our kids go through," said Covenant House President Kevin Ryan. Tony Award winner Chuck Cooper modestly shares, "I'm here because I realized not so long ago I don't give back enough. I've been given a lot and I need to give back and this is my attempt to do that."
Sebastian Arcelus inspires us to know, "It's a wonderful experience to meet all the young man and women who come looking for support from Covenant House. It's a remarkable organization that truly changes lives and helps them transition on to their own feet. We don't even pretend that in anyway we can truly understand the trials and tribulations these folks deal with and continue to deal with nut to be able to engage in discussion we are able to learn a little about the struggle in life. It's a very cathartic evening. In whatever small way we can help support them and raise valuable funds it's important to get the word out. The imprint these folks leave on you just getting to talk and share their stories is life changing."
Join the Covenant House Sleep Out Movement from CovenantHouse on Vimeo.
Broadway diva Capathia Jenkins sums up the dedicated theater community, "The Broadway community is a special one when we step up to a cause it's with our hearts wide open."