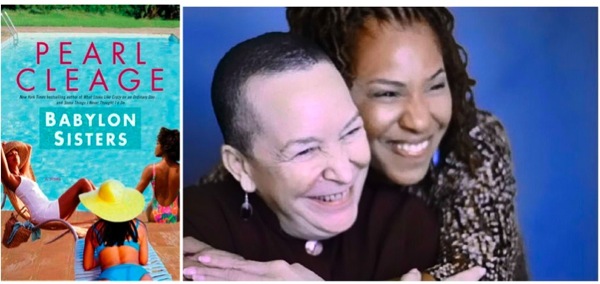 New York Times bestselling author (What Looks like Crazy on an Ordinary Day, Some Things I Never Thought I'd Do)and playwright ("Blues for an Alabama Sky", "Flyin West", Pearl Cleage and filmmaker (Alma's Rainbow) Ayoka Chenzira have teamed up to produce the feature film adaptation of Pearl Cleage's novel, Babylon Sisters.
Single mother Catherine Sanderson has her hands full with her job helping immigrants and a college-bound daughter, Phoebe. But when news journalist Burghardt Johnson blows into town, she finds her world turned upside down. Catherine, impassioned, asks, "I wondered if it was possible to be in love with a man and develop a vocabulary free of the responses that make every conversation a minefield of hurt feelings, half-truths, and dashed expectations."
Not only do they have history, BJ enlists her help in a story on a female slavery ring operating in Atlanta. Pearl Cleage fans agree with director Ayoka: "I love the flaws in the romance -- it's so human. The romantic leads have personal struggles but also understand that they are also fighting for something greater than themselves. Rarely do we see this in American cinema.
The story casts light on the fight against human sex trafficking. USA Today reported, "According to the U.S. Department of Justice, human trafficking has become the second fastest growing criminal industry -- just behind drug trafficking -- with children accounting for roughly half of all victims." Atlanta Fox 5 reporter Tacoma Perry uncovered, "Atlanta is a hub for human trafficking -- where sex or labor is forced, and it's not just a city problem." Ayoka echoes the condition of modern-day slavery in Metro Atlanta exposed in the plot by the lead characters Catherine and BJ:
Babylon Sisters honors the everyday heroes in the fight. There are people dedicated to rescuing those who are being exploited, abused and held captive by modern day slavery, and despite their own personal struggles they manage to make a crippling impact on sex trafficking.. .Atlanta is one of the largest sex trafficking cities in the country, and Babylon Sisters is centered in metro Atlanta -- this brings a focused light in exposing this international criminal activity by unearthing the real tragedies taking place under our noses.
The film project has a platform on Junto Box Films. Junto Box Films, the brainchild of Oscar winner for Best Actor (The Last King of Scotland), director (Waiting to Exhale) and producer (Fruitvale Station) Forest Whittaker has established a social media platform to fund, produce and distribute films. Ayoka choose Junto Box Films over other crowdfunding platforms because,
The Junto Box platform allows people to support Babylon Sisters from the development process by signing up to follow, rate, and share the project through social media. Substantial support translates into a real chance of being green lit and fully funded thru Junto Box Films. Junto Box allows supporters of Babylon Sisters to hear why Pearl and I decided to collaborate. It also allows them to hear from notable people about their support of this project thru video. From the legendary Susan Taylor who served as editor-in-chief of Essence Magazine for twenty seven years and who is considered one of the most influential African-American women, to Broadway stage and film director Kenny Leon who produced Pearl plays. Junto Box uses a democratic process that gives people a voice to determine the success of a film about people with little or no voice. It is important for women in the film community to come together to tell the stories of women who don't have a voice.
The film project Babylon Sisters deserves our support for a master storyteller's passionate and compelling voice on the inhumane issue of human trafficking today.