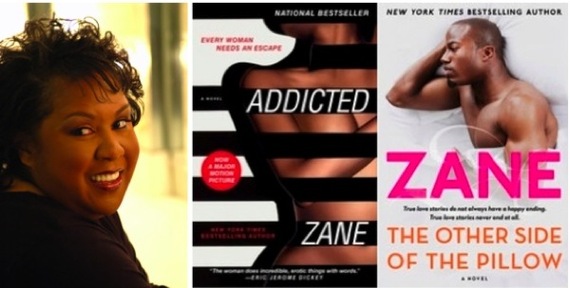 Zane is the non de plume of Kristina LaFerne Roberts, author of a deliciously successful empire of books.
With over 80 New York Times bestselling books and now a film producer and playwright, there are no boundaries to her passion to entertain. The former sales rep started with an erotica short story posted on the Internet from which grew a publishing empire. With sensual tales that would make the author of the Kamasutra blush, not only does Zane pen her own books, but she publishes other authors under her own banner, Strebor Books.

Zane sounds like an old school mogul.
I have more careers than that, including being executive producer of most of my projects. I often get the question about how I do it all and it is simple: I never truly feel like I am working, I prioritize, I am great at time management, and I am disciplined. Some days my schedule is planned down to the minute and other days I have fluidity, but I at least work from day to night at four days a week, if not seven.
With the debut of her first feature film based on her novel ,Addicted. Zane purrs:
It is wonderful because it allows my work to be embraced in yet another medium. A create spirit like myself enjoys having as many outlets as possible to express those things I am passionate about.
Not content to rest on her laurels, she penned the play The Other Side of The Pillow from another bestselling novel that has moved to the boards, Zane on Stage. Zane says:
I see life through the proverbial rose-colored glasses and I can find something positive to take away from 99.99 percent of situations. I am fascinated by human behavior and I am extremely observant, and I do not judge people if I can help it. People are a culmination of everything they have ever experienced or been taught and you cannot fault them for what their sense of normalcy may be. Case in point, my latest novel, The Other Side of the Pillow is about a couple that have to step outside of their normalcy to have a mature and toxin-free relationship. Even though both of them had made numerous mistakes in prior "situationships," they grew from them enough to cease repeating the same behavior.
Adding to her fiefdom, media maven Zane is just getting started.
I am currently working on an episodic series but I am not quite ready to reveal that as yet. Truth be told, I have several in the pipeline and the first will end up being the one that is easiest to bring to fruition. I could easily come up with 100 solid, yet different, series concepts.
Taking her talents to the big and small screen is on her agenda -- "Without a doubt and sooner than most people would expect. This is only the beginning of a long journey in TV and film."