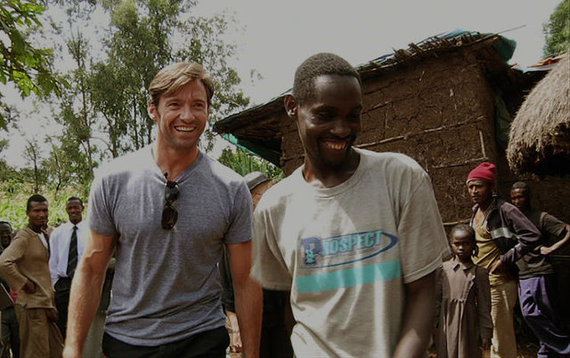 Photo ("Dukale's Dream")
Leading man Hugh Jackman is very particular about his coffee. He loves his coffee fair trade. On a trip for Worldvision, Hugh planted trees, shoveled manure for biofuel and learns about trading at the coffee co-op with Ethiopian farmer Dukale. Jackman and his wife Deborra-Lee Furness learned firsthand the struggle of the Ethiopian coffee farmers to earn a living wage. Over a seven year period director Josh Rothstein captured the unlikely friendship of the two men which began a transcendent life journey in the documentary film, ""Dukale's Dream"".
Accompanied by Worldvision Australia CEO Tim Costello, the couple and the director traveled to Africa to document the community development programs. Hugh explains, "We didn't know we were making a film to be honest. We just wanted to highlight the work Worldvision was doing and to tell the story of coffee from the bean to the cup. As the story kept unfolding we made a promise to Dukale the farmer we met. We starting opening cafés and now have the partnership with Keurig. The story kept getting bigger and bigger that's how the movie evolved".
Affirms filmmaker Josh, "It started with a simple idea exploring Hugh and Deb's interest in community development and it grew and grew over the years very organically. Many times throughout the years I thought the film had ended. In the truest sense it's the best case scenario for a documentary but also the most challenging because you never know what the next chapter will be. When you have a piece like this and two people who have a genuine interest in what they're doing it's also a great privilege".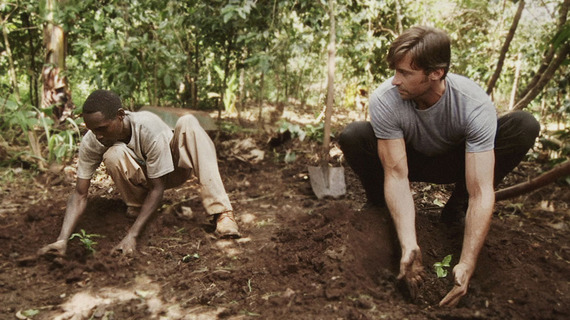 Photo ("Dukale's Dream")
Inspired by Dukale's challenge providing for his family of five, Hugh responded to the call to action with a pragmatic approach. He decided selling coffee and paying a fair price for beans ensured the farmers could earn a living, As Nobel Laureate economist Muhammad Yunus observed, "In my experience, poor people are the world's greatest entrepreneurs. Every day, they must innovate in order to survive. They remain poor because they do not have the opportunities to turn their creativity into sustainable income." Back home in New York City, Hugh realized that something as simple as a cup of coffee could have a profound impact on global poverty and financial empowerment. Deborra shares, "The film was our adventure and everything was very organic. It was a collaborative effort with the director and Worldvision and Dukale and it just evolved into a coffee company. A little bit of magic". Serendipity arrived with two friends Barry and David Steingard together they founded Laughing Man Coffee. CEO David looks back, "It was a consequence of very positive forces. We had known Hugh for a while. He had come back from Ethiopia. I wanted to go into the coffee business. We decided to team up and we were inspired by the Paul Newman model [Newman's Own] and that is what we decided to do". Laughing Man Coffee and Tea has two New York City cafés and an online store featuring coffees, teas, chocolates, gift sets, and coffee and tea paraphernalia. Naturally Dukale's Dream (Espresso) but also French Lemon Ginger, White Coconut Crème Tea, Sumatra Indonesia and Flowering Tea from farms in Haiti, Costa Rica, Indonesia, Guatemala and Ethiopia are fair trade and organic. The Laughing Man Foundation uses the power of entrepreneurship to grow hope and create opportunities. 100% of Laughing Man Coffee revenue goes back to new business development, innovative educational initiatives, and community development. Last December the coffee entrepreneurs began a partnership with Keurig Green Mountain. Selling an ethical cup of coffee is good business.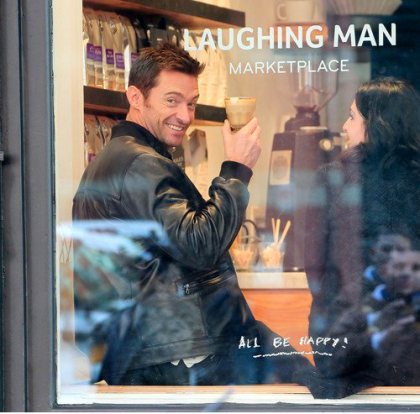 Hugh Jackman at Laughing Man Coffee and Tea
New York City
( Splash News Australia)