Indiegogo Campaign Video from Paradox Films on Vimeo.
Pianist, composer and arranger Mary Lou Williams once said: "Jazz is love. You have to lay into and let it flow." The love is in flow as filmmaker Carol Bash journeys to complete her full length documentary film "Mary Lou Williams: The Lady Who Swings the Band" of the legendary diva's life and work. Mary Lou Williams composed big band hits for Andy Kirk, Benny Goodman, Duke Ellington among others in the 1930s. Some of her compositions are jazz standards such as "Walkin' and Swingin," "Twinklin,' "Cloudy," "Little Joe from Chicago."

Carol believes:
Young people, especially young people of color need to know their history, that there actually was a female jazz genius like Mary Lou Williams who composed over 300 works of music. And we need to be able to draw lessons and inspiration from our elders and past events. How else would we know that the gender politics women are facing today haven't really changed that much since Mary Lou Williams was making her way as a solo artist in the 1940s -- without being engaged in her struggle. The past is present and therefore, always relevant.
Her production has attracted the voice over talents of actors Alfre Woodard, Delroy Lindo and Wendell Pierce. Musical talents Wycliffe Gordon, Terri Lyne Carrington, Billy Taylor, Esperanza Spalding and Sumi Tonooka contributed to the documentary film as well. Years in the making Carol's documentary was inspired by the lady herself,
I feel that this documentary is important for several reasons. Because it tells the story of the development of an American art form -- jazz -- through the lens of one of its creators. And the fact that this inventor is an African American woman makes this story even more unique. It's an important story because it tells you to never give up on who you are and what you are chosen to do. And no matter what barriers are placed in front of you, whether they be based on race, gender, sexual preference, religious beliefs, take your pick -- you can't let anything stop you from fulfilling your destiny. And so we follow this amazing artist, Mary Lou Williams, as she experiences life's adventures and challenges but at the end, I feel that we will be completely inspired because she perseveres and finally gets her due respect..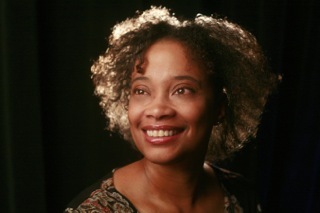 Filmmaker Carol Bash
Upon reaching her Indiegogo campaign goal Carol plans to spread the gospel, "We actually have two versions of the film. Since the project was co-financed by two public television entities -- the National Black Programming Consortium (NBPC) and the Independent Television Service (ITVS) -- the broadcast version will premier on PBS in 2015. For the feature length version, we will present that to film festivals and public screenings. But most importantly is that we want to develop a dynamic community engagement campaign to bring the film to young adults, particularly young women of color and music students through colleges, arts organizations and churches. We are currently constructing our official website, so updates about the film are done via our Mary Lou Williams: The Lady Who Swings the Band facebook page." "If you work on your talent, the plans will fall in automatically." said Mary Lou Williams. And so they shall.