Much of what's in the news about air travel these days is bad. If it's not lost luggage, then it's surly flight attendants, excessive fees or plane loads of passengers stuck on the tarmac for hours without food or water. It makes you misty-eyed for the days when flying was not only a pleasant, but actually a pleasurable experience.
Are those halcyon days truly over? Not if you're flying on Singapore Airlines, as I've discovered. It's not a coincidence that the airline has consistently topped customer satisfaction polls for all classes of service, and is ranked as one of the best in the industry.
Singapore Airlines (SIA) was the pioneer in launching the world's largest aircraft, the Airbus A380, with an inaugural Singapore to Sydney flight in 2007 and the super jumbo proved so popular with passengers that they launched their New York (JFK) to Frankfurt to Singapore route on Monday January 16, 2012. The double-decked A380 is configured with 471 seats: 399 in Economy Class, 60 Business Class seats, and 12 First Class Suites that are enclosed individual cabins with a sliding door for privacy.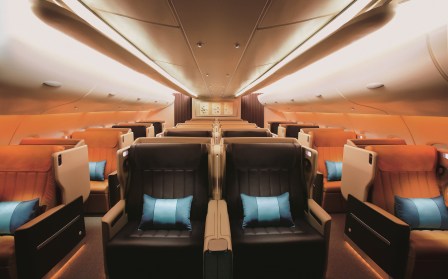 I got to experience what the fuss is all about recently when I flew on the A380 from Los Angeles to Singapore via Tokyo. As a travel journalist, I've had the opportunity to fly Business Class on various airlines, but the Singapore Airlines A380 Business Class is in a league of its own. Each of the 60 leather Business Class seats (with a 1-2-1 configuration) has direct access to the aisle, so no more climbing over anyone. At 34 inches in width, the seat is the world's widest in its class and so spacious that two average-size people can sit in the same chair!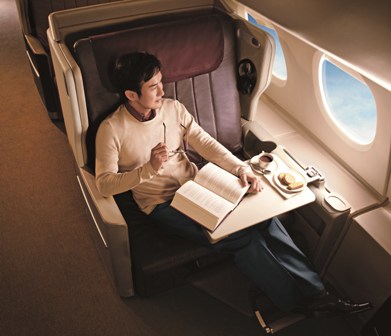 Well-thought out, in-seat features that I appreciate include a large 15.4 inch high resolution TV, reading lights on both sides so you can choose which side of the seat you want to curl up against, noise-cancelling headsets which can also be plugged in on either side, ample storage space including little compartments for holding your eyeglasses, hooks for your jacket, a multi-region power socket, a vanity table with a light (for touch-ups before landing), and a height-adjustable table.
Naturally, the seat can be converted into a horizontal, fully-flat, 76-inch long bed by folding down the seat. By comparison, some Business Class seats on other airlines don't recline completely into a 180 degree bed, and others have flat beds that are on a slant - which I'm not particularly fond of. Not only are they a tad uncomfortable, but they remind me a bit of the gurney that they wheel Hannibal Lecter around in. If you can't be bothered to convert your own bed, the flight attendant (known industry-wide as the Singapore Girl) can prepare your bed for you complete with a plush mattress cover, duvet and pillow. It's like having your personal turn-down service in the air.
Extensive entertainment options are de-facto on most Business Class flights, and SIA's KrisWorld in-flight entertainment service is no exception with hundreds of multi-lingual movies and TV programs, a library of 700 music CDs, multi-player and 3-D games, and even Live Text News. There are some interesting learning applications as well such as Berlitz with a choice of 23 languages so you can pick up some phrases before arriving for your meeting, City Guides, Culture Quest with business etiquette for different parts of the world, and Photo Viewer where you can plug in your camera or USB device and see your photos.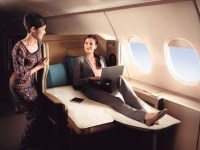 Tired of staying in your seat? Then head over to a special pantry area for Business Class passengers to socialize or get some snacks between meals. Speaking of meals, jokes about bad airline food have been told so often and and for so long that they're no longer funny - mainly because they're true. Business and First Class dining, of course, are usually much better, and here is where Singapore Airlines really out shines their competition.
SIA has invested $500 million annually in their in-flight dining, and menus for all three classes on the A380 have been created by top international chefs from the airline's culinary panel such as Georges Blanc (France), Gordon Ramsey (UK) and Sam Leong (Singapore).
Dinner on both my Los Angeles to Tokyo and my Tokyo to Singapore flights consisted of a Western menu and an Asian menu - not just one selection of each, but an entirely separate menu of each fare . It's like having two different restaurants while in the air. The Western menu was exclusively created by LA chef Suzanne Goin with selections such as seafood salad and duck confit with dried cherry compote. There are also healthy and light meal options.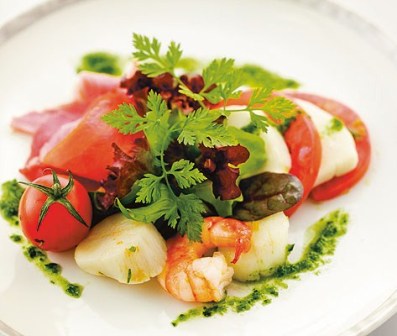 The Asian menu is a coup-de-grace featuring Japanese "Hanakoreki" - a culinary journey that takes you through the changing flavors of the seasons comprising of 11 mini courses served in bento box compartments : sea bream salad with citrus salad, Japanese-style omelet, buckwheat noodles, grilled beef fillet with mushroom sauce, steamed rice with edaname soy beans, and azuki ice cream with green tea. How the flight attendants manage to prepare each individual course that is perfectly cooked, at the right temperature, and exquisitely presented in a small aircraft pantry is mind-boggling.
The wine selection is extensive (no surprise as SIA has their own sommeliers), and the cocktails onboard include the famous Singapore Sling of course (first served in Singapore's Raffles Hotel), and there is also the airline's own Silver Kris Sling -- a special blend of gin, Cointreau, orange and pineapple juice topped with champagne. In lieu of the gourmet coffees, I finished off my meal with the special Paris-Singapore blend of green tea scented with cherry blossoms from the TWG luxury brand of teas. I can't remember the last time I've enjoyed an in-flight meal so much.
Throughout the entire flight, the legendary Singapore Airlines service was in evidence. The gracious "Singapore Girl" flight attendants in their custom-made, sarong kebaya uniforms -- a traditional Malaysian style of long dress -- were all charming, helpful, and rarely without a smile on their faces.
A travel colleague of mine recounted a story of waking up from a nap on a SIA flight and the flight attendant came by and asked in dulcet tones whether she could help him put on his slippers. He told me he thought he had gone to heaven.
So is Singapore Airlines the best in-flight service in the world? From what I've seen - it might very well be.