Whenever I see myself visiting Petra in Jordan, I'm always on horseback -- galloping from the magnificent rose-hued Al Kazneh (known as the Treasury) to the score from "Indiana Jones and the Last Crusade". While I didn't have Indy, or Sean Connery, who played his Holy Grail scholar father with me when I arrived in Petra last November, I did have accompanying me a local guide, an art historian, a professor of classics, and an expert in medieval archeology. That's because I was traveling with Voyages of Antiquity -- a boutique-style, educational cruise line that caters to the seasoned traveler who wishes to explore the history, art, and culture of ancient civilizations.
Since its May 2010 launch, this specialty cruise line offers on its lone vessel -- the Aegean Odyssey -- the benefits of small ship cruising, fully-inclusive shore excursions, and an expert guest lecture program. My 15-day itinerary of "Ancient Wonders and the Holy Land" began in Larnaca, Cyprus where we embarked the ship heading for Beirut; then through the Suez Canal to Safaga, Egypt; Sharm El-Sheikh; Eliat, Israel; Aqaba, Jordan; and concluding in Cairo. Originally, this itinerary included Aleppo and the desert oasis of Palmyra, but due to the political unrest in Syria, that part of the itinerary was scrapped and replaced with Jerusalem and Bethlehem.
Whenever possible, the ship is in port at night so guests can choose to go ashore in the evenings, and in Beirut, there is a sophisticated dining and nightlife scene. I found the Lebanese people friendly and extremely hospitable. After several attempts to catch a taxi back to the ship and not being able to find a driver who spoke either English or French, one of the local shopkeepers voluntarily came out of his store and spent several minutes helping me flag down a taxi as well as give the driver my destination in Arabic. I'll be hard pressed to find this kind of helpfulness in another large metropolis elsewhere in the world.
For dining onboard, there's a choice of two restaurants, and an outdoor dining terrace which serves tapas in the evenings. The Marco Polo is the more formal choice featuring a full waiter service, and an a la carte menu of Mediterranean-influenced selections with complimentary house wines. I prefer the Terrace Café during the day with its combination of indoor and outdoor seating, and the hot and cold buffet with an open grill for freshly cooked meats and seafood. Even though it's buffet-style dining, the excellent and always smiling Filippino and Indonesian wait staff are on hand to help carry your trays to the table.
The elegantly furnished public areas include four bars, three lounges including an Art Deco-inspired Charleston Lounge, a lecture theater, a well-appointed library, gift shop, internet center, spa and beauty salon. On deck, there's an outdoor pool and Jacuzzi -- popular on sea days and most of the passengers were on deck as we transited through the Suez Canal. Originally built to carry up to 570 passengers, the ship's new configuration offers spacious suites and staterooms which now accommodates around 350 guests.
It should be noted that no passenger under 12 are permitted onboard, which is just as well because there are no facilities or programs on the ship catering to children. Other than a poetry reading and a fantastic strings concert one evening, the onboard activities program consists almost entirely of lectures - the main selling point and aim of this cruise line, and shore briefings.
The four guest lecturers sailing with us were all academics with a smattering of PhDs among them, and the lecture topics were decidedly high-brow in nature. There was a Professor of Classics from Cambridge specializing in St. Catherine's Monastery in Sinai, a Professor of Medieval Archeology from Oxford who spoke on the Tomb of Christ from the time of the Crucifixion to the end of the Middle Ages, and an Egyptologist lecturing on the differences between the Coptic and Nubian Churches in Upper Egypt.
Most of the passengers were perfectly pleasant, although there are always a couple of know-it-alls including an elderly mother and daughter duo who went around shrieking "Don't drink the water!" to everyone (including the ship's nurse), and having pissing contests with other guests on how many many times they've been to various countries. On my particular sailing, the average age onboard was 55, and the oldest passenger a sprightly 85 years old. That's not to say that it was a floating old folks home. On the contrary, most of the passengers were very active -- any thoughts of sedentary seniors were dispelled during the Karnak Sound and Light Show when the group from our ship marched forward throughout the Karnak complex with a pace akin to the storming of the Bastille.

A few guests expressed their disappointment at not being able to visit Syria, however most agree that Israel was a more than worthwhile substitute, especially since visiting Bethlehem is easily done when organized by the ship, but a more complicated process to do on your own. From the Red Sea port of Eliat, we boarded buses and traveled to Jerusalem where we took in the Mount of Olives, the Via Dolorosa and the Church of Sepulchre. At the Western Wall, our local Israeli guide got very excited as the Head Rabbi of the Ashkenazi Community arrived -- his car is the only one allowed to drive into the square. With so much to see, Jerusalem was one of the two destinations (the other being Luxor) where we stayed overnight in a hotel to allow two full days to enjoy the city.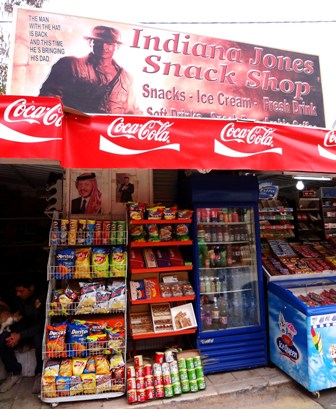 The highlight of this trip for me was undoubtedly Petra. Even before reaching the entrance to the site, there are footprints of the fictitious archeologist and adventurer everywhere including an "Indiana Jones snack shop", and an "Indiana Jones gift shop" with a few of those famous fedoras for sale. From the main gate, I had my Indy moment and traveled on horseback to the Obelisk Tomb before proceeding on foot along the Siq -- a mile-long fissure between two overhanging cliffs. At the end of the winding path, I caught sight of the spectacular Treasury, carved out of the pink rock by Nabatean Arabs two millennia ago. While certain often-photographed landmarks can be a little disappointing when you finally see them in person, the Treasury was much more impressive than I imagined. Since I was one of the first in my group to reach it, I had it all to myself for a few moments for a photo call atop a camera-mugging camel before everyone else arrived.
As horses were not allowed through the Siq other than horse-drawn carriages, I chose the circulatory route back to the main gate via a mule, and got to see the rest of the Petra complex of temples and tombs which is far more extensive than I expected. Ultimately, my passage through Petra evolved into a horse, camel and mule odyssey. If Indiana Jones can see me now!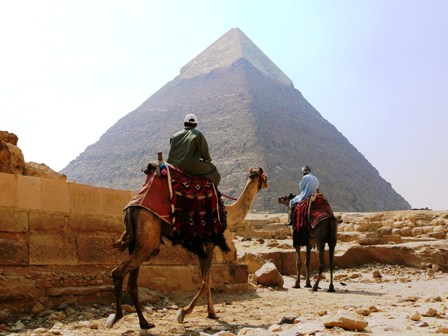 Our last port was Cairo and we happen to arrive on the fourth day of protests in Tahrir Square. Fortunately, as we were transferred directly to our hotel in Giza after disembarkation followed by a sightseeing excursion to the Pyramids, we weren't anywhere near the unrest. After my two-week Middle Eastern journey on Voyages of Antiquity, I've come away with a renewed appreciation, and perhaps a little better understanding of this complex and evolving region of the world.
For exotic locales elsewhere, Voyages of Antiquity has launched their first winter cruise program to the Far East. Nine new itineraries explore the historic civilizations of India and Southeast Asia including Thailand, Cambodia, Vietnam, Myanmar (Burma), Hong Kong, Singapore, Malaysia and Sri Lanka.