Poor Jessica Chastain. After playing Brad Pitt's dazzling wife in Terrence Malick's The Tree of Life and a blonde bombshell in The Help, a few nasty voices on the stage of the Walter Kerr Theatre are calling her plain, simple, and witless.
The newly anointed face of Yves Saint Laurent's "Manifesto" fragrance simply shouldn't listen to them. Everyone knows that Jessica Chastain is stunning -- and that's precisely the problem with Moisés Kaufman's revival of Ruth and Augustus Goetz' The Heiress. Asking an audience to believe that Chastain could stroll through Washington Square Park without attracting the eye of a single bachelor requires a highly active imagination. Kaufman might as well take a note from Malick and throw a dinosaur onstage while he's at it. (A facial prosthetic -- or two -- could certainly alleviate these concerns.)
Based on Henry James' novel Washington Square set in 1850, The Heiress pits the shy, hopeless and wealthy Catherine Sloper (Chastain) up against her cruel father Dr. Austin Sloper (David Strathairn) when an opportunistic gentleman, Morris Townshend (Dan Stevens), asks for her hand in marriage. Upon her first entrance in a sumptuous red satin dress, she proudly tells her father and bubbly busybody Aunt Penniman (Judith Ivey) that she's wearing "cherry red."
This line -- unfortunately placed right at the moment when one is sizing up Chastain's ability to transform into an unattractive woman destined for spinsterhood -- will resonate with anyone who experienced Gerald Gutierrez's 1995 powerhouse Lincoln Center production, starring the incomparable Cherry Jones. Cherry dominated the cherry red dress and fully embodied Catherine Sloper, earning her first Tony award. As Catherine, her pathos felt immediate and informed by the past and future disappointments of an actress who didn't fit the conventional leading lady mold.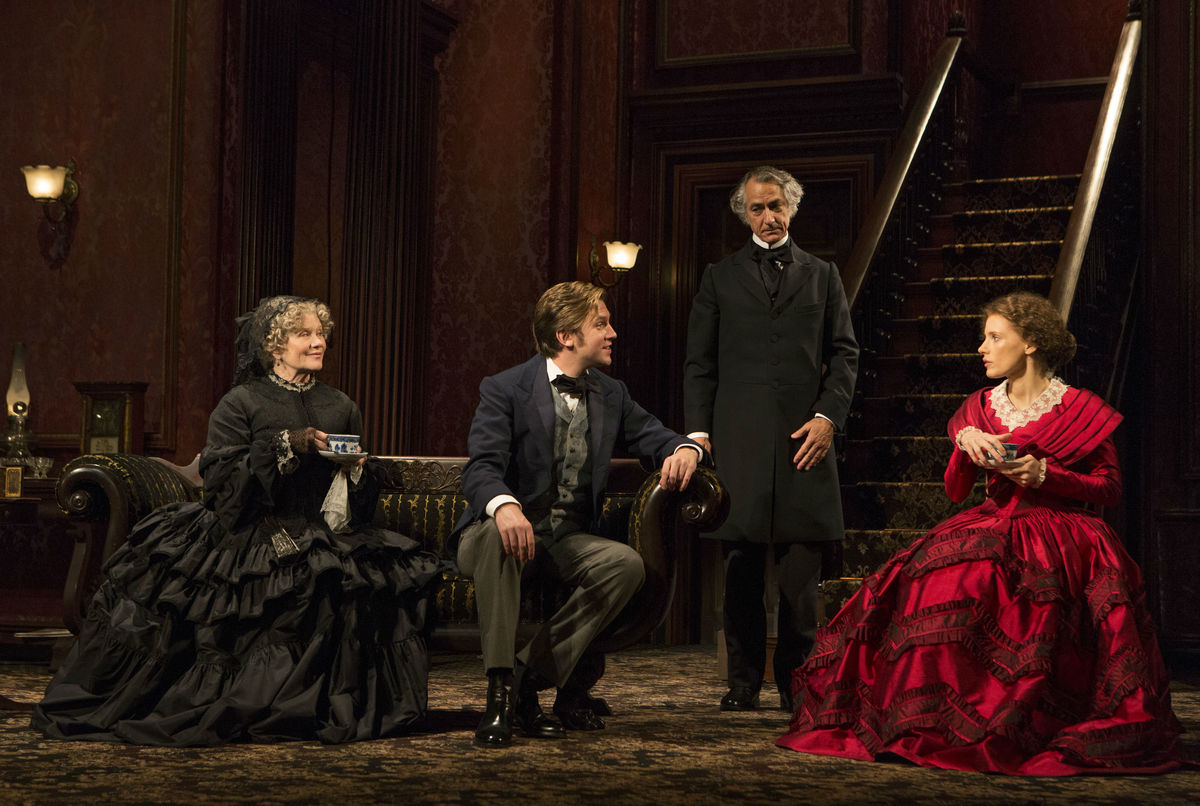 Watching Chastain act homely in that cherry red dress is uncomfortable -- and actually quite funny. I have never heard so much laughter in the first act of this play. Gutierrez's production verged delightfully close to melodrama, and the two powerful film versions of James' novel (one directed by William Wyler based on the play, the other by Agnieszka Holland) are also arranged in a minor key. In Kaufman's production, much of the first act strangely feels like a pleasant parlor comedy, and the laughter largely undercuts much of what is poignant about this tragic tale. Later on, Catherine's recognition that she has turned cruel -- largely as a result of being "taught by masters" -- should feel like a punch in the gut. On the night I attended, it earned a hearty laugh.

Kaufman -- the first-rate director who helmed Doug Wright's pitch-perfect I Am My Own Wife and Rajiv Joseph's Bengal Tiger At The Baghdad Zoo -- has assembled a masterful cast, with Strathairn and Ivey delivering particularly rich performances. As Morris, "Downton Abbey's" Stevens is charming but less than subtle, revealing his cards early on. We are never really left wondering about his intentions, robbing the first act of its one potential note of ambiguity.
Derek McLane's impressive set embraces dark wood and deep maroon tones -- all in the service of the play's final moment, when the walls suddenly turn white, as Catherine triumphantly climbs her staircase. Rather than appearing resigned to a lonely life, here she appears almost invigorated with a newfound sense of peace. It's a gorgeous moment of stagecraft, although perhaps it leaves audiences with far more optimism than James ever intended. The novel, after all, ends with Catherine sitting in her parlor embroidering, "for life, as it were."
The Heiress is playing at the Walter Kerr Theatre located at 219 West 48th Street (Between Broadway and 8th Avenue). On sale through February 3rd. $50-$135.