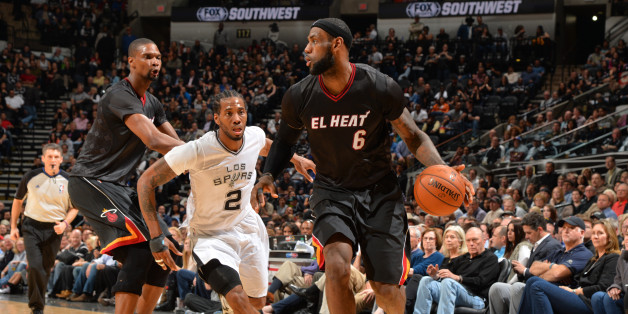 This is the Final's rematch we've all been waiting for: the two best teams in the NBA set to square off -- the Lone Star Loners vs. the Heatles. One team is in desperate need of redemption, the other has a chance to cement their legacy as a team for the ages.
Win or lose, San Antonio's place in history is already set. If the Spurs win, Duncan will equal his generational rival, Kobe Bryant, with five titles. That's an impressive mark, but Timmy is already considered a top 10 player of all time -- perhaps a better player than Bryant even with one less ring -- and another title would at best help him climb infinitesimally higher on that list or (more likely) Duncan would just stay put in the seven to 10 range.
Similarly, Gregg Popovich's fifth ring would put him in a three-way tie with Pat Riley and the unforgettable John Kundla for third most championships all-time as an NBA head coach -- behind only Red Auerbach (9) and Phil Jackson (11).
Ultimately, Pop, Duncan and the rest of the Loners will be remembered as winners who coached and played the game the right way no matter the outcome of this series. Another Larry O'Brien trophy would be great for the new guys on the team (of which there are many since they last won in 2007), but the Spurs core members already have a rock solid place in history.
The Heat on the other hand need this championship to enter into the rare class of three-peaters, joining Kundla's 1952-54 Minneapolis Lakers, Auerbach's 1959-66 Celtics (a team that won an untouchable eight championships in a row), both of Phil Jackson's Bulls three-peats in the '90s and also his 2000-02 Los Angeles Lakers.
If the Heat lose and only have the back-to-back championships on their résumé (yes, I realize how ridiculous that sounds: only back-to-back champs), they will be grouped in with a bunch of historically very good teams, but they can't be considered great (not unless they win some more titles). Simply put, if the Heat lose this series, their place in history will drop much more significantly than if the Spurs come up short.
Those are the stakes for this year's NBA Finals: the Heat will either be on par historically with MJ's Bulls if they win or, if they lose, remembered alongside good teams like the Bad Boy Pistons, Hakeem's mid-'90s Rockets (a squad that could only win two titles in a row after Jordan left the league to play outfield for the Birmingham Barons) and the late 2000s Kobe-Pau Lakers. Good is good, but I'd rather be GREAT!
With the stage now set, here are a few thoughts on what looks to be another classic Final's matchup:
The Spurs get a bad rap as a boring team, but both the Heat and Spurs ranked number one and two respectively in offensive efficiency rating this season. Each squad runs an analytics-friendly offense: expect to see the rock flying around the perimeter and a lot of open threes off of drive-and-kicks.
When I watch the Spurs, I find myself wondering if some of their players are actually good. Obviously, Duncan, Ginobili and Parker are all-time talents, but I can't help but think sometimes that if Danny Green were still on the Cavs, he'd be the last man on the bench. Another example: Patty Mills -- he was in and out of the league before landing in San Antonio in 2012 and now he looks like the second coming of Mark Price. It seems Popovich's famed offensive system gives players like Mills and Green an opportunity to showcase their skills or maybe these guys are just putting in work with shooting coach, Chip Engelland -- the man credited with teaching Kawhi and Tony Parker to shoot. I don't know what the secret formula is, but regardless I'll take two of whatever Marco Belinelli is having. No one cared to sign the Italiani after the 2013 campaign -- and for good reason -- he was an average-to-below-average NBA shooting guard. Put him on the Spurs? BAM!...best season as a pro. More than any other team in the NBA, San Antonio knows how to squeeze all the talent out of their assets.
Lebron has to put his imprint on this series from the jump. Best way to do it? Take Kawhi down to the low block and dominate from the post by either scoring if the help doesn't come or, if the second defender does commit to him, by whipping the ball across court to open shooters. In the first five games of the Finals last year, the Spurs went under screens and begged James to take wide-open threes and long-range twos. The strategy seemed to mess up James' rhythm and when he didn't make his shots early, he appeared to lose confidence in his outside stroke. I wouldn't be surprised if Pop pulled out a totally new tactic on defense this year aimed to screw with LBJ's head in a different way, but no matter what the Mad, Angry Scientist comes up with, Lebron has to beat it if the Heat are going to have a chance in this series.
That being said, Lebron can't win the Finals by himself. The Heat need Wade and Bosh to be in contention for second, third or (at worst) fourth best player in the series in order to win. Either Wade or Bosh (preferably both) need to consistently play better than at least three of the Spurs top guys (Duncan, Parker, Ginobili or Leonard) in order to win. If Lebron plays great, but Wade and Bosh are meh, while let's say Duncan, Ginobili and Leonard are the second through fourth best players in the game respectively, than the Heat will lose. Does that make sense?
What is Kawhi Leonard going to do in this series? He is the biggest wildcard on either team -- all the other players that get big time minutes are (more or less) proven commodities or at least known commodities, but Kawhi has the chance to transcend his role as the defense-and-corner-threes stalwart and emerge as a star. The Heat only have two reliable shot-creators in Wade and Lebron -- the minimum required to win in the playoffs. If Kawhi steps up and becomes the Spurs's third reliable playmaker behind Parker and Ginobili the Heat are in trouble.